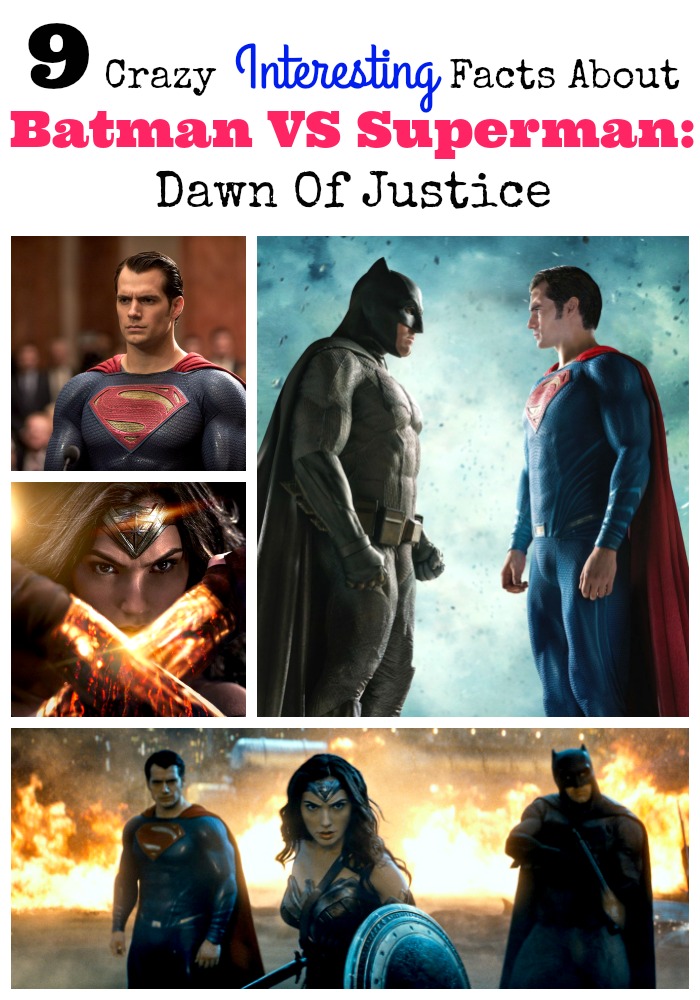 One of the most anticipated movies of the year, Batman VS Superman: Dawn of Justice, just premiered on Sunday (March 20th) and is hitting theaters on March 25, 2016. This movie has had so much hype since the day it was announced. Quite frankly, it looks ah-mazing and totally worth the hype. Before you catch it in theaters (I know I'll be rushing over to watch it this weekend!), there are some interesting facts you may not know about Batman VS Superman: Dawn of Justice but should. Don't worry! I will help you out.
Crazy Interesting Facts About Batman VS Superman: Dawn Of Justice
So if you haven't made your plans to see this movie yet, I would srsly suggest seeing this movie on an IMAX if you can. They are going to fill the ENTIRE screen with Batman and Superman on the IMAX version, talk about being right IN the comic book world! IMAX will keep you even more on the edge of your seat.
Only in IMAX do select sequences filmed on our cameras expand vertically to fill the entire screen! #BatmanvSuperman pic.twitter.com/qZi2RNZaPP

— IMAX (@IMAX) March 18, 2016
Batman Vs. Superman Dawn Of Justice JUST premiered on Sunday. Take a look at this smoking hot cast.
I love to know other little bits about epic movies like this before I go. Then I look like a rock star as I talk about the movie with Bae and my friends before and after. They always ask how I know all these interesting facts about movies. Now you can be a smarty pants too with my list of interesting facts to know tons about Batman VS Superman: Dawn Of Justice!
The costumes of both characters are slightly different in this movie than in previous films. For Batman, his bat suit is a darker color of black, whereas Superman has a lighter shaded Superman suit.
In the world of comics, Batman first made his appearance in 1939 in the #27 edition of Detective Comics, whereas Superman first made his appearance in 1938 in the comic Champion of the Oppressed.
The character of Batman made his first appearance in 1943 in the movie Batman, whereas the character of Superman made his first appearance in 1941 in the movie Superman. These superheroes are used to both being the headliners.
And speaking of Wonder Woman, this is the first live-action movie that features Wonder Woman. (About time!) Previously, she was featured in television programs and animated movies that went directly to DVD. I've heard Gal Gadot kills it as Wonder Woman.
Batman VS Superman: Dawn of Justice is the very first live-action movie to feature Batman, Superman, Aquaman and Wonder Woman all in the same movie. (I'm team Wonder Women yaaahhhh!)
If you are wondering why in the world Batman is even fighting Superman, you have to go back to what happened in the movie Man of Steel. In that film, Superman destroys Bruce Wayne's financial building, and Batman is less than impressed. I'd be mad AF too.
Batman VS Superman: Dawn of Justice is the second superhero movie that Ben Affleck has starred in. While he plays the role of Batman this time around, he played the lead role in the 2003 Daredevil movie.
Ben Affleck actually wanted to keep the Batman suit he wore in the movie, but when the movie studio told him he had to pay $100,000 to keep the suit, he quickly changed his mind. Aww man, come one. Let him keep the suit! I'd want to keep it too if I was Batman! How could they say no to that face?
Dawn Of Justice is setting up an entirely new slate of superhero movies. (Dawn, get it beginning?) We can expect to see Wonderwoman, Aquaman and The Justice League (already planned to hit theaters in 2017) all to be on theater screens again in the next few years. So. Can't.Wait for the new movies!
So which interesting facts about Batman VS Superman: Dawn of Justice will you be telling Bae about while the pre-movie commercials roll? Tell me in the comments smarty pants!
*Images via Wikia