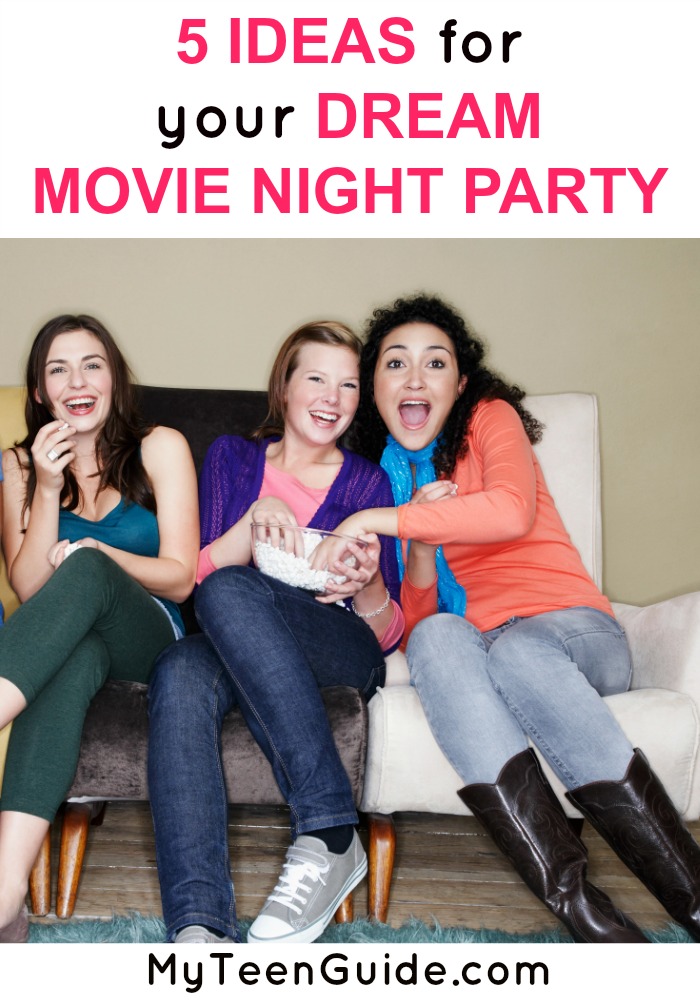 If you are thinking of hosting a movie night party, you have to see this list! From the tastiest popcorn combinations to squishy seating and a strut down the red carpet you are going to love these ideas. Seriously I can barely wait, especially to sink my teeth into those popcorn flavors! You could ramp things up and add some movie party games or just keep things all about the film and chilling with the ideas below.
Lots Of Comfy Seating
https://www.instagram.com/p/BJvgIxPA7is/?tagged=movienight
Now is the time to fluff up those pillows because your friends are going to want to be cozy. Don't worry if you don't have enough couch space for everyone, here are more seating ideas.
Giant Pillows
Foldable Camping Chairs
Inflatable Pool Floats (remember the epic donut and unicorn floats from summer? YES!)
Blankets
Bean Bags
Giant Blanket Forts
Hay Bales- Outside for fall?
Borrowed chairs from friends- In case you really need everyone in a chair?
Pass The Popcorn
https://www.instagram.com/p/BJqspuqhGuy/?tagged=popcorn
Popcorn and a movie party go together like peas and carrots. That doesn't mean you have to stick only with plain kernels! Mix and match fun flavor combinations and toppings to make a popcorn mix all your own, or set up a few flavors and let your friends go crazy! This is also a great time to hit up one of those flavored popcorn stands in the mall? OMG I want all of their flavors for this party. Check out some of my ideas:
Popcorn Flavor Ideas
Movie Theater Butter
Cheesy Popcorn
Carmel Corn or Cracker Jacks
Chocolate Covered Popcorn
Parmesan Garlic Popcorn
Cinnamon Sugar
Kettle Corn
Salt and Vinegar
Related: The Most Epic S'mores Party Ideas I Have Ever Seen
Toppings and Mix-Ins
Hard Coated Candy like M&M's or Reeses Pieces
Peanuts or other nuts (if no one is allergic of course!)
Raisins
Dried Cranberries
Carmel
White Chocolate
Chocolate Syrup
Toffee
Pizza Seasoning
Ranch Seasoning
BBQ seasoning
Dress In Costume
https://www.instagram.com/p/BBzgw9OlJ8Z/?tagged=movienightparty
There are a couple ways you could go with this. You could have everyone dress appropriate for the movie you are watching. (everyone needs to wear Harry Potter gear). You could ask your friends to wear a costume based on a genre of movies. (It's a zombie movie so wear your best zombie or horror movie costume!)  You could also have your friends come dressed as their favorite movie character! No matter the theme, your friends will have a blast!
Roll Out The Red Carpet
https://www.instagram.com/p/BJOx2uvB7gM/?tagged=redcarpetparty
All you need is a large bolt of red fabric or a disposable red tablecloth to make your very own red carpet. Make sure to have your cell phone, and snap a few pictures of your friends strutting their stuff down the runway.
Make Your Own Big Screen
https://www.instagram.com/p/BJlu7Y6AbZR/?tagged=outdoormovie
Whether you are hosting your party inside or out, you can make your very own big screen. Secure a clean white sheet to the wall or to a set of poles to keep it tight and wrinkle free. Hook up a projector to a laptop, and your movie will be rolling before you know it! Make sure to test your setup and speakers before the big day of the party to make sure it is dark enough and the picture is clear.
Add Glowsticks
https://www.instagram.com/p/BJWdRg0AgkO/?tagged=outdoormovie
A glowing party just makes things even more fun. Check out some of our glow party ideas for more ideas of how to make your party glow brightly!
So what would your perfect movie night party include? Tell me in the comments!
Copyright: Vector Image by StockUnlimited