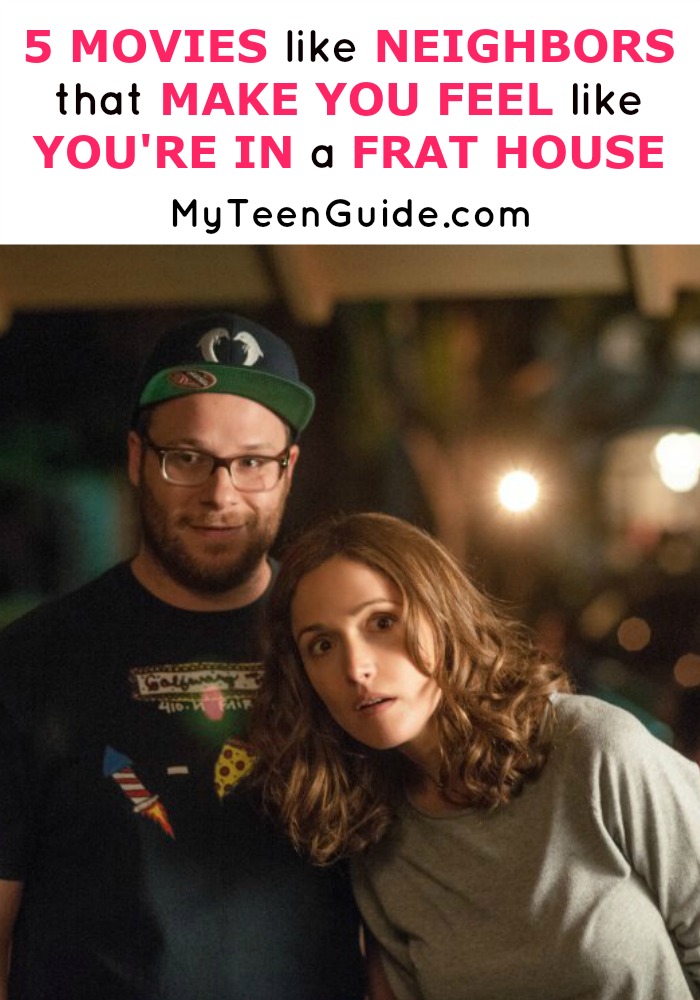 If you have been waiting to laugh your butt off to the new movie Neighbors, you may want to binge on some other movies like it. Neighbors looks hilarious for one of those days when you just want to watch people try to work themselves out of ridiculous plotlines. This movie is one big party and from the looks of it, the main characters were not invited! Haha Check out the trailer for the movie Neighbors, and then I have five other movies like it for you to laugh really hard while you watch.
Related: Funniest College Comedy Movies on the Planet
5 Movies Like Neighbors That Make You Feel Like You're In A Frat House
Neighbors is a 2014 comedy movie that stars Seth Rogen as Mac Radner and Rose Byrne as Kelly Radner. Mac and Kelly Radner are a married couple with a new baby, who come into conflict with their new neighbors, a fraternity. Here are some movies like Neighbors.
Related: 7 Amazing Glow In The Dark Party Ideas That Are Killing It For Fall
National Lampoon's Animal House
National Lampoon's Animal House is a 1978 comedy movie that is based on the National Lampoon Magazine that was published from 1970 to 1988. It is about a group of troublemaker fraternity members who set out to challenge the authority of Vernon Wormer, the dean of Faber College. National Lampoon's Animal House stars John Belushi as John Blutarsky, Thomas Hulce as Laurence Kroger, John Vernon as Vernon Wormer, Tim Matheson, Verna Bloom as Marion Wormer and Donald Sutherland as Professor Dave Jennings.
Old School
Old School is a 2003 comedy movie about three friends; Mitch, Bernard and Frank, who create a fraternity in order to relive their college days. Old School stars Luke Wilson as Mitch Martin, Vince Vaughn as Bernard Campbell and Will Ferrell as Frank Ricard.
School for Scoundrels
School for Scoundrels is a 2006 comedy movie that is based on the 1960 movie of the same name. School for Scoundrels stars Billy Bob Thornton as Dennis and Jon Heder as Roger. The movie is about Roger, a guy who is down on his luck and decides to enroll in a class to build up his confidence. However, he soon discovers that his teacher, Dennis, seems to be chasing the same girl he is.
American Pie Presents: Beta House
American Pie Presents: Beta House is a 2007 comedy movie, is the 3rd movie in the series American Pie Presents and the 6th movie in the American Pie franchise. It is about Erik Stifler and his friend Mike Coozeman, who are starting their freshman year of college and pledge the Beta House fraternity. Erik is shocked to discover this cousin Dwight Stifler is the head of the Beta House fraternity. American Pie Presents: Beta House stars John White as Erik, Jake Seiger as Mike, Steve Talley as Dwight, Christopher McDonald as Mr. Stifler and Eugene Levy as Noah Levenstein.
21 and Over
21 and Over is a 2013 comedy movie that stars Justin Chon as Jeff, Miles Teller as Miller and Skylar Astin as Casey. 21 and Over tells the story of Jeff, who celebrates his 21st birthday with his two best friends, Miller and Casey. However, this also happens to be the night before Jeff's big medical school interview.
So which of these movies like Neighbors make you laugh? Hahaha tell me in the comments?
Image via Wikia