Summer is here, and summer party ideas are high on my list right now especially ideas I can use for the pool. I have been seriously laughing and am losing every ounce of chill I have over the pool party ideas. A giant swan? Floating pizza? How about Emojis bouncing all over the pool? I have to get my hand on all of these. Take a look at all of my ideas below, and see if you can make it through this list of pool party ideas without losing it. Add one or all of these and you'll have an epic pool party without even trying. These pool party ideas for teens are so epic, I just can't stand it. Ready to see all the ideas ?
7 Outrageously Fun Pool Party Ideas For When You Have No Chill
*Affiliate links are included in this post. We only post products we love, but appreciate the clicks and support should you decide to purchase any of these amazing ideas!
Giant Swan Pool Party Float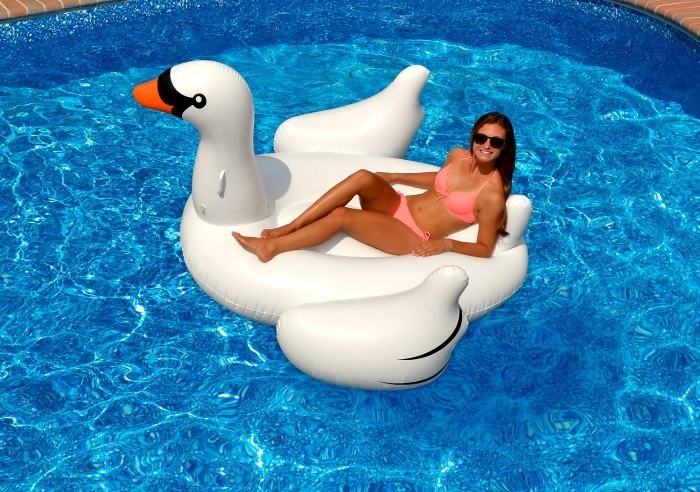 I'm just here, at my pool party chilling on my Giant Swan. Are you kidding me? A GIANT swan? Taylor Swift even Instagrammed herself on a very similar swan. It may be the very same one. I'm floating on the same exact swan as Taylor Swift in a pool. Yup, I have no chill over this awesome swan. I need it for my next pool party; this swan holds two full sized adults!
Chocolate Donut Pool Party Float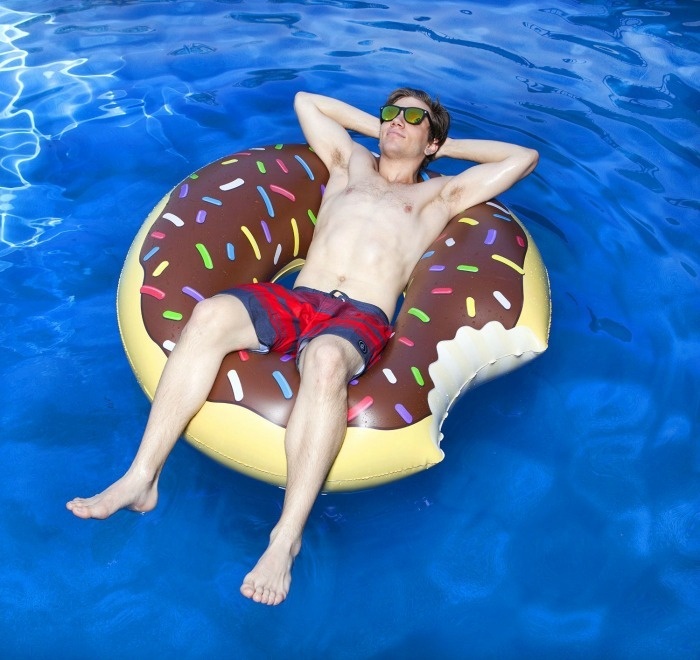 I can not think of a single person who would not completely freak out at the chance to hang out on a giant chocolate donut pool float. Chocolate, donut, summer, pool, fun there is literally nothing not to love about this gigantic donut. NOTHING
Emoji Beach Balls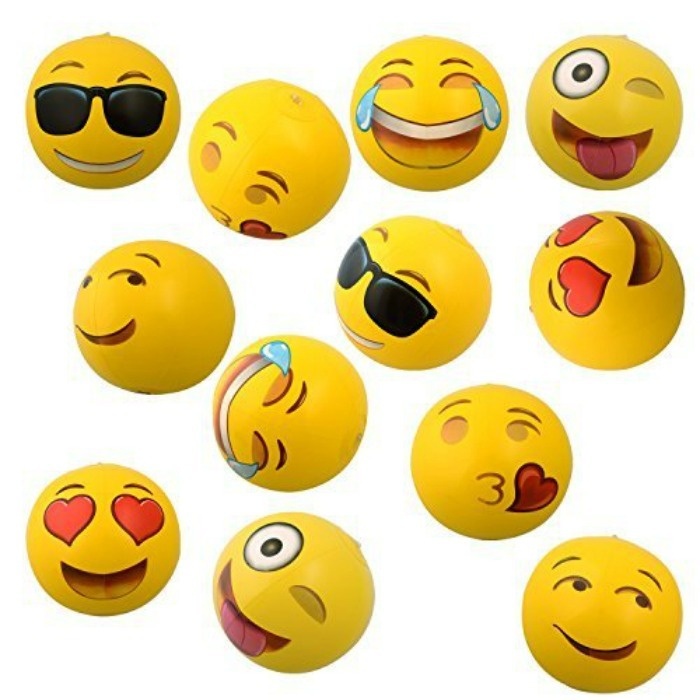 Are you the cool sunglass wearing emoji, or did you just lose your chill and laugh so hard you're crying? You need this twelve pack of Emoji Beach Balls. Get the music started and suddenly your pool is FULL of emojis. I want to come to your house so that I can snap pictures of it! These fun beach balls are srsly one of my fav pool party ideas, but they would also be fun to bounce around the backyard.
Related: How To Throw An Epic Summer Oasis Backyard Bonfire Party
Giant Inflatable Shootball Pool Party Game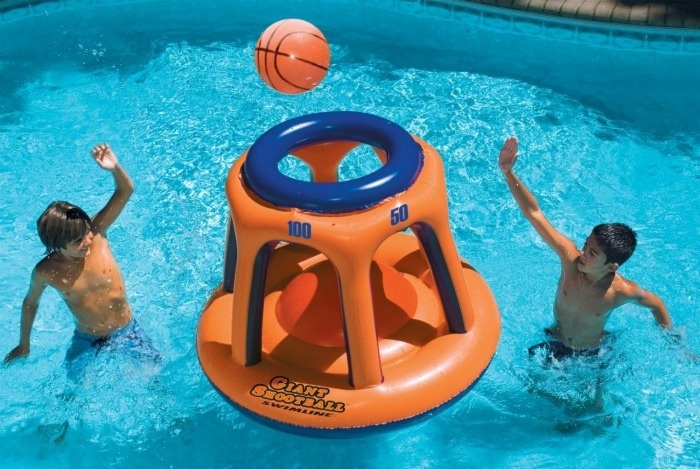 Anyone can play basketball in a pool, but not everyone gets to play this Giant Inflatable Shootball pool party game. So if you were to take a basketball game and make the hoop literally float on the water, you would have just created the most epic basketball game ever for lounging in the pool. Oh wait, THEY DID. If you're clumsy like me, this hoop pops right back up out of the water, so the game keeps going. Amazeballs!
Chocolate Ice Cream Sandwich Pool Party Float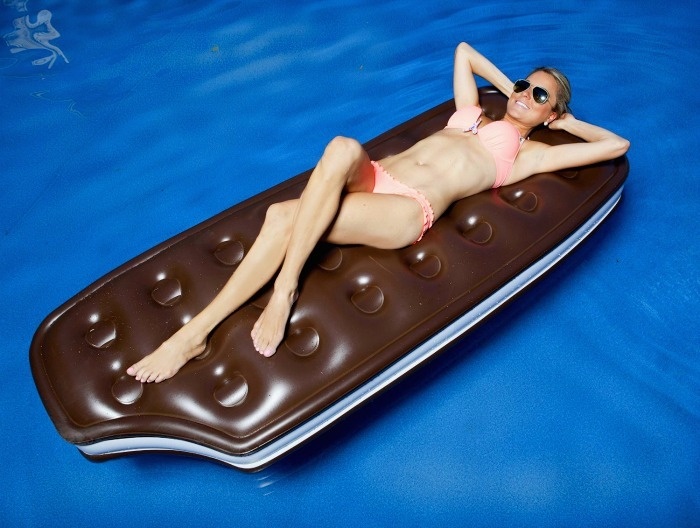 I get it. You prefer cold treats in the summertime. You'll look helluva good lounging on this  Chocolate Ice Cream Sandwich pool float. Someone already came by and grabbed a bite out of this yummy treat. Luckily there is still plenty for you to lounge at your party. Fire up your summer pool party playlist and relaxxxxx. I'll have two of these, please.
Giant Gummy Bear Pool Party Float & Game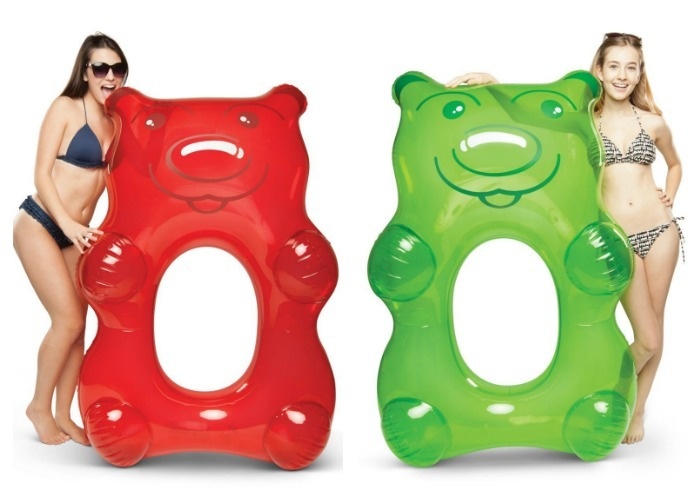 So how funny is this Giant Red Gummy Bear pool party float? Your entire squad would be hot on these super sweet gummy bears. If red isn't your bag, there is also a Giant Green Gummy Bear pool party float. The hole in the center is also big enough that you can jump through it, hilarious!
Related: The Most Epic Fourth Of July Glow Party You'll Never Want To Leave
Slice Of Pizza Pool Party Float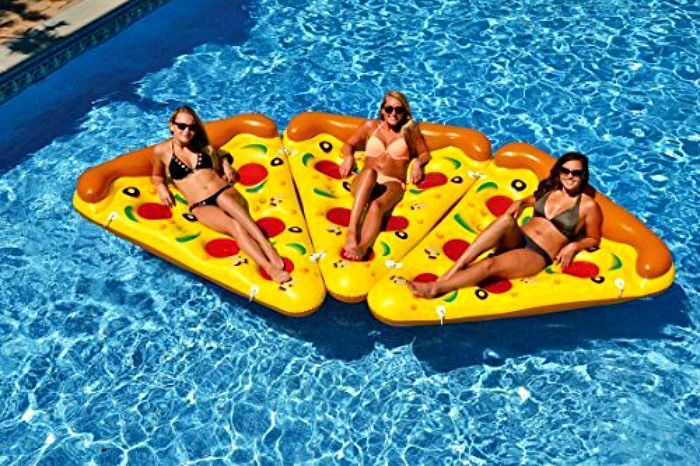 So to the ordinary eye, this might just look like a single slice of pizza. This is a Giant Slice of Pizza that you can lounge in for-evah. You will want more than one of these slices. IF you can manage to get eight slices together, literally you and your friends can be an entire pizza. Let that sink in; you can be a whole PIZZA.
So lovelies, which of these frigging amazing pool party ideas are you picking up for your party? There are so many selfie moments in this post I just can't. Tell me which one of these ideas is your favorites in the comments!