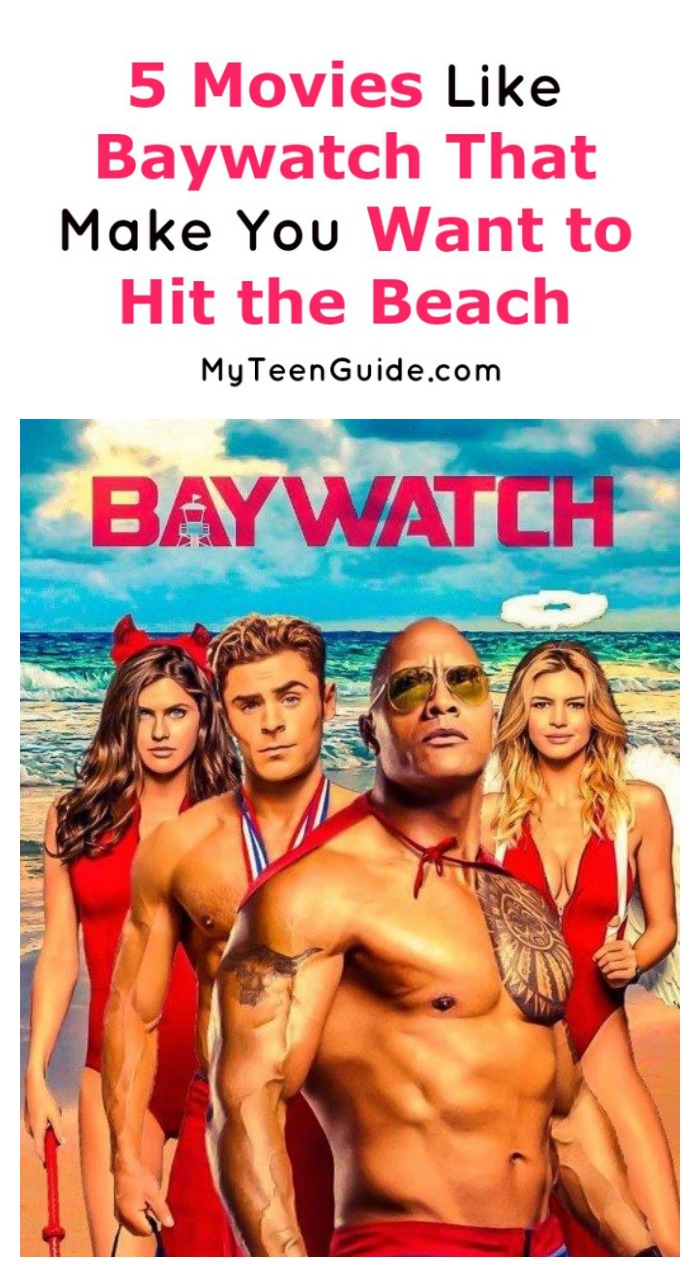 If these 5 movies like Baywatch don't make you want to hit the beach asap, I don't know what will! Fortunately, summer is almost here, so you can start planning your beachy getaways. In the meantime, add these movies to your streaming list to make you feel like you're already there! If you haven't heard, Baywatch, which is set to be released in theaters on May 26, 2017, is an action comedy that is based on the television series of the same name. Here are some other movies you may want to check out like Baywatch.
(This post contains affiliate links. Thanks for the support)
Movies Like Baywatch
Baywatch: Hawaiian Wedding
Baywatch: Hawaiian Wedding is a 2003 action-adventure drama television movie, reuniting the cast of the TV series, Baywatch. Mitch Buchannon is in Hawaii to marry his girlfriend Allison Ford. CJ Parker is opening a bar and grill in Hawaii and Neely Capshaw flies to Hawaii in an attempt to win Mitch back. Baywatch: Hawaiian Wedding stars David Hasselhoff as Mitch, Alexandra Paul as Allison, Pamela Anderson as CJ and Gena Lee Nolin as Neely.
Aquamarine
Aquamarine is a 2006 teen comedy movie, which is loosely based from the 2001 book of the same name, written by Alice Hoffman. Best friends, Hailey Rogers and Claire Brown, discover Aquamarine, a mermaid, is living in the swimming pool of the local beach club. Aquamarine stars JoJo as Hailey, Emma Roberts as Claire and Sara Paxton as Aquamarine.
Surf School
Surf School is a 2006 teen comedy movie. A group of high school seniors- Larry the dork, Chika the exchange student, Doris the Goth chick, Jordan the transfer student and Mo the outsider- who are known as misfits, decide to take part in the team's biggest surf contest in Costa Rica. Surf School stars Lee Norris as Larry, Eriko Tamura as Chika, Laura Bell Bundy as Doris, Corey Sevier as Jordan and Sisqo as Mo.
The Lifeguard
The Lifeguard is a 2013 drama movie. Leigh London, who was the valedictorian of her high school graduating class, decides to quit her job in New York, where she works as a writer, to move back to her hometown to become a lifeguard. The Lifeguard stars Kristen Bell as Leigh.
Staten Island Summer
Staten Island Summer is a 2015 comedy movie. Best friends, Danny Campbell and Frank Gomes, work as lifeguards the summer after high school graduation, while trying to figure out what their futures hold. Staten Island Summer stars Graham Phillips as Danny and Zack Pearlman as Frank.
Have you seen any other great summer beach movies like Baywatch? Share below!