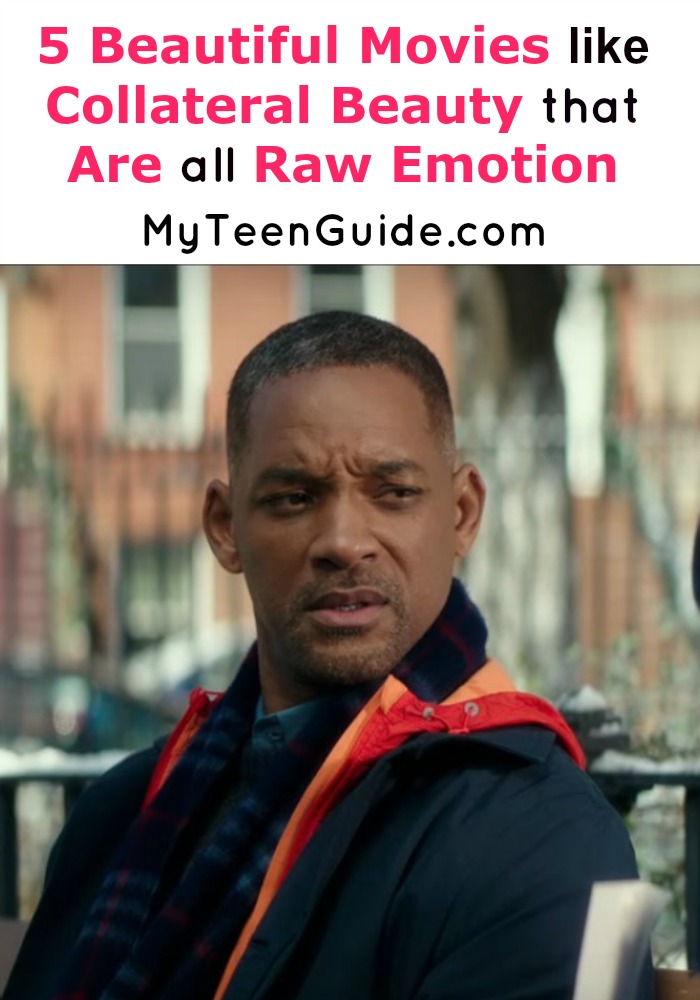 Grab your tissues, because these movies like Collateral Beauty may just cause the tears to flow. Sometimes I want my movies to have depth and characters with struggles that are bigger than my own. These beautiful drama films all feature characters that have such big, powerful struggles, fears and emotions. Check out the info about the new movie Collateral Beauty, then see five more movies like it!
Related –> 4 Collateral Beauty Movie Quotes
5 Beautiful Movies Like Collateral Beauty That Are All Raw Emotion
Collateral Beauty is a drama movie that will be in theaters on December 16, 2016. It is a film about a successful advertising executive named Howard Inlet. Inlet tries to shut out the rest of the world after he loses his daughter. However, he soon encounters three figures known as Love, Time and Death, who try to help him put his life back together. Collateral Beauty Stars Will Smith as Howard Inlet. Here are five other great movies like Collateral Beauty.
Related –> Everything You Need to Know About The Predator Movie (Quotes & Trivia)
Reign Over Me
Reign Over Me is a 2007 drama movie about Charlie Fineman, whose wife and daughters perished during the September 11th attacks in 2001, five years ago. Those closest to him are concerned about Charlie, who was once sociable and now has become withdrawn. When he runs into an old friend, Alan Johnson, one day their kindled friendship provides Charlie with the lifeline he needs to move forward with his life. Reign Over Me stars Adam Sandler as Charlie Fineman and Don Cheadle as Alan Johnson.
Related–> 5 Dramatic Sports Movies Like Concussion To Keep You On The Edge Of Your Seat
Reservation Road
Reservation Road is a 2007 drama movie that is based on the 1998 book of the same name by John Burnham Schwartz. The movie focuses on Reservation Road, where the lives of two families will forever be changed. Dwight Arno is divorced from his wife, Ruth Wheldon. One night as Dwight is driving his son, Lucas Arno, back home to his mother, he hits a young boy, who dies later that night. Dwight ends up fleeing the scene, a decision he will come to regret later. Reservation Road stars Mark Ruffalo as Dwight Arno, Mira Sorvino as Ruth Wheldon, Joaquin Phoenix as Ethan Learner and Jennifer Connelly as Grace Learner.
Rabbit Hole
Rabbit Hole is a 2010 drama movie that is adapted from the 2005 play of the same name by David Lindsay-Abaire. The film focuses on married couple Howie and Becca Corbett, who are mourning the death of their young son, Danny Corbett. However, while they are mourning, the couple each deal with the loss of their son in completely different ways. Rabbit Hole stars Aaron Eckhart as Howie Corbett and Nicole Kidman as Becca Corbett.
The Disappearance of Eleanor Rigby: Them
The Disappearance of Eleanor Rigby: Them is a 2014 drama movie. The Disappearance of Eleanor Rigby is the collective title of a trio of movies. The Disappearance of Eleanor Rigby: Them was released on September 12, 2014 while The Disappearance of Eleanor Rigby: Him and The Disappearance of Eleanor Rigby: Her were released as a double feature on October 10, 2014. All three movies are told from three different perspectives. It features a couple, Connor Ludlow and Eleanor Rigby, who face various challenges including the death of their son. The Disappearance of Eleanor Rigby: Them stars James McAvoy as Connor Ludlow and Jessica Chastain as Eleanor Rigby.
Rudderless
Rudderless is a 2014 musical drama movie that focuses on Sam Manning, a grieving father who is mourning the death of his son. When Sam comes across Josh's demo tapes, he is shocked to learn that his son was such a talented musician. To get some relief from his grief, Sam forms a band, Rudderless with Quentin, Aiken and Willie. Rudderless stars Miles Heizer as Josh Manning, Billy Crudup as Sam Manning, Anton Yelchin as Quentin, Ryan Dean as Aiken and Ben Kweller as Willie.
Ok, I have to know if  you've seen any of these movies like Collateral Beauty, and if you're planning to see this new Will Smith flick in the theater! Tell me in the comment!
*Image via trailer