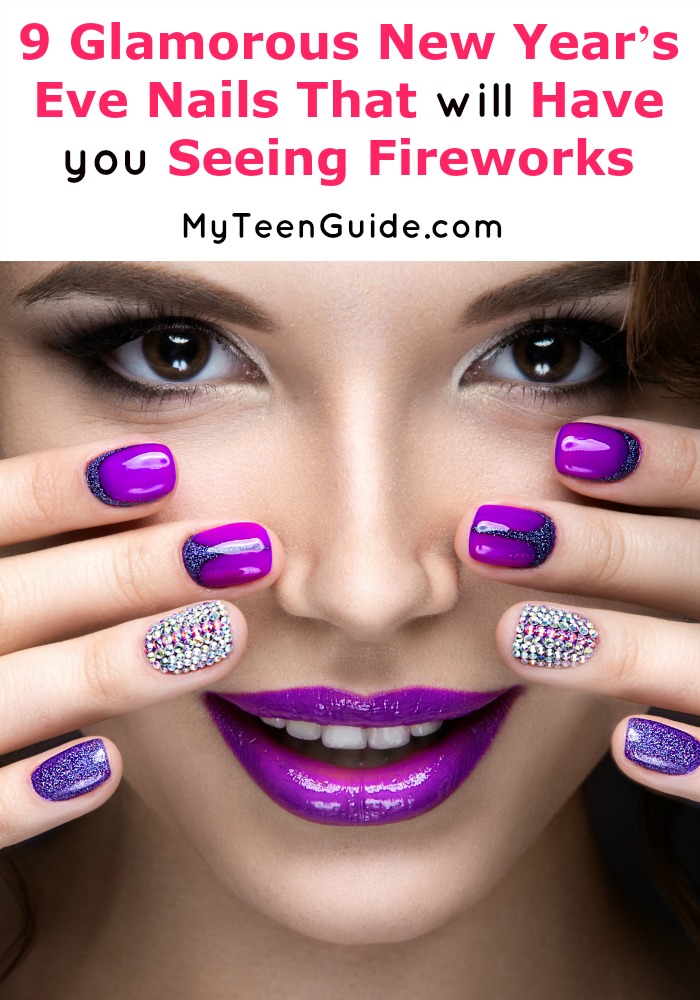 Get ready for the New Year in style with these nails that are totally inspirational. I always look for nail art that has a little extra sparkle or shine for a New Year's party, and these ideas deliver! Whether you love a pop color look, a vintage look or simply love lots of sparkle I know I've found the perfect New Year's manicure idea just for you. Check out the list!
Related–> 11 Of The Best Christmas Nail Art Ideas To Decorate Your Mistletoes
9 Glamorous New Year's Eve Nails That Will Have You Seeing Fireworks
Colorful Celebration Nails
This tutorial requires a bit of a steady hand, but it doesn't look too complicated because the fun confetti doesn't have to be perfect. Make sure to make your accent nail read "2017" instead of 2016!
The Skyline View
Fireworks and a beautiful city skyline, can your nails get more magical? This fun nail art is super fun, and on my list to try.
Need More Inspiration?-> 7 Fab DIY Nail Art Ideas For New Year's
Chinese New Year's Nails
Go red for Chinese New Year's and celebrate in style with this fun set of nails. I especially love the cherry blossoms on this design.
Vintage Lace Chockers
Chockers have been so hot this year, why not give your nails that same touch of glam. I love the look of these vintage lace style nails. How amazing would these nails look to ring in the New Year
White And Gold
Check out this classy idea! I'm lusting over this white and gold combo from the year painted on the accent nail, to the burst of fireworks on the pointer finger. I could rock this design!
Party Polka Dots
So I kind of need these glitter nails in my life. I love the natural nail base, and the multi-colored large glitter pieces give these nails such a fun pop of color that will make you shine!
Neutral Nails With A Twist
This lovely set of nails should totally be on your list to try. These nude nails get a super classy look with rhinestone and a little black embellishment!
Stars Stars Stars!
This is totally a classic New Years look! Get yourself some sparkle appliques to add, and rock this look for the new year!
In The Night
Anyone else love an abstract look? This look is party skyline, part fireworks and perfect for the New Year! I love these!
So tell me which of these New Year's nails you have to have? I'm a bit obsessed with the lace chocker, but I'm also crushing on the skyline nails. Tell me your favs down in the comments!