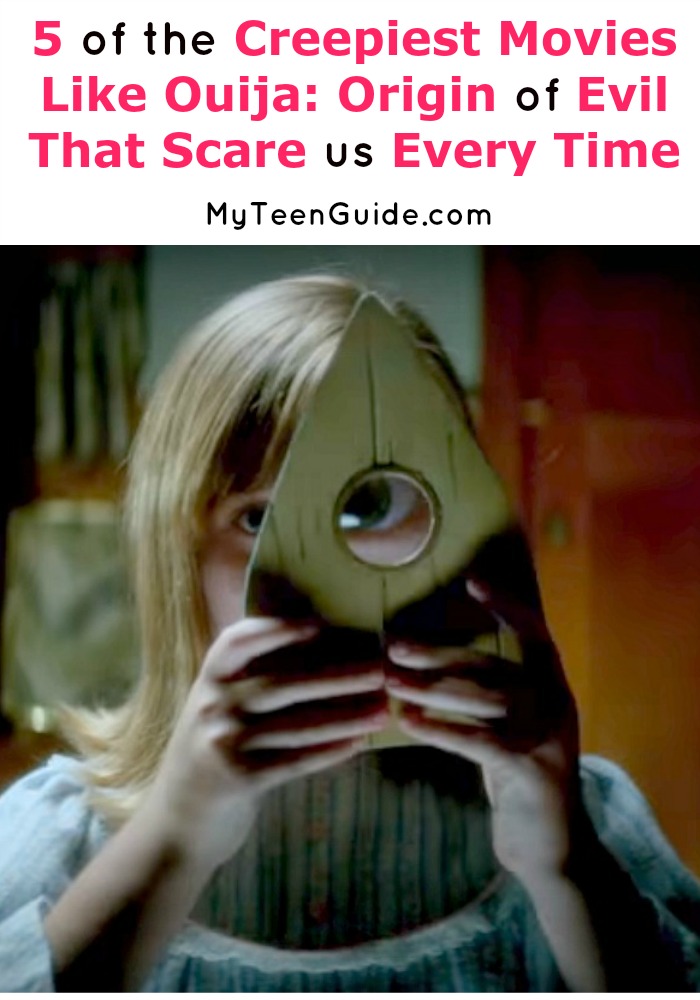 If you like super creepy movies, then you want to check out these movies like Ouija: Origin of Evil. This film looks like it is going to be full of terrifying secrets that lead to the absolutely horrifying events. I may have to watch through my fingers, cool with you? Check out a little more about the movie Ouija: Origin of Evil, and five more movies just like it to scare yourself silly. Movie marathon? I may not be able to sleep for a week!
Related: 5 Of The Best Horror Possession Movies That Are Scarier Than Halloween
5 Of The Creepiest Movies Like Ouija: Origin of Evil That Scare Us Every Time
Ouija: Origin of Evil is an upcoming supernatural horror movie that is the prequel to the 2014 movie Ouija. It will have a whole new cast compared to the first film. It is set in 1967 and features the life of a widowed mother and her two daughters who unwittingly invite an evil entity into their new home. Ouija: Origin of Evil stars Elizabeth Reaser as Alice Zander, Annalise Basso as Paulina Zander and Lulu Wilson as Doris Zander. The movie will be in theaters on October 21, 2016. Here are some other movies like Ouija: Origin of Evil.
Oculus
Oculus is a 2013 supernatural psychological horror movie. The movie focuses on Kaylie, who tries to get her brother Tim exonerated for murder when she tries to prove the murder was done by a supernatural entity. Oculus stars Karen Gillian as the older Kaylie, Annalise Basso as the younger Kaylie, Brenton Thwaites as the older Tim and Garrett Ryan as the younger Tim.
The Unborn
The Unborn is a 2009 supernatural horror movie. It is about a young woman, Casey, who finds herself the victim of an evil spirit that is trying to take possession of her. The Unborn stars Odette Annable as Casey Beldon.
The Purge
The Purge is a 2013 dystopian horror gore movie that is the first in a series of three movies in the series, with the other two being the 2014 The Purge: Anarchy and the 2016 The Purge: Election Year. The movie is about a wealthy family that is held hostage during The Purge, a 12-hour block of time when any and all crimes are deemed to be legal. The Purge stars Ethan Hawke as James Sandin, Lena Headey as Mary Sandin, Adelaide Kane as Zoey Sandin and Max Burkholder as Charlie Sandin. This movie and all the sequels really creep me out!
Horsemen
Horsemen is a 2009 psychological horror crime movie. The film focuses on Aidan, a recently widowed detective who is investigating a series of murders. He soon discovers a shocking connection between himself and the Four Horsemen of the Apocalypse, suspects in the murders. Horsemen stars Dennis Quaid as Aidan Breslin.
Project Almanac
Project Almanac is a 2015 found footage sci-fi thriller movie. The flick follows a group of teenagers who happen upon the secret plans of a time machine. But when they decide to build one of their own, things quickly start to get out of control. Project Almanac stars Johnny Weston as David Raskin, Virginia Gardner as Christina Raskin, Sam Lerner as Quinn Goldberg, Allen Evangelista as Adam Le and Sofia Black D'Elia as Jessie Pierce.
So anyone else super creeped out right now? ME! What do you think of these movies like Ouija: Origin of Evil?
*Image via trailer