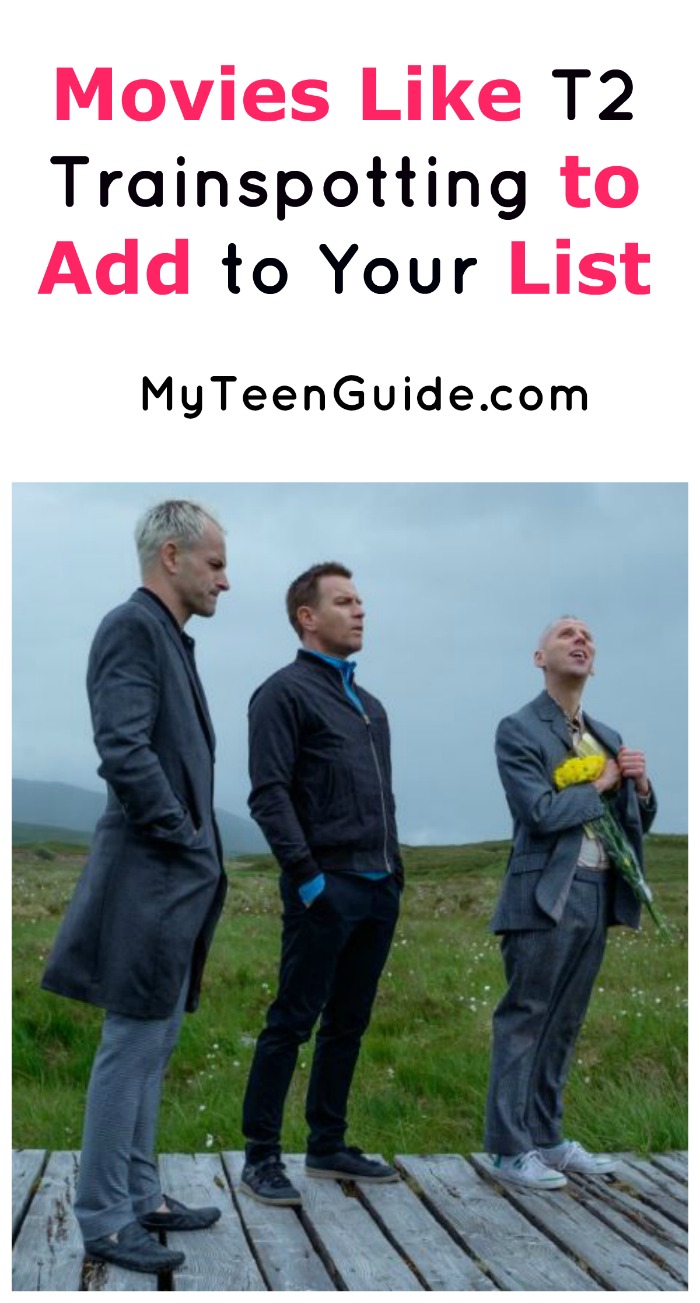 Movies like T2 Trainspotting are more than just intriguing to watch, they also give us a semi-realistic look at the life of an addict. While everyone deals with addictions differently, Trainspotting, Basketball Diaries and the like don't glamourize it the way some Hollywood movies do. They show the bad, the worst and the truly ugly side without a single bit of sugar coating. You really have to be in the mood for a movie like this. They're not romantic comedies or slasher horror films. Basically, they're not something to watch when you're in the mood for mindless entertainment (and hey, there's nothing wrong with that, we all need to unwind and not think so much sometimes!).
If you're in the mood for a bit of a thinker, check out a few other movies like T2 Trainspotting to add to your watch list.
Movies Like T2 Trainspotting
T2 Trainspotting is an upcoming movie that combines comedy, crime and drama. It will be released in theaters on March 17, 2017, is a sequel to the 1996 movie Trainspotting and based on the 2002 book titled Porno by Irvine Welsh. Here are 5 other awesome movies like T2 Trainspotting.
Traffic
Traffic is a 2000 crime drama movie that was adapted from the 1989 British six-part television serial. The movie showcases the story of illegal drug trade, as told from several perspectives including Robert Wakefield, a conservative judge; Montel Gordon, a DEA agent; Ray Castro, a DEA Agent and Helena Ayala, the wife of a jailed drug baron. Traffic stars Michael Douglas as Robert Wakefield, Don Cheadle as Montel Gordon, Luis Guzman as Ray Castro and Catherine Zeta-Jones as Helena Ayala.
Requiem for a Dream
Requiem for a Dream is a 2000 psychological drama movie that is based on the 1978 book of the same name by Hubert Selby Jr. The movie depicts four Coney Island drug addicts: Sara Goldfarb, a widow addicted to weight-loss pills and heroin addicts Harry Goldfarb, Marion Silver and Tyrone Love. Requiem for a Dream stars Ellen Burstyn as Sara Goldfarb, Jared Leto as Harry Goldfarb, Jennifer Connelly as Marion Silver and Marlon Wayans as Tyrone Love.
Spun
Spun is a 2002 comedy, crime, drama movie that is based on three days in the life of William De Los Santos, in the drug subculture of Eugene, Oregon. The movie focuses on Spider Mike, a drug dealer; Cookie, Spider Mike's girlfriend; Nikki, a friend of Ross and girlfriend of The Cook; Ross, one of Spider Mike's customers and The Cook, the guy who runs a meth lab. Spun stars John Leguizamo as Spider Mike, Mena Suvari as Cookie, Brittany Murphy as Nikki, Jason Schwartzman as Ross and Mickey Rourke as The Cook.
16 Years of Alcohol
16 Years of Alcohol is a 2003 drama movie that is based on the 1987 semi-autobiography by Richard Jobson. The movie centers on Frankie, a violent alcoholic and showcases his troubled childhood, his trouble teen years and a period of change. 16 Years of Alcohol stars Kevin McKidd as Frankie. Note: Kevin McKidd also played the role of Tommy Mackenzie in the 1996 movie Trainspotting.
Adam & Paul
Adam & Paul is a 2004 buddy comedy movie. The movie focuses on the lives of two childhood friends, Adam and Paul, who are also heroin addicts living in Dublin, Ireland. Adam & Paul stars Mark O'Halloran as Adam and Tom Murphy as Paul.
These are just five great movies like T2 Trainspotting. There are plenty more, depending on your mood. I mentioned Basketball Diaries earlier, it's definitely a must-watch! The first Trainspotting is also a given, but I'm assuming you've already seen that if you're planning to watch the sequel.
Have you watched any great movies like T2 Trainspotting that you would add to this list?