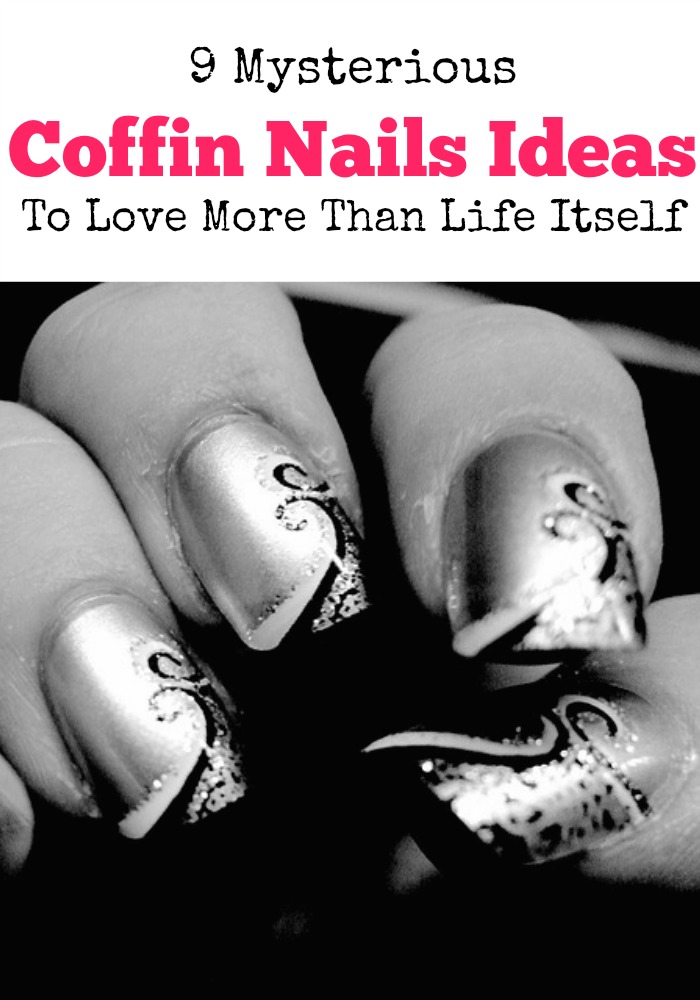 Looking to give your next coffin nails mani a mysterious look? I love my pinks and colorful sparkles, but sometimes you want to change your look up with an edgier twist. The larger shape of coffin nails gives you plenty of room to play with color, texture and design to get the perfect mysterious look. Check out some of my fav picks.
9 Mysterious Coffin Nails To Love More Than Life Itself
Slick Silver And Grey
This steely manicure is sparkly and modern. I think this blend of colors is perfect to give you a mysterious look.
Dark Rose
This nail design is sick. I love the dark black lattice and the bright red roses. I love how the accent nails play off the design of the embellished nail. I'm in love with these coffin nails for a dark but flirty look.
Black Noire
Not everyone can pull off a solid black manicure. This matte version is quite femme fatale. A look like this is perfect for a seductive and edgy look.
Ruby Red Glam
The deep dark ruby color offsets the volcano dust glitter on this design. By adding in the elaborate design on the pink nails, you offset a more delicate look with a mani that just screams killer.
Dark Gothic
I love how the matte grey color totally plays with the intricate lace-like design on these coffin nails. Those edgy black nail stud decorations also give a more gothic feel to this manicure without being overdone.
Channel Chic
Love the finer brands in life? Channel girls will be totally mysterious and on fleek with these black, grey and silver Channel nails. This is a beautiful, darker look for coffin nails.
Playful Black And Nude
Want a dark look that still has a playful feel? Try this design in black and nudes. I love how this look has adorable polka dots and stripes that I love, with a darker more intense feel.
Matte Cherry
Matte nail polish gives any mani a different twist. With a cherry red polish and a matte finish, everyone will be wondering who that girl is. I also love how this polish shows off the shape.
Black And White Opposites
You will crush it with this mani that is black on one hand and white on the other. I've seen this style of mani a couple of times, but I love the extra glitter and heart accents on this set of coffin nails. Love it!
So lovelies, how much do you love these mysterious coffin nails? Tell me in the comments!
*Image via Pixabay