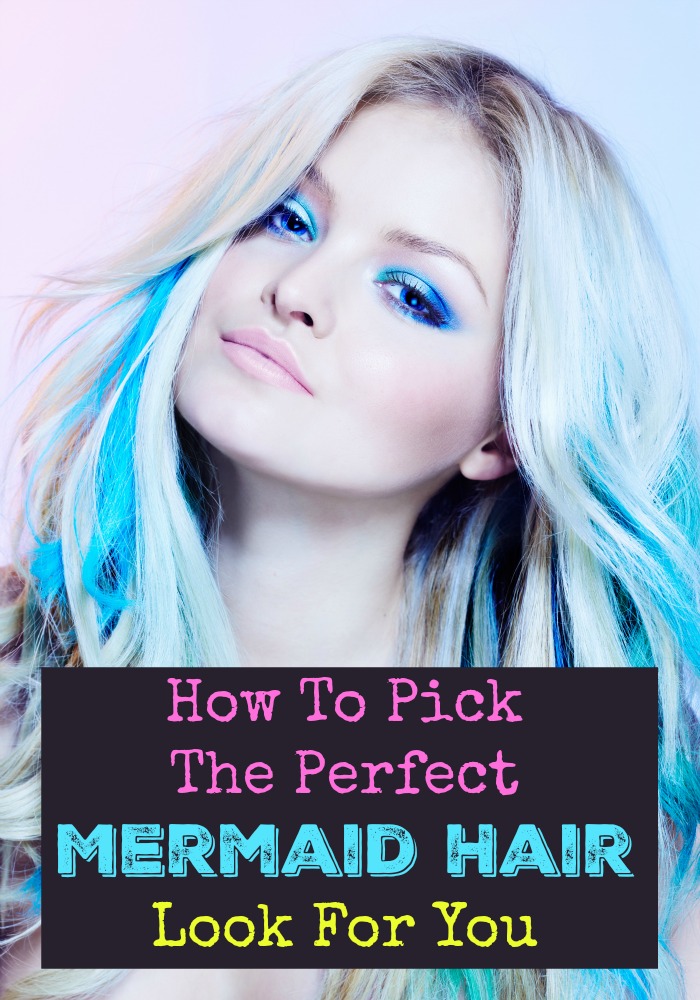 I am in love with the mermaid hair trend that is popping up everywhere.  The colors, the COLORS! I am so excited to see so many people experimenting with beautiful colors in their hair. Want to jump in on the trend? Check out some of my tips below!
How To Pick The Perfect Mermaid Hair Look For You
Dark Haired Girls
For my fellow dark haired ladies out there the mermaid trend can be a little trickier. To pull off the vibrant color we are obsessed over, it always means bleaching your hair. I STRONGLY recommend seeing a stylist for this if you have dark hair. Home bleaching kits very easily can cause you to have fried hair or even for your tresses to fall out! Go to a stylist for the first bleach job, and then you touch up your color at home if you prefer. Not ready to commit? You can try streaks of color to start, or clip in extensions before you take the full hair plunge.
Light Haired Girls
It is a bit simpler for light haired girls to pick up the mermaid hair trend. If you have blond or light brown hair, your hair may already be light enough to hold the color. You may still need a light bleach application, and again I strongly recommend using a stylist for this part. Be careful if you touch up your color yourself later on to space out your applications. Over processing and over dying your hair can cause it to dry out, frizz, or fall out yikes!
Colors To Try
Pinks, Fuschias, and Reds
Light haired ladies, most shades of pinks and reds will look amazing on your hair. The lighter canvas you have to start off with makes pinks really shine. Darker hair and skinned girls don't fear pink, the more vibrant fuchsia and striking reds will look amazing on your hair!
Blues, Purples, And Greens
Blues and greens tend to look amazing mixed with darker hair. These deep cool colors look really striking both next to darker hair and darker or olive skin. Try a mix of blue and green, or add some deep purple for even more pop.
Pastels and Metallics
If you are thinking of trying this trend, ta-dah! Pastels look good on pretty much everyone. That's great news for all of us as the color starts to wash out, but you can also totally start your look at pastels, and it will be beautiful! You can also give yourself a bit more shimmer by mixing in silver or gray. Beautiful!
Multi-Tone
Can't decide on your color? Choose two colors that suit your personality. You can also go for a rainbow effect and channel your inner Rainbow Dash, yeah!
Make Your Color Last
Start With A Vibrant Color– The more vibrant of a color that you start with, the longer your color will last. You can start by wearing your bright colors, and later you can pull off a pastel style
Avoid Shampooing– The more you shampoo, the more your color will wash out. Try to limit your shampoo as much as possible, try a dry shampoo for in between washes instead. Chlorine and water can also strip your color, so watch the pool! Also, use a shampoo and conditioner specifically for colored hair.
So lovelies, have you tried mermaid hair? Tell me your amazing color stories in the comments!