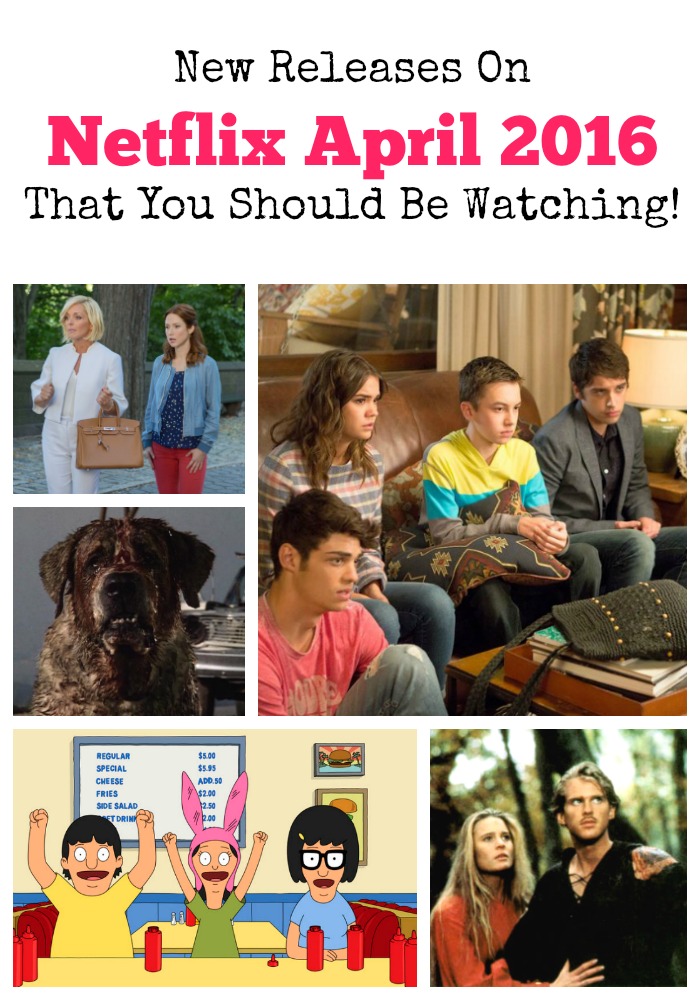 They're bringing it again with new releases on Netflix April 2016. You'll want to see the TV shows like Season 5 of Bob's Burgers (great for a laugh!) or the Unbreakable Kimmy Schmidt. In the new movie department, we have great scary movies such as Steven King's Cujo, and funny movies like The Princess Bride (ohh a classic!). You will have no problem finding a TV show or movie to watch! I always like to check the list myself and use it as a chance to freshen up my Netflix account. Then on that day I can't figure something out to watch, I always have something new! Here are the new releases on Netflix for April 2016 that you are going to want to check out.
New Releases On Netflix April 2016
April 1st
Bob's Burgers: Season 5
CodeGirl
Cujo
Explorers
Lost & Found Music Studios: Season 1- Netflix Original
The Princess Bride
The Ranch: Part 1- Netflix Original
Bob's Burgers features the Belcher family who owns a burger joint and is a funny cartoon comedy that's more Simpsons and Family Guy style comedy. CodeGirl is a documentary featuring teenage girls from around the world trying to make their community better. Cujo is a psychological thriller movie based on the book by Stephen King about a massive St. Bernard dog who was playful but turns ferocious after contracting rabies. Creepy. Explorers is a sci-fi movie about a pair of teenage boys who build a spaceship so they can explore the world of outer space. Lost & Found Music Studios showcases a group of musicians at an after-school program. The Princess Bride tells the story of a farmhand, Westley, who takes a journey to save his true love from a hateful prince. Don't discount this one; it's one of the top quotable movies of all time. The Ranch is a comedy series about two brothers helping their father run the family ranch.
April 8th
In God's Pocket, a local reporter tries to get to the bottom of the story when a man attempts to cover up his stepson's mysterious accident.
April 15th
Unbreakable Kimmy Schmidt: Season 2- Netflix Original
Unbreakable Kimmy Schmidt is a comedy sitcom about a young woman who is trying to get used to life in New York City after being held captive in an Indiana doomsday cult. I didn't catch the first season of this show, but from watching the Season 2 trailer, it looks pretty funny. Plus I see actresses I recognize from other funny shows like The Office and 30 Rock, so it's def worth a watch.
April 27th
Begin Again
The Fosters: Season 3
Begin Again is a musical comedy-drama movie and tells the story of a young singer/songwriter who finds her career launch from a recently fired record label executive. Hey, it has Keira Knightly and Adam Levine and looks like a good pick. The Fosters is a family drama series that follows the lives of a lesbian couple and their family of biological, foster and adopted multi-ethnic children.
April 29th
Hellion is a drama movie showcasing a troubled teenage boy, his younger brother and their father, who is emotionally absent.
Last Call: Catch Your Favorite Before They Are Gone!
Lots of good picks are leaving this month to make way for the new releases on Netflix April 2016 edition. You may want to double check if there are any you must see one more time!
Leaving April 1st
2 Fast 2 Furious
Along Came a Spider
Bandslam
Charlie's Angels
Craigslist Joe
Eureka: Season 4.0
Flashdance
Hook
House of Wax
The Inexplicable Universe with Neil deGrasse Tyson
Pride and Prejudice
Remember Me
Rock Star
Star Trek: Insurrection
Starship Troopers
The Wedding Date
Leaving April 10th
Leaving April 15th
Leaving April 20th
Leaving April 22nd
So lovelies, which these new releases on Netflix April 2016 are you going to be watching? What have you already seen that's good? Tell me in the comments so I can watch too!