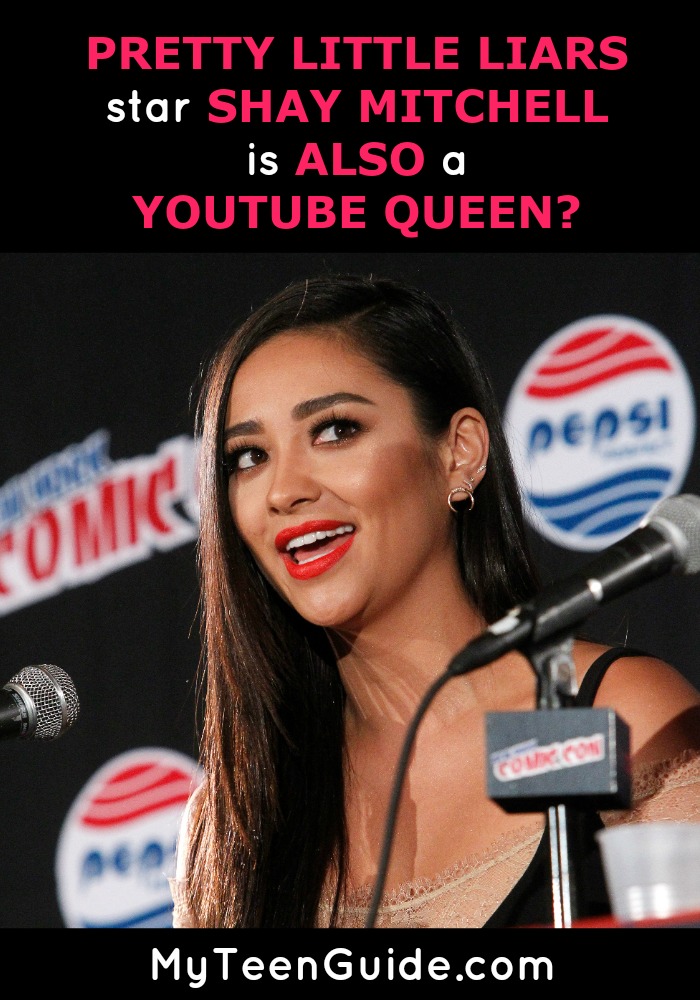 The cast of Pretty Little Liars is making waves, especially Shay Mitchel. Not only is Shay the star of Freeform's hit TV show Pretty Little Liars as one of my fav character's Emily, but she's also had her hand in some sweet projects. Shay Mitchell is constantly growing her brand and has become the queen of YouTube. Her acting career is flourishing, her youtube channel is a hit, her book with BFF Michaela Blaney is everywhere, you have to see Shay's Instagram and her blog Amore & Vita is absolutely stunning! She's truly connecting with fans near and far while becoming a global star!
Pretty Little Liars Star Shay Mitchell Is Also A Youtube Queen?
Whether you're looking for a good laugh, yummy recipes, nail polish ideas, and trip inspiration or simply to learn more about Shay Mitchell – check out her amazing Youtube videos. You won't be disappointed. There's something for everyone. With video categories entitled "Shay's Kitchen!", "Shay's Wardrobe" and "Youtube Challenges!" to name a few… This woman is really doing it all! My personal favorites include her "Shaycation!" videos that follow her worldwide adventures to places like Bali and Morocco. Check out Part 1 of Shay's amazing vacay in Morocco below. If this video doesn't give you the travel bug, I don't know what will.
The world is so beautiful! Shay Mithcell's "Shaycation!" videos will give you a little taste of paradise. Who's already packing their bags? (I know I am!)
Shay also shares a monthly Q&A video on her channel. And guess what? The questions she answers are from fans just like you! What questions would you have for Shay? Who knows, maybe she'll answer one of your questions next month! It's so great when celebs are fan oriented and want to share their experiences with their loyal followers. Congrats Shay – thank you for being so open and genuine! Check out her March Q&A video to get a taste of what kind of questions she answers.
Shay has even collaborated with other Youtube celebs like Ingrid Nilsen. Check out her youtube videos under the category heading of "Youtube Collabs!" to see all of the awesome people she's collaborated with. I'm a fan of this makeup haul she slayed. Maybe she's already collaborated with one of your fave Youtube stars!
"Shay's Kitchen" videos can't help but make us all hungry for some yummy treats. Check out her tasty food videos for some new recipes to try this spring. Spice things up in the kitchen!
Shay Mitchell is an all around powerhouse. She's an incredibly strong, independent woman for others to look up to.
What do you think of Shay's Youtube channel? Do you know all about Shay's other proects past Pretty Little Liars? What do you watch on Youtube? Let us know in the comments below. We love hearing from you!
*Image via ABC