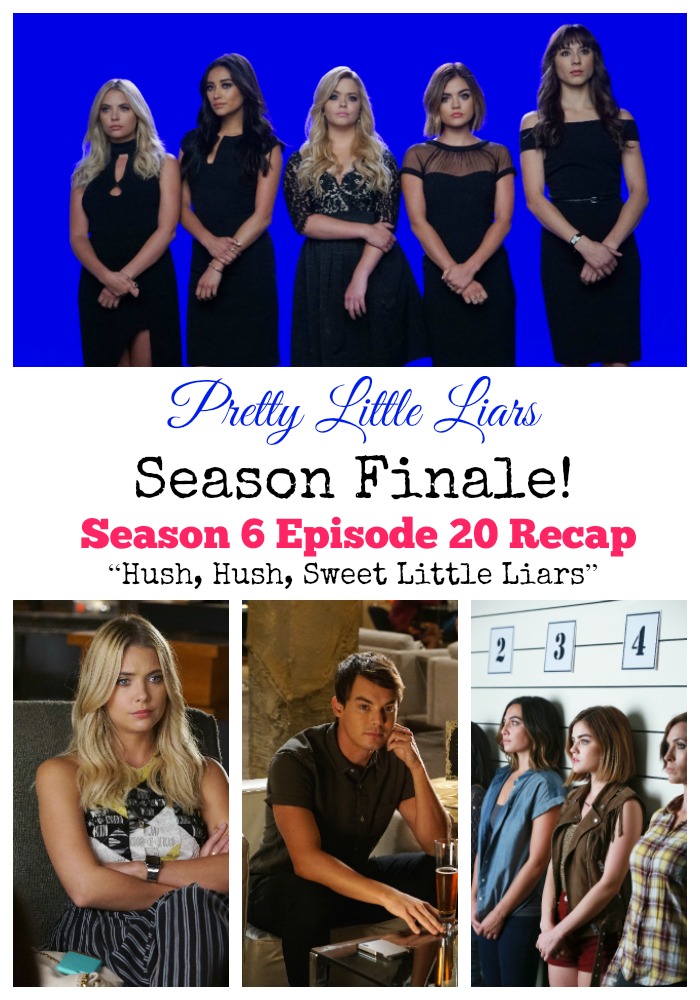 Ohh, how did we get to the Pretty Little Liars Season 6 finale already all of my Liars fans? If you missed all the crazy things that happened in the Pretty Little Liars Season 6 Episode 20 recap, then you are in the right place! So pull up a chair and put your feet up, you're going to want to dig into this recap and all of the spoilers! After all, I know I'll be obsessing over some of these details until the new season starts! What will I do without my Liars and their twisted plans?
The PLL Season 6 Finale! Pretty Little Liars Season 6 Episode 20 Recap
The PLL Season 6 finale "Hush, Hush, Sweet Little Liars" starts with all of the Liars together right where we left off. We are literally waiting for whomever Evil Emoji is to text the liars back, as Hanna told Evil Emoji that she killed Charlotte. We're pretty sure from last week's episode 19 that Hanna did not kill Charlotte and is confessing as part of a plan to draw Evil Emoji out, but she might actually be guilty too… stranger things have happened!  Evil Emoji texts Hanna back and threatens her. Alison returns home with Elliot and talks about Charlotte. Ali also mentions that Elliot will be leaving for a conference so that she will be alone. Probably not the wisest move to be alone RIGHT after hatching that plan eh Alison?
Spencer and Toby go over the Radley floor plans and how there is a secret room hidden underneath Radley. Toby tells Spencer that he will help her find the secret room on election night. Emily brings parts to Caleb so he can begin building an electric fence. Aria and Ezra talk about how he was able to finish the last chapter of their book and he finally talks to her about Nicole.
Alison is asleep on the couch when she hears music playing from her jewelry box. When she goes to check it out, she ends up seeing her deceased mother. I was freaking out at this moment. Later, Ali tells Emily what she saw, and Emily tells her that is what probably the pain medication that made her see things.
Toby helps Evonne set up for the election party and tell her that he won't be there because he will be helping Spencer. Evonne gets upset with Toby. Mona shows up at Spencer's house and tells her she wants to help her mother win. Caleb sets up the electric fence and cameras outside of where Hanna will be meeting the person that has been texting her. Emily and Aria are at Alison's house, and Emily reads Aria and Ezra's book. Later, Emily sees the deceased Wilden and tells Elliott that she is seeing dead people. I would think I was going crazy too! Elliot tells Emily it's all in her head. How many dead people are we going to see in this episode? It's starting to play with MY head.
Emily heads back to check in on Alison, but she can't seem to find her. Meanwhile, Ali shows up at the same church where Charlotte was killed. Hanna and Caleb talk about their break-up, and she tells him that she went back to him, but he had already left. She says that she never stopped loving him, and they kiss. AHHHH Haleb forever! Hanna then sends a message for Evil Emoji to meet her.
Spencer and Toby search for the secret room under Radley, while Mona seems to be following them. They locate the secret room as well as an old patient file from someone named Mary Drake. They read the file more and here is where it gets REALLY good. They find out from the file that Charlotte was adopted by Alison's family and that Mary Drake is her actual mother. We also learn Mary Drake gave birth to a baby boy named Charles (also known as Cece Drake and as the infamous A)… who was later adopted by Mary Drake's twin sister Jessica DiLaurentis, Ali's mom.
Aria, Ezra, and Caleb wait in the woods when they notice someone approaching the cameras. However, when they head towards the cameras, they don't see anyone. They realize that they left Hanna and run back to get her, but she is gone. Spencer, Toby, and Mona show up, and they watch the camera footage. The camera footage shows Mrs. D running through the woods.
Emily helps Alison check into a psychiatric hospital after they locate her freaking out in the church. While at Alison's, Wilden enters the living room, removes his face, revealing he is actually Elliot and has been the one helping Mary. The episode ends with Hanna unconscious and being dragged into the church.
HANNA! #PLL pic.twitter.com/Nfpneou4RT

— Pretty Little Liars (@PLLTVSeries) March 16, 2016
Ahh, I just can't! I'm on overload, so much happened in the last five minutes! How can this Pretty Little Liars Season 6 Episode 20 recap last me until the next season? What's going to happen to Hanna? Wilden and Elliot are the same person? Has Elliot been helping Mary? I was so convinced Aria was going to be the one with the secret twin in my own twisted fan theories, but I was totally wrong.
What did you think of the PLL Season 6 Finale? Were you expecting someone else to have a twin in the Pretty Little Liars Season 6 Episode 20 recap like I was? What did you think of the twist with Elliot, and with Mary Drake revealed as having a twin? What are your fan theories? Tell me in the comments!