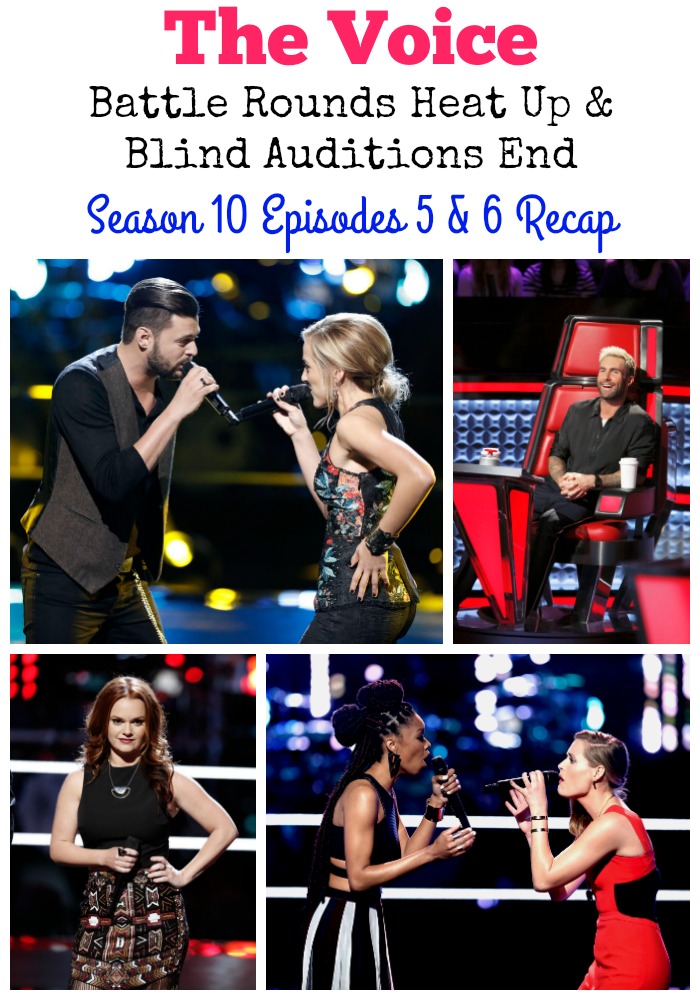 The competition is starting to pick up speed as we head into The Voice battle rounds recap for Season 10 Episode 6 starting this week, but not before we finish The Voice blind auditions recap during season 10 episode 5 that we started last week. This is how it works for this week on the Voice. Monday night's first hour will feature the last of the Blind Auditions while the second hour starts the Battle Rounds. We also get our first look at the complete team list, yay! Then, Tuesday night will feature more of the Battle Rounds. Let's see what happened!
The Voice Blinds Auditions End & Battle Rounds Begin Season 10 Episodes 5 Recap
Jared Harder– Merry Go Round by Kacey Musgraves- Jared is the son of a preacher and grew up singing in church. He is from Joplin, Missouri, is married and is employed in a local ice cream shop. His voice isn't really strong, but he does sing with emotion. Blake is the only one that turns his chair, so Jared is on Team Blake. Blake's team is now full!
Moushumi– Wicked Game by Chris Isaak- She is the daughter of parents from India. Her father is a doctor, and she even attended medical school in India but took a year off to pursue her love of music. Holy cow can this girl sing! What a magical voice. Adam, Pharrell and Christina all turn. She chooses Pharrell.
https://youtu.be/1nkPCAq2CKY
Katie Basden– Midnight Rider by The Allman Brothers- Katie was a student at Belmont University studying music but had to drop out and return home when her father developed heart problems. She has a strong voice and a beautiful voice. However, this wasn't the best song choice for her. The Allman Brothers put some grit in this song that she just doesn't add to it. Adam, Pharrell, and Christina all turn and Katie chooses Adam. Adam's team is now full!
Jonathan Hutcherson– You and I by One Direction- Jonathan is just 16 years old and lives on a farm in Kentucky. He is also deaf, wearing a hearing aid. Jonathan has a great voice with tons of emotion. Pharrell is the only chair turner, so he is on Team Pharrell. Pharrell's team is now full!
https://youtu.be/GXm6Jk000W0
Ayanna Jahnee- Skyfall by Adele- Ayanna's mom passed away from cancer. I like her voice and think she has lots of potential. She has a few pitch problems here and there, but I think that is nerves more than anything. She does know how to hit those high notes, though. Christina turns her chair, placing Ayanna on Team Christina. This means Christina's team is now full!
The Voice Battle Rounds Season 10 Episode 6: Teams
So, that is the end of The Voice Blind Auditions season 10 episode 5! Here are the four coaches and their team members! Then, we move on to the start of The Voice Battle Rounds season 10 episode 6! Here is what the final teams look like going into the battles.
Team Blake
Adam Wakefield
Angie Keilhauer
Jared Harder
Brittany Kennell
Ana Castanzo
Justin Whisnant
Mary Sarah
Paxton Ingram
Peyton Parker
Teresa Guidry
Trey O'Dell
Team Adam
Katie Basden
Caroline Burns
John Gilman
Katherine Ho
Laith Al-Saadi
Lily Green
Matt Tedder
Mike Schiavo
Natalie Yacovazzi
Nate Butler
Owen Danoff
Ryan Quinn
Team Pharrell
Jonathan Hutcherson
Abby Celso
Brian Nhira
Caity Peters
Emily Keener
Hannah Huston
Jessica Crosbie
Joe Vivona
Jonathan Bach
Maya Smith
Nick Hagelin
Team Christina
Ayanna Jahnee
Alisan Porter
Bryan Bautista
Chelsea Gann
Daniel Passino
Joe Maye
Kata Hay
Kristen Marie
Lacy Mandigo
Shalyah Fearing
Tamar Davis
The Voice Battle Rounds Season 10 Episode 6: Coaches Advisors
So, for The Voice Battle Rounds, each of the coaches has an adviser to help them with their team. Adam Levine's adviser is Tori Kelly, Blake Shelton's adviser is Gwen Stefani, Christina Aguilera's adviser is Patti Labelle, and Pharrell Williams' adviser is Sean Diddy Combs. I heard things are heating up between Christina and Gwen and that Christina is NOT happy Gwen is on the show. We'll see if they can play nice.
Katie Basden and Ryan Quinn– Team Adam- Maybe I'm Amazed by Paul McCartney- This is a tough choice between these two. They are both incredibly talented with amazing voices. I think that Katie did slightly better, though. Her voice is so strong and raspy. Adam ultimately chooses Ryan as the winner BUT Blake steals Katie for his team.
https://youtu.be/eBkI7KwNFr4
Brittney Lawrence and Paxton Ingram– Team Blake- I Know What You Did Last Summer by Shawn Mendes and Camila Cabello- Paxton has much more experience than Brittney, so he is doing slightly better in this Battle Round. However, as far as range is concerned, Brittney has a huge range whereas Paxton doesn't. Blake chooses Paxton and Brittney is now eliminated.
Bryan Bautista and Malik Heard– Team Christina- It's a Man's World by James Brown- These Battle Rounds are so tough because you are putting two great contestants up against one another. Both these guys have a great voice, and both of them have amazing range. They both hit the high notes in this song perfectly. Christina chooses Bryan, BUT the other three coaches want to steal Malik. Malik ultimately chooses Pharrell.
https://youtu.be/7q7HB0hItuU
And that wraps up Monday night! Phew, there was a lot in that episode!
The Voice Battle Rounds Season 10 Episode 6 Recap
Tuesday night features six more Battle Rounds on The Voice. Let's check out what happened!
Shalyah Fearing and Tamar Davis– Team Christina- Lady Marmalade by Labelle- So, out of these two, Tamar has the most experience. However, Shalyah definitely has some raw talent. They both perform well, but I think Shalyah has a couple of years before she is where she needs to be in the music industry. Christina ends up choosing Tamar, BUT Pharrell ends up stealing Shalyah!
https://youtu.be/BdjTFIO9U2A
Justin Whisnant and Mary Sarah– Team Blake- Louisiana Woman, Mississippi Man by Conway Twitty and Loretta Lynn- While both of these singers are talented, I think performance wise, Mary is the better performer. Justin's voice sounds like most other voices you hear on the radio. Ultimately, Blake chooses Mary, meaning Justin has been eliminated.
Jessica Crosbie and Nick Hagelin– Team Pharrell- Electric Feel by MGMT- Neither one of these two are doing very well. I mean they are okay, but neither is knocking it out of the ballpark. However, I think Jessica is doing slightly better. Pharrell chooses Nick BUT Adam ends up choosing Jessica. That was surprising. I don't think Jessica will make it past the next rounds, though.
Chelsea Gann and Kata Hay– Team Christina- I'm the Only One by Melissa Etheridge- Kata has a ton of pitch issues. She is not doing well as far as voice control either. Chelsea is definitely winning this battle without a question. Christina surprisingly chooses Kata, so Chelsea is eliminated! What in the world was Christina thinking? UGH!
https://youtu.be/urMmbuHVCGk
Natalie Yacovazzi and Nate Butler– Team Adam- Hollow by Tori Kelly- This is another tough choice, I think. Natalie has a great tone, whereas Nate has amazing range. I think Nate is slightly doing better here with his control, his pitch and his vocal controls. Adam chooses Nate, so this means that Natalie has been eliminated!
Hannah Huston and Maya Smith– Team Pharrell- Elastic Heart by Sia- The saying about saving the best for last definitely applies here. They are both knocking this performance out of the ballpark. They both own the stage, hit the notes perfectly and have a ton of confidence here. Tough choice for Pharrell here but he ultimately chooses Hannah BUT Blake, and Christina wants to steal Maya. Maya ends up choosing Christina.
https://youtu.be/Ze-_oJZdKBU
That is a wrap for this week! Stay tuned next week for more Battles!
So what did you think of The Voice Battle Rounds Season 10 Episode 6 so far? Where you happy with the teams for The Voice Season 10 Episode 5? Do you have a fav you are hoping will go to the end? Talk to us in the comments!
*Images via NBC