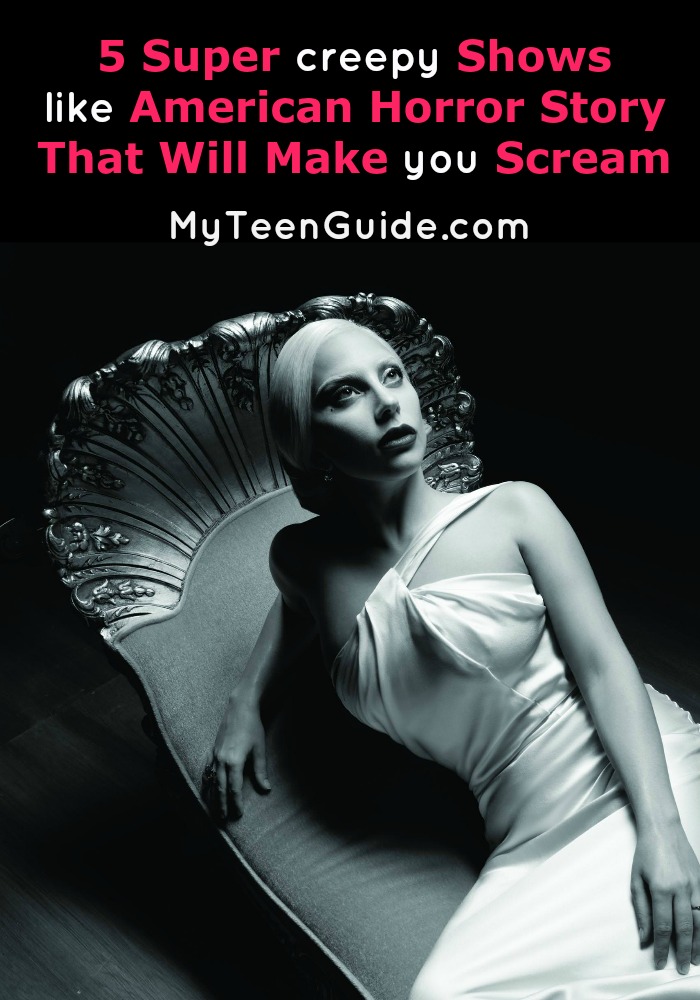 It's hard not to like shows like American Horror Story that are full of twists and dark and creepy stories. Somehow even though I'm creeped out, I keep watching! Sometimes from under my cozy blanket, but I love to be on the edge of my seat! If you are looking for more shows like American Horror Story that are super scary, then this is the list you need to see. Check out these shows to totally creep you out, plus two of them you can watch on Netflix!
5 Super Creepy Shows Like American Horror Story That Will Make You Scream
American Horror Story is an anthology horror television series that premiered on FX on October 5, 2011, with season 6 premiering on September 14, 2016. Being an anthology series means that the storyline in each season has a beginning, a middle and an end. Also, while some of the same cast may appear in more than one season, they play a different character in each season of American Horror Story. Here are some other TV shows like American Horror Story.
Related: Throw A Spine-Tingling Bash with Our Scary Halloween Party Games!
Bates Motel
Bates Motel is a horror television series that premiered on A&E on March 18, 2013, with the season 4 finale airing on May 16, 2016. The series is a prequel to the 1960 movie Psycho. It tells the story of Norman Bates and his mother, Norma, in events that occurred before the events in the film. Norman and his mother move to a small town to start a new life and a new business, Bates Motel. Strange and mysterious things start to happen in town that ties in with Norman's mental illness. Bates Motel stars Freddie Highmore as Norman Bates and Vera Farmiga as Norma Bates. You can find episodes of Bates Motel on Netflix.
Hemlock Grove
Hemlock Grove is a horror television series that is based on the 2012 book of the same name by Brian McGreevy. The series premiered on Netflix on April 19, 2013, and the 3rd and final season concluded on October 23, 2015. When a teenager is brutally killed in the mysterious town of Hemlock Grove, finding her killer may not be so easy. It seems that everyone in town harbors a deep, dark secret, including one resident who is secretly a werewolf while another secretly conducts evil experiments. Hemlock Grove stars Famke Janssen as Olivia Godfrey, Bill Skarsgard as Roman Godfrey and Landon Liboiron as Peter Rumancek. You can find this show on Netflix, woohoo!
The Strain
The Strain is a horror drama television series that premiered on FX on July 13, 2014. Season 3 premiered on August 28, 2016. It is based on the 2009 book of the same name by Guillermo del Toro and Chuck Hogan, who also created the series. The Strain takes place in New York City, where a strange virus outbreak plagues the city and it shows signs of an old and evil strain of vampirism. The series stars Corey Stoll as Doctor Ephraim Goodweather, David Bradley as Professor Abraham Setrakian, Kevin Durand as Vasiliy Fet, Jonathan Hyde as Eldritch Palmer, Richard Sammel as Thomas Eichhorst and Natalie Brown as Kelly Goodweather.
Penny Dreadful
Penny Dreadful is a horror drama television series that ran for three seasons on Showtime, from May 11, 2014, to June 19, 2016. The series is about a team of experts ban together in Victorian London to fight supernatural threats. The team includes Sir Malcolm Murray, an explorer; Ethan Chandler, a gunslinger; Vanessa Ives, a medium and Victor Frankenstein, a scientist. Penny Dreadful stars Timothy Dalton as Sir Malcolm Murray, Josh Hartnett as Ethan Chandler, Eva Green as Vanessa Ives and Harry Treadaway as Victor Frankenstein.
Hannibal
Hannibal is a psychological horror television series that aired for three seasons on NBC, from April 4, 2013, to August 29, 2015. The series showcases the beginning of the relationship between Doctor Hannibal Lecter, a psychiatrist/serial killer and his patient, Will Graham, an FBI profiler. Hannibal stars Hugh Dancy as Will Graham and Mads Mikkelsen as Doctor Hannibal Lecter.
So what are your favorite shows like American Horror Story that just creep you the heck out? Tell me down in the comments!
Image via Wikia