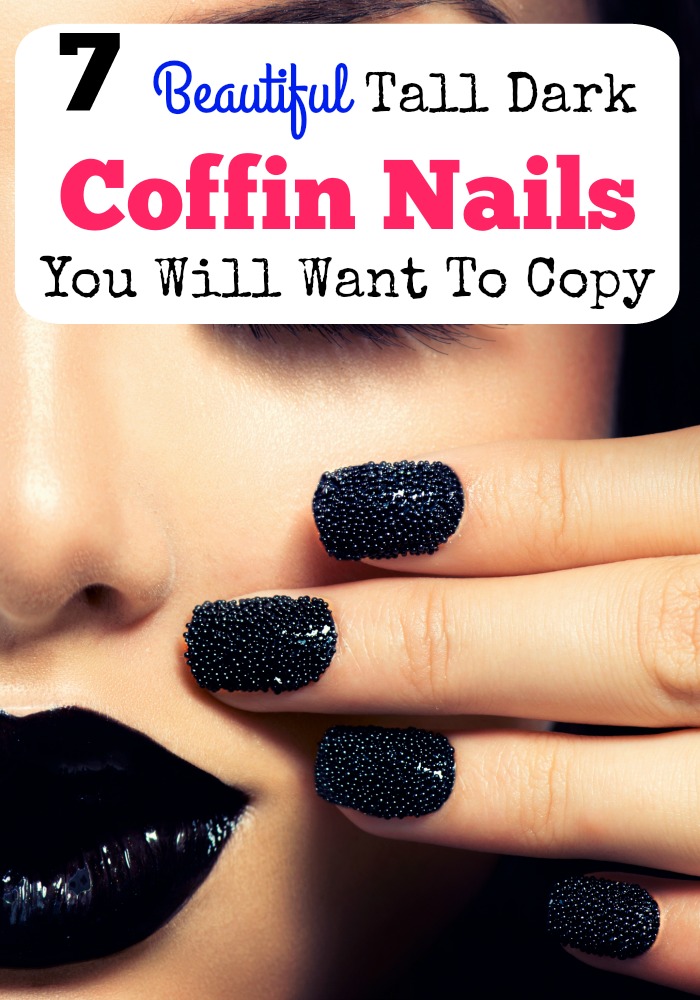 Tall dark coffin nails are a spin on a trend that is hitting the internet hard this year. By hitting it hard I mean everyone I know who is obsessed with nails is wearing some sort of coffin nails. While the name sounds kind of creepy, the results are fantastic for nail addicts who want more space to show off all kinds of nails art. I am usually pulled towards sparkly or light nails, so I decided to switch up my look. Check out some beautiful tall, dark coffin nails you are going to be trying at home or taking to your nail tech. These looks are fantastic!
Tall Dark Coffin Nails To Try
Negative Space Nails
This design is so amazingly cool I had to share. While the featured nails shape is not technically coffin nails (coffin nails are usually a bigger, longer shape) the design is for a perfect for showing off your coffin nail shape. They make the tutorial look super easy don't they? Make sure to click on the image as it is a full video!
Tribal Grey
Are you feeling your wild side a bit lately? Check out this deep dark grey set of coffin nails. I really like the tribal feel of the accent nail. You can take on the world with these nails, or just your day!
Galaxy Nails
These, I need these! These galaxy nails are so pretty and on my list to try. I'm not sure if I can pull this look off as cleanly as this artist did. I may need some help from my bestie to create this smashing look. Ah-mazing! I so want them!
Black And Gold Swirl
Ohh, these nails are wicked hot. Lighten up a full set of deep dark coffin nails with that shiny gold glitter. I might get distracted looking at my own nails. I have some serious love for sparkly nails.
A Bit Of Olive
The right deep olive color looks amazing with so many different outfits. I have been on the hunt for a beautiful olive mani idea as I have this great vest to go with it! Check out this gorgeous set with the black dazzled accent nail. I think its love.
Deep Purple Sparkle
Hey, glitter addict, this set of nails is for you. Many sets of glittery nails tend to go bright and shiny, but this set of beautiful dark coffin nails sparkles a deep purple color.
Lustrous Green
The color is simply stunning on this set of nails. I wish the Instagramer mentioned what polish she used! I love this deep green that is so inky it's almost black. This color is mysterious!
Have a favorite from these tall dark coffin nails? Which one is your fav mani?