It's tea time! Planning a perfect tea party for your child can be lots of fun and very easy.
There are dozens of ideas for cakes, invites, decorations, and more- but what about tea party games for kids?
These, too, can be easy to plan and will make a huge impact on your guests if you know how to do them right!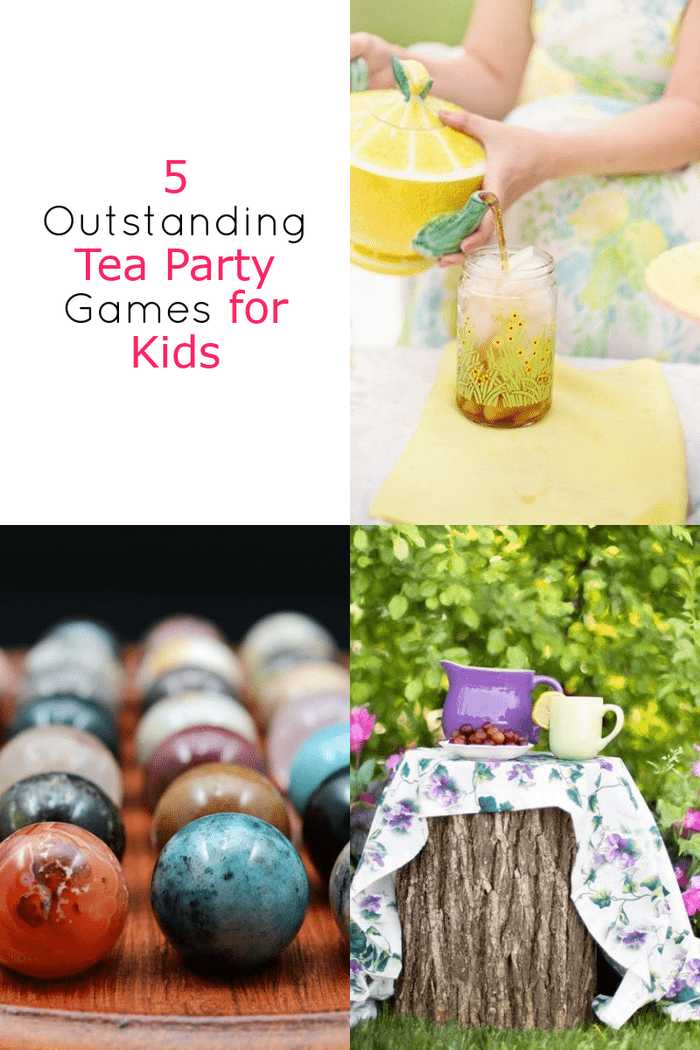 Cute Tea Party Games for Kids
This post contains affiliate links. We earn a commission if you make a purchase.
1. Pin the Tea Cup on the Saucer
This is one of the easiest tea party games for kids you can do. The concept is very much like that of "Pin the tail on the Donkey."
You start by giving each child a medium sized tea cup  cut out of card stock or poster board.
Write each child's names on their tea cup and place tape on the back.
Tape a large saucer cut out of poster board (with an "X" marked in the center) to a wall and blindfold each child.
Have them place their cup on the saucer and the one who gets the closer to the "X" wins.
Afterward, place a magnet (with self-adhesive on the back) on the back of each tea cup for the kids to take home as a party favor.
2. Guess How Much
Have you ever been to a party where you had to guess how much candy was in a jar? This can easily translate into a tea party game for kids.
Simply place jelly beans or some other candy in a tall tea pitcher or tea pot.
Have each child guess how many are in the pitcher or pot and write down their answers.
At the end of the party, announce the winner by the child that guesses the right amount or closes to it.
That child gets the candy and the pitcher as a prize.
3. Tea Hats
This isn't just a tea party game for kids, but one the parents can enjoy, too!
Purchase cheap sun hats for $1 at the Dollar Store, as well as jewels, ribbon, fake flowers, bows, buttons, and more at a craft store. or just dig into your own craft kit.
Have each child and their parents decorate the hats as they wish and wear their hats during the party.
They can take their hats home with them, too, making this a game and a party favor in one! If you want to make it a competition, hold a judging and have each child vote on the hat they like the most. You can check our Leprechaun Hat Craft for inspiration.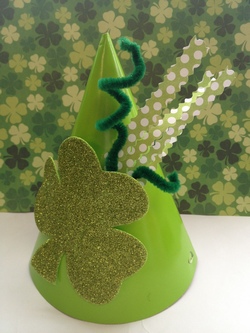 4. Sugar Cube Balancing Act
Sugar used to come cubed for tea time, and you can still find places that will sell it that way. If you cannot find cubed sugar, use a peppermint or other small, white candy.
This tea party game for kids is easy to accomplish: simply provide each child with a plastic spoon, the piece of sugar or candy, and create start and finish lines.
Have them place the candy on the spoon and race as fast as they can from the start to the finish of the course.
You can make it challenging for older kids by creating obstacles on the race field. The first to the finish line with their candy or sugar on the spoon wins!
5. Play Victorian Era Games!
Give kids a bit of a history lesson at their tea party by playing games from the Victorian era! Think Jane Austen's Sense and Sensibility and Emma for inspiration. A few games that were popular during the time include:
Marbles– You can play all sorts of games with a set of marbles! In Victorian times, poor children made their own with clay, so you could turn it into a craft and game.
Yo-yos– Children in Victorian times played all sorts of games with yo-yos! Challenge kids to see who can keep theirs going the longest!
Hoop and Stick- The object is simple: use a stick to keep a hoop rolling as long as possible! You can use a stick from your yard and a hoola hoop to play!
 These are a just a few fun tea party games for kids. Need more ways to keep them entertained? Check out our Ultimate Party Games guide!
What are your favorite tea party games for kids? Leave us a comment!