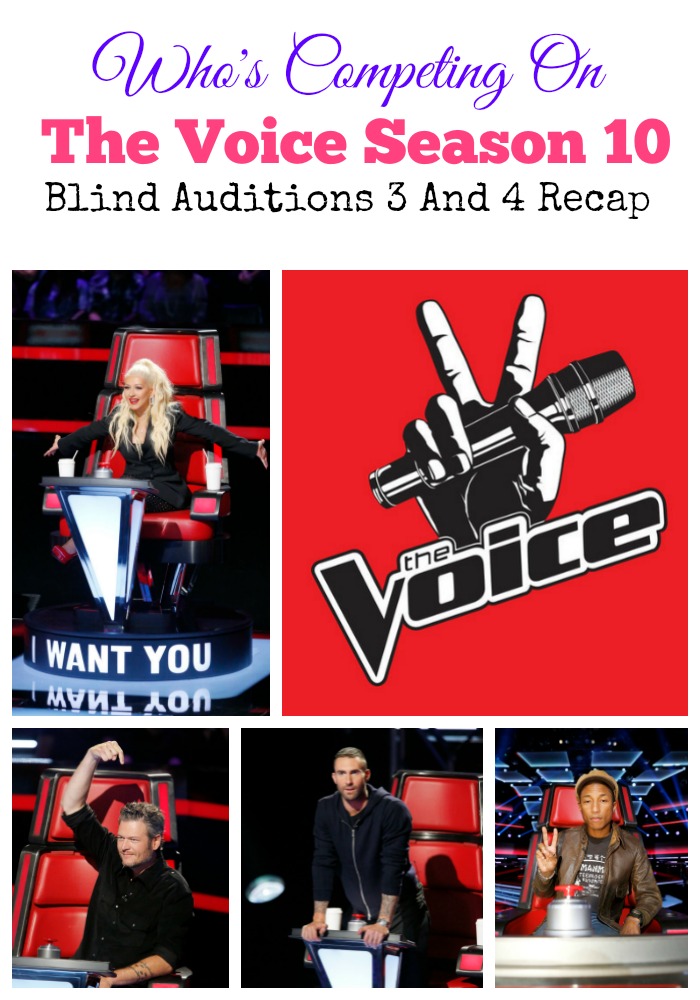 We have a couple more nights ahead of The Voice Season 10 Blind Auditions Recap.  I couldn't be more excited about this crop of contestants this year, including all of the amazing performances we saw last week. There are so many truly talented singers. It is going to be hard to choose who to root for. Let's get this party started and see who wants in during our The Voice Season 10: Blind Auditions 3 And 4 Recap! Ready?
The Voice Season 10: Blind Auditions 3 And 4 Recap
Hannah Huston– Unaware by Allen Stone- Hannah teaches preschool, likes in Nebraska and sings at local coffee shops. She has a sweet voice with some raspy tones. She gets three turns from Blake, Christina, and Pharrell. Hannah chooses Pharrell.
Brian Nhira– Happy by Pharrell Williams- Brian is from Zimbabwe, currently living with his family in Oklahoma. Hey, Blake Shelton is from Oklahoma. Interesting. However, Brian doesn't sing country. He sings pop mostly. I like his voice, I like his attitude, and I like his optimism. Pharrell and Blake both turn and Brian ultimately chooses Pharrell. No surprise there!
Ajia– Say Something by A Great Big World- Ajia is married to singer Andy Grammer. She really doesn't have the voice he has, though. Her voice is just so-so, and she really has nothing to bring to the song. She gets no turns!
Brittany Kennell– Strong Enough by Sheryl Crow- Brittany graduated from The Berklee School of Music. She is from Canada and currently lives in Nashville. I like her voice, and I also like how she took this song and totally made it her own. Her vibrato is totally off-the-wall. Blake and Pharrell turn their chairs, and she chooses Blake.
Natalie Yacovazzi– Mr. Know it All by Kelly Clarkson- Natalie appeared in season 9, but she got no chair turns. She is a single mom working as a credit card processor. She did a great job making this song her own and changing it up a bit. Adam is the only one to turn their chair, so that is the team she is on.
Malik Heard– Chains by Nick Jonas- Malik played sports just like his parents, but his main love is music. He has a great voice. I really like him and would be surprised if he didn't make it to the finals. Christina and Pharrell turn and Malik chooses Christina. I saw that coming.
Peyton Parker– Dreams by Fleetwood Mac- Peyton has been a cheerleader since a young age, but she gave it up due to an injury. Peyton and her family moved from Georgia to Nashville so Peyton could pursue her musical dream. Pharrell, Blake and Christina turn their chairs. She has a good voice, but I don't think it was worth a 3-chair turn, however. Also, she didn't do anything different with this song. She chooses Blake as her coach. WooHoo!
Kristen Marie– Mad World by Tears for Fears- Kristen is another contestant from Oklahoma. Maybe Blake will get a fellow Oklahoman on his team. She has a decent voice, but her overall stage presence is distracting. She is way too over-the-top in theatrics. Christina and Blake turn but surprisingly she chooses Christina. Poor Blake just can't catch a break tonight.
Evan Taylor Jones– Homegrown by Zac Brown Band- The family lives in Orlando, Florida but he lost his mom to cancer. Evan has a nice, soothing voice with an amazing tone. I noticed a few pitch issues here and there but nothing major. I was surprised the no one turned their chair. I didn't think he was THAT bad!
Nate Butler– The Walk by Mayer Hawthorne- Nate was in the choir as a kid and in his high school always got the lead when he tried out for school plays. He has a decent falsetto but other than that, nothing special here. At the last minute, Pharrell, Blake and Adam turn and Nate ultimately chooses Adam.
Ryan Quinn– Can't Find My Way Home by Blind Faith- Ryan works with kids who has dealt with some kind of trauma. Ryan suffered from Lyme Disease but doesn't let it interfere with his life. Ryan has a soft, mellow kind of shyish voice. I like it, and I like him, he will definitely be a contender in this competition. Christina, Adam, Blake and Pharrell all turn, with Ryan choosing Adam!
Tamar Davis– Chain of Fools by Aretha Franklin- Tamar is 35 years old, attended college for a music degree, sang in a house band for singer Prince and was cast in one of Tyler Perry's shows. Wow, she has had a decent career so far. Impressive! And I can see why! This woman can sing, decent range, great upper register and downright awesome. Christina and Blake turn and Tamar chooses Christina. Well, that was pretty much a given!
Jessica Crosbie– Viva La Vida by Coldplay- Jessica was born in Cornwall, England but now lives in Atlanta, Georgia, pursuing her music career. She turned this song into a ballad, which wasn't so hot if you ask me. But, Jessica does have a good voice, and I think she has potential. Christina, Pharrell, and Adam turn their chairs, Jessica chooses Pharrell.
Justin Whisnant– Ain't Worth the Whiskey by Cole Swindell- Oh hey, a country singer. Cool. Justin is from a small town in Oklahoma. Another Oklahoman. Wow! He plays local gigs in a band at the moment. I love his country voice, complete with an awesome drawl and an amazing pitch. Adam and Blake turns, and Justin chooses…wait for it…BLAKE! YES!!!!
Jackie Lipson– Exes and Ohs by Elle King- Jackie was overweight when she was a child, ending up with her having issues with self-esteem. She is very outgoing and has lost 100 pounds. Her voice, however, is off-key and terribly pitchy. She didn't receive any turns.
Daniel Passino– Marvin Gaye by Charlie Puth- Daniel attended the University of Michigan to study music, more specifically opera music. Odd choice but okay! He has a soulful voice but nothing spectacular really. Christina and Blake turn their chairs and Daniel ends up choosing Christina. That was pretty much a given since he is not really country.
Owen Danoff– Don't Think Twice It's Alright by Bob Dylan- Owen's father was a member of the 70's band Starland, which I never heard of honestly. His dad also wrote songs for greats like John Denver and Emmylou Harris. Impressive dad! Owen gets a 4-chair turn! Well-deserved as he truly has some talent going on here. Great vocals! He chooses Adam!
Maya Smith– Do Right Woman Do Right Man by Aretha Franklin- Maya kind of took a risk by taking on an Aretha song. However, she has a modern sound to her voice. She doesn't have the huge voice Aretha has, but her range is amazing. Pharrell and Christina turn, with her choosing Pharrell. I thought for sure she would choose Christina.
Nolan Neal– Drive by Incubus- Nolan has one heck of a story. His father committed suicide and the guilt lead Nolan down a rough road of drugs. He eventually got help and has been sober for several years. Unfortunately, his vocals need some help of their own. He is way off-key and has pitch issues all over the place. He doesn't get any turns, sad, but I think this was the wrong song choice for him.
Brittney Lawrence– Warrior by Demi Lovato- Brittney is a cheerleading coach with a huge passion for music. This is her 8th time auditioning for The Voice. The girl has determination for sure. I can see why she has never been picked for the show before. While she has a great voice, she doesn't bring anything special or different to the table. This time, however, Christina and Blake turn, and she chooses Blake.
Matt Tedder– Hoochie Coochie Man by Muddy Waters- Matt is a guitar teacher, and he plays on the street for extra money too. He is one mad guitar player let me tell you. WOW! His voice is mediocre, though, and only Adam turns his chair. Go Team Adam!
Joe Maye– I Put A Spell on You by Screamin Jay Hawkins- Joe auditioned last season but didn't get any turns, so he is back once again. He is a crazy good singer with a huge voice and some great range. Christina and Blake turn and Joe chooses Christina!
So now that you've caught up on The Voice Season 10: Blind Auditions 3 And 4 Recap, do you have a favorite? Tell me about your fav performances in the comments!