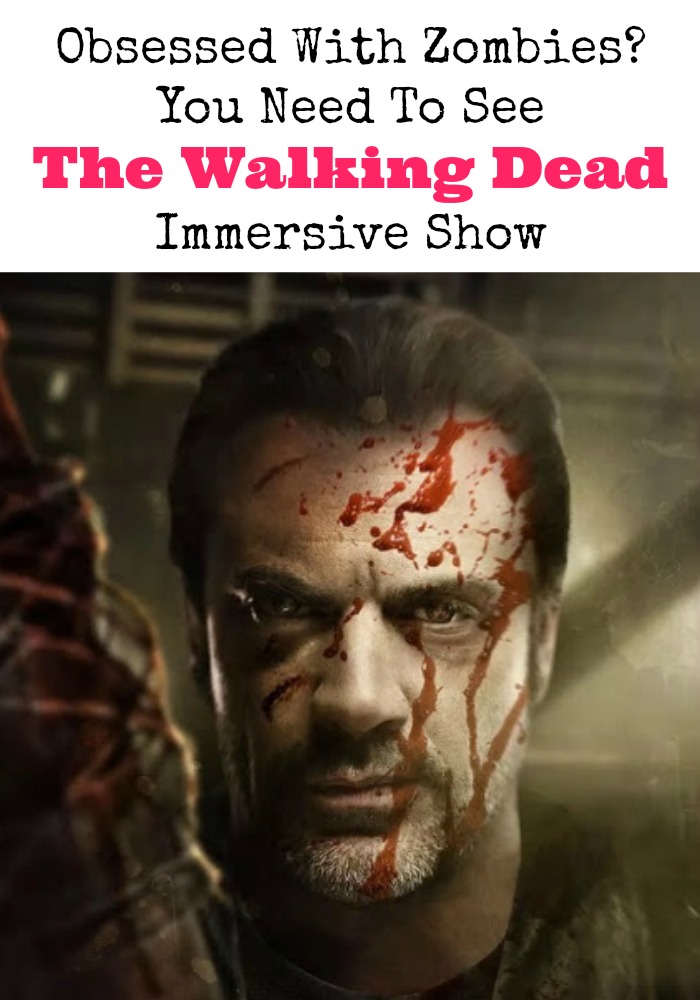 Zombie lovers unite, the Walking Dead Immersive Show is going to make your wildest… nightmares(?) come true! I have so.many.friends who are completely obsessed with the AMC television hit show, The Walking Dead. Did you know that now you can experience firsthand what it is like to be a zombie just like in the show? How you ask? The Walking Dead Experience is an attraction featuring immersive theater, aka lots of spooky scenery and actors. This is kind of like a scary movie but 3.0, as you too can be right in the show!  You join a small group of people and enter an intense and scary world.
The Walking Dead Immersive Show: Why It's So Insanely Cool
Curious? Here is what happens when you arrive at the Walking Dead Immersive Show. You can wear your own costume, but onsite they have a full professional makeup to turn you into a full zombie depending on the package you select. I suggest if you don't wear a costume, wear older clothes because they also put makeup and blood on your hands and arms for maximum effect! You are then split into small groups and are placed with a small group of about seven people. They purposely put everyone with people they don't know to make the experience more intense. The show says this is also for maximum realism! Holy cow, no grabbing Bae's arm if you're a scardy cat!
The 10,000 square foot town is dealing with the first night of a zombie outbreak. You will encounter other Walking Dead fans as well as professional zombie actors. Creepy! Walkers add to the experience purposely scaring survivors who are moving through the town! You also have options to be both a walker and survivor with combo packages. This cool experience is directed by the director, visual artist and designer, Michael Counts, along with Skybound Entertainment and Robert Kirkman, the creator of the TV show, The Walking Dead.
Want a taste of what it is like to be in the Walking Dead Experience? Check out this video!
https://youtu.be/50yCYfb3brI
What Are The Different Package Options For The Walking Dead Immersive Show?
The Walking Dead Experience takes anywhere between 30 minutes and 90 minutes, although there is an unlimited time package available.  There are five packages available to choose from:
Walker Makeup Package– $40 Walker Makeup Package allows you to get made up just like a walker on the show
Survivor Package– $60 Survivor Package allows you to play the role of a survivor, navigating through town with a small group of other survivors.
Walker Package– $60 Walker Package allows you an hour's time to get made up like a walker as well as the ability to shuffle through town, scaring the survivors.
Combo Package– $120 Combo Package is a combination of the Survivor Package and the Walker Package and is 90 minutes in length.
Hero Combo Package– $140 Hero Combo Package is basically the same thing as the Combo Package, except you don't have a time limit.
Where Can I See The Walking Dead Experience?
The Walking Dead Experience features three tractor trailers that travel around the United States. You will find this way cool experience as part of both the Walker Stalker Con and the Heroes and Villains Fan Fest. Currently, the attraction is at the Salt Lake City Comic Con at the Salt Palace Convention Center now through March 26th and then will travel to the Walker Stalker Con at the National Western Complex in Denver, Colorado, where it will be April 1st, 2nd and 3rd. Also, in the next few months, the attraction will travel to Nashville, Tennessee, Chicago, Illinois, Charlotte, North Carolina and Boston, Massachusetts.
It doesn't look like The Walking Dead Experience is coming to my town, so I'm going to have to road trip when it's close. This show looks fantastic! My bestie is going to fangirl scream when she hears about our next road trip!
What do you think about the Walking Dead Experience? Are you brave enough to become a walker or survivor? Tell me now!
*Image via Wikia