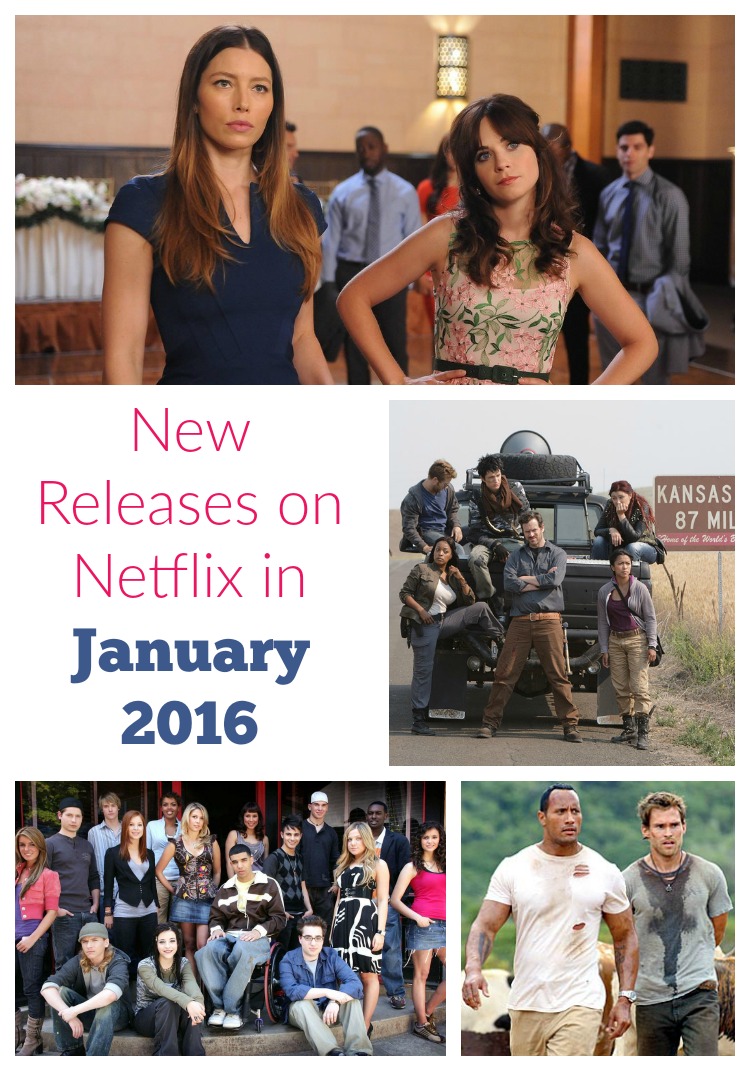 Netflix is bringing some awesome movies and TV shows to its lineup in January 2016. Between Season 4 of New Girl, Season 7 of Parks and Recreation and Turbo Kid, there will certainly be a movie and/or TV show for you to watch. Here are the new releases on Netflix in January 2016.
New Releases on Netflix in January 2016
January 1st
2 Fast 2 Furious
Bring It On: Fight to the Finish
Bring It On: In It to Win It
House of Wax
Journey to Le Mans
Pride and Prejudice
The Rundown
2 Fast 2 Furious is filled with fast, shiny cars. The Bring It On movies feature rival cheerleading teams. House of Wax features teen favorites Elisha Cuthbert, Paris Hilton and Chad Michael Murray. Teens will love the motor racing documentary Journey to Le Mans. Pride and Prejudice movie is based on the 1813 novel of the same name by author Jane Austen. The Rundown features The Rock and Seann William Scott.
January 5th
New Girl is a television series that showcases the life of Jess and her roommates, three single men.
January 15th
Degrassi: The Next Class- Season 1- Netflix Original
Degrassi: The Next Class is a teen drama TV series that follows a group of students enrolled at Degrassi Community School, showcasing a variety of challenges they face including self-image, teen pregnancy and domestic violence.
https://www.youtube.com/watch?v=_WSZ-nQPBZ0
January 17th
Z Nation is a television series in several genres: horror, comedy, drama and post-apocalyptic, that features zombies and heroes.
January 19th
Curve is a horror thriller movie starring Julianne Hough and Teddy Sears.
January 25th
Turbo Kid is a dystopian action-adventure comedy movie that takes place in a post-apocalyptic wasteland.
https://www.youtube.com/watch?v=HxyH-adavb8
Last Call: Catch Your Favorites Before They Are Gone!
Leaving January 1st
Almost Famous
Coach Carter
Coyote Ugly
Four Brothers
Grandma's Boy
Lara Croft: Tomb Raider
Risky Business
The Longest Yard
The Virgin Suicides
Trekkies
Zoolander
Leaving January 8th
Leaving January 10th
Fighting on the Frontline
Leaving January 14th
America Unearthed
America: The Story of Us
America's Book of Secrets
Bad Ink
Beyond Scared Straight
Counting Cars: Collection
Gangland: Collection
Intervention: Collection
Modern Marvels: Collection
Monster Quest
Preachers' Daughters
The Killer Speaks
The Universe: Collection
Are you looking forward to any of these new releases on Netflix in January 2016? Tell us in the comments!