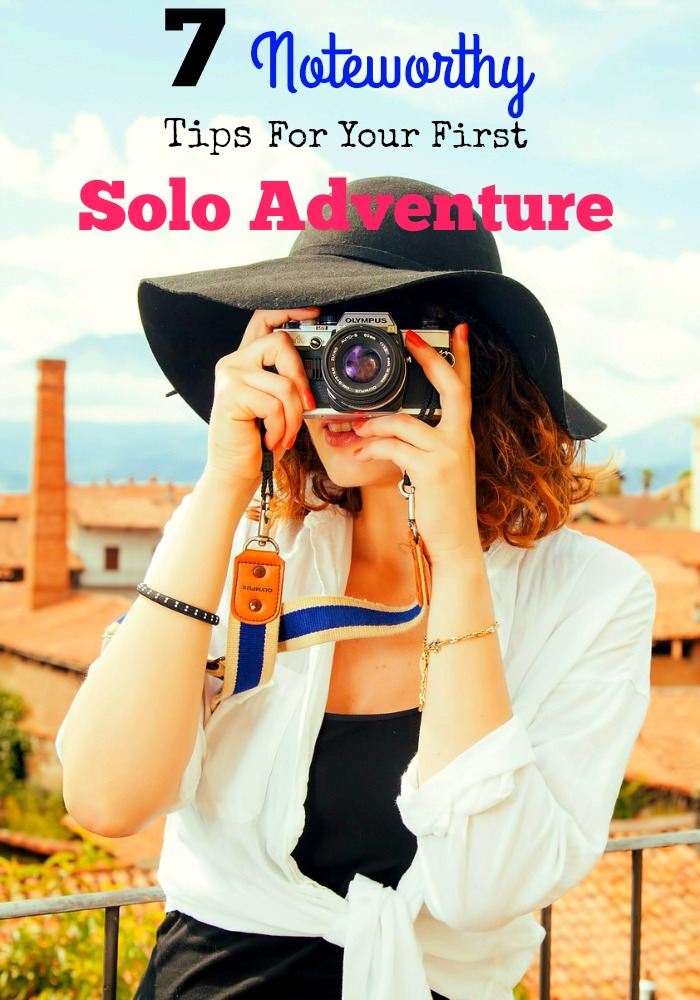 It's adventure time, and you've got your brave face on for your first solo adventure. With coffee in your hand and your bag flung over your shoulder, you're frantically running to catch your flight. Yes, traveling can be stressful especially when it's your first solo adventure. But don't worry; I have seven tips to keep you safe and sound (and as stress-free as possible) while you explore this wild, beautiful world. So what are you waiting for? Book that plane ticket and let freedom course through your veins.
7 Noteworthy Tips for Your First Solo Adventure
1. Packing
This one is easy. Pack extremely light. One backpack… I repeat one backpack. No purse, no luggage, no problem. By packing light, you'll be saving yourself extra baggage fees, hassle at the airport and time. Plus, if you're hopping from one city to another you don't want to be lugging around a big suitcase. Research the weather in your destination of choice and pack appropriately. The lighter and more compact – the better.
2. Passport
Keep your passport on your person at all times. Do not leave it anywhere unless it's a hotel safe. Get a little, slim money belt to wear under your shirt and keep your passport safely tucked away right next to your body. Leave copies of your passport, travel visas, health insurance/cards, etc. with family or friends at home. Also, make sure that you have a few extra copies tucked away somewhere safe (I like to stick one in the bottom of my backpack.). If for some reason you ever lost your travel documents you need to be prepared.
3. Money
Always carry cash. It's crucial to always have some cash on you, the trick, however, is to have it in many places and not all in the same spot. Put a little in your money belt with your passport, some in your backpack and some in your pockets. If something ever gets stolen, you don't want to be left with no resources. It's also super important to travel with a little more cash than you think you will need.
4. Map It Out
This past summer I traveled to Paris and the Canary Islands by myself. It's really important that you have a rough idea of how to get around before you arrive. Google maps works wonders. Print out directions to the key places you want to visit before you go. It's also important to know how you will get from the airport or train station to your hostel or hotel.
5. Street Smarts
Traveling alone can be nerve-wracking, but it can also be a huge learning experience. You will learn so much about who you are as a person. While I was traveling around Paris alone, at age 19 I used the subways and buses the entire trip. Public transit is a great way to get around but avoid being alone at nighttime and try to do most of your sightseeing during the daylight hours. You'll definitely meet some awesome people but make sure to keep your guard up. Your safety should be your number one priority.
6. Location
Research the best/safest places to stay while you're traveling. Hostels can be a super affordable way to travel but check out their reviews before you book them. Don't leave your valuables lying around and I would suggest booking a same-sex dormitory or room especially for young women traveling alone.
7. Explore
It's great to have a plan, and I strongly encourage you to have most of your trip pre-planned. However, it's always fun to have a little time to explore and get a little lost. I enjoyed every moment, whether I was eating dinner alone in a Parisian restaurant or exploring the volcanic parks of Tenerife – I was having an absolute blast. There's power in enjoying your own company and just loving life. Go for it!
Gate 22 will begin boarding in 30 minutes. Are you ready for the adventure of a lifetime? Enjoy being alone with yourself and exploring a brand new country. From the sightseeing to the food and so much more… you're bound to have a wonderful first solo adventure. Stay safe and trust your gut feelings. You've got this!
Where would you take your first solo adventure? I want to hear about your travels or dream trips in the comments!
*Image via Pixabay