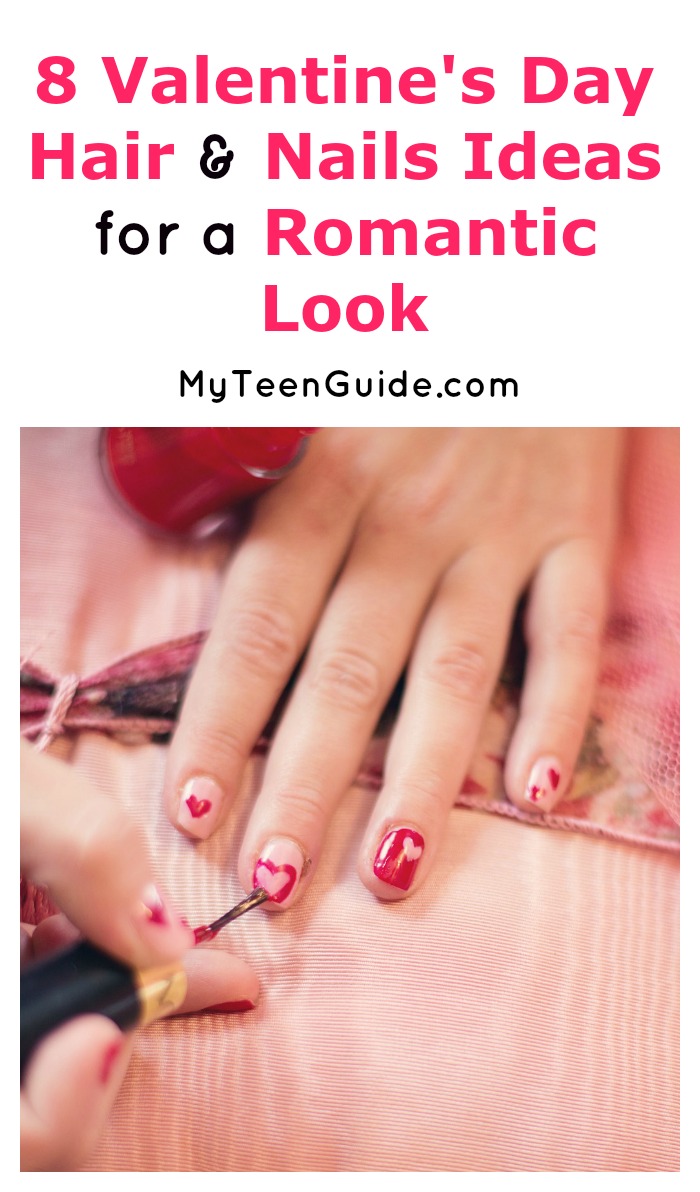 Got a hot date night planned for February 14th? Get a romantic look that your date will love with these Valentine's Day hair and nails ideas! Even though the holiday is still a few weeks away, now is the perfect time to start planning your fantastic look for your special day. Whether you want to really dress up for a night out or keep it more on the casual side for a fun Valentine's Day party, these ideas will inspire you! Check them out!
Valentine's Day Hair and Nails Ideas
Pink with White Hearts
Pink hearts are a classic design for Valentine's Day, don't you think? Reverse hearts adds a touch of fun to the look and it's fairly easy to accomplish. For the accent nail, paint hearts on a white background with a few pinks and reds.
https://www.instagram.com/p/BB5GTePlQAG/
Pointed Hearts
First, shape your nails into rounded points. Then, use your favorite reds or pinks to form hearts on the tips. If you'd prefer, you can paint a background color first before painting the tips. Glitter polish takes things to a new level and is highly recommended.
https://www.instagram.com/p/BBY1G_Cg2MG/
Black and Red Shellac Nails
One reason shellac or gel manicures are popular is because they're durable and long-lasting. This black and red shellac mani highlights pieces of glitter underneath the gel to form a heart on the accent nail. Cris-cross lines add to this look's overall appeal.
https://www.instagram.com/p/BBrCoi0Jpbh/
Red and Gold
Red and gold are a great combination. These nails take advantage of a glittery gold to create hearts and a heart-shaped lock. This is a great look for if you happen to be showing off a pretty gold necklace or two.
https://www.instagram.com/p/BBbzIQyJHTR/
Candy Hearts
These candies have been a Valentine's Day favorite for ages. Pick out some of your favorite candy heart phrases and use colors that match the candies. These nails use pointed tips just like the nails above to help recreate the look of the candies. Totally adorable!
https://www.instagram.com/p/yvufbzv_Lo/
Bouquet Updo
While it can be tricky to pull off, this stunning updo is sure to turn heads while you're out on a Valentine's day date. With a bit of work, these coiled braids look almost like a bouquet of roses.
https://www.instagram.com/p/BGX92tuAH4G/
Undone Braid
A messy or undone braid is an easy way to create a romantic look. To create one, simply braid your hair then rough up parts of your braid with your fingers. "Messing up" parts of the braid gives your hair more texture and creates a more romantic look than a clean braid. This look is pretty low-maintenance, which makes it perfect if you're running late getting ready for a date.
https://www.instagram.com/p/BByjT4Lxwre/
Fishtail Braids
Fishtail Braids give you an elegant, classy hairdo that's perfect for a Valentine's date. Fishtail plaits can sometimes be difficult to pull off. But, with a bit of practice, you'll no doubt get the hang of it. Want attention? Why no double up?  To recreate this look, simply create two fishtail braids, tie them off about ¾ of the way down, then create a second fishtail braid on the bottom.
https://www.instagram.com/p/5CDZt9JsYk/
These are just a few possibilities when it comes to creating your own special Valentine's Day look. They're provided to give you someplace to start. With thousands of options available, hopefully, these possibilities will make it easier for you to decide.
Do you have any favorite Valentine's Day hair and nails ideas? Share in the comments!