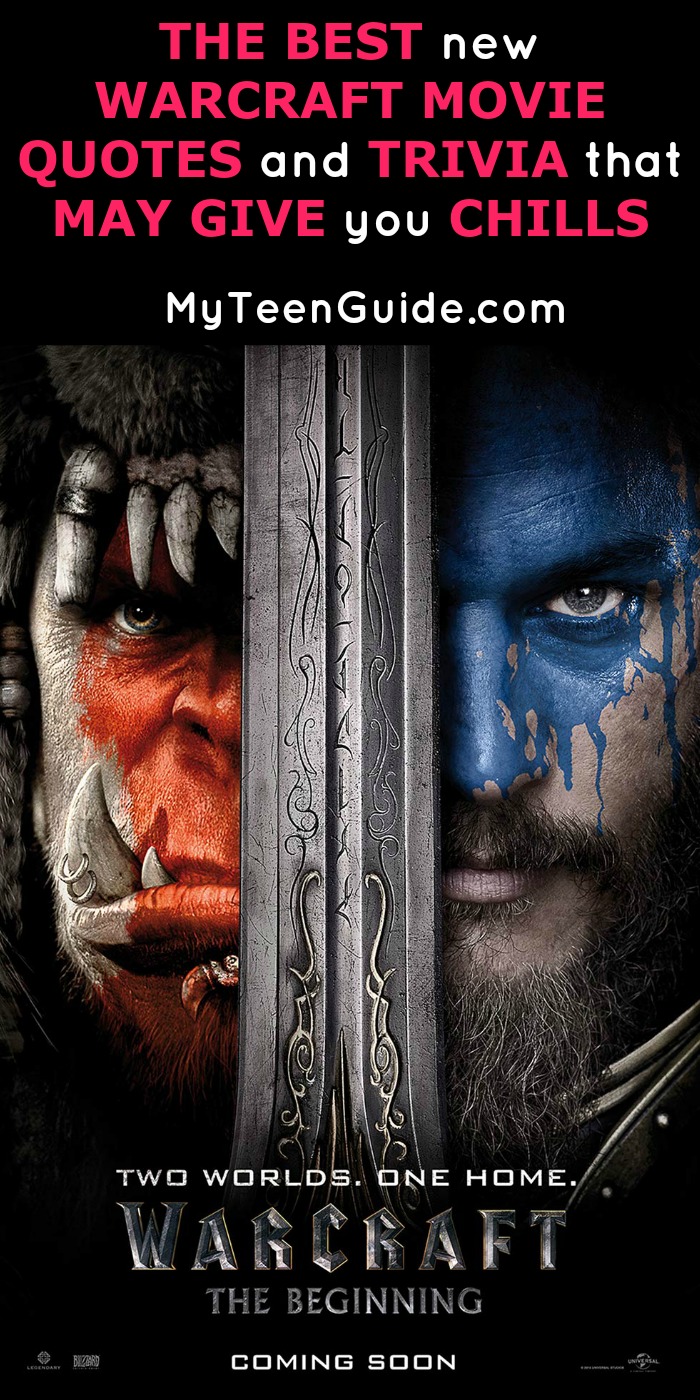 It doesn't matter if you play the game or not, these epic Warcraft Movie quotes and fun Warcraft movie trivia is getting me pumped up for this movie! I have to admit; I'm not a huge gamer, but my friends who are have been talking about this movie for what feels like forever! Now that I see the movie trailer and a few of these pictures are freak'in amazing, yeah I want to go see this new intense movie! This fantasy movie is on my list of movies to watch! I've gathered a sneak peak at the Warcraft Movie quotes and the Warcraft movie trivia we know so far. Check out all the details below!
The Best New Warcraft Movie Quotes And Trivia That May Give You Chills
Warcraft is an epic fantasy movie that is set to be released in theaters on June 10, 2016. The movie is based on the video games of the same name by Blizzard Entertainment. The Warcraft movie takes place in the world of Azeroth, a planet that features four continents. Here are some trivia and quotes from the Warcraft movie, along with a sneak peek at the trailer!
Warcraft Movie Quotes
Conversation between Durotan and Sir Anduin Lothar:
Durotan- "It has begun; our world is on the edge of war. It's death to all things."

Anduin- "So why are you here?"

Durotan- "To save our people."
Conversation between Sir Anduin Lothar and Garona Halforcen:
Anduin- "You'll have me to protect you."

Garona- "I need no one to protect me."
Conversation between Orgrim Doomhammer and Durotan:
Orgrim- "For orcs there is no other life but war."

Durotan- "No. But with the humans help there could be."
Conversation between Durotan and Draka:
Durotan- "Our world is dying. There is nothing to go back to. If our people are to survive, we must make a home here."

Draka- "Whatever happens."
Warcraft Movie Trivia
Warcraft was originally supposed to hit theaters on December 18, 2015, but was postponed until June 10, 2016, so that it would not be in competition with the movie Star Wars: The Force Awakens.
Warcraft movie director, Duncan Jones, is the son of the late singer David Bowie and his first wife, Angie Bowie.
The Warcraft movie was filmed mainly in Vancouver, Canada, beginning on January 13, 2014, and wrapping up on May 23, 2014.
The main cast members for the Warcraft movie were announced on December 4, 2013: Travis Fimmel was cast as Sir Anduin Lothar, Paula Patton was cast as Garona Halforcen, Ben Foster was cast as Medivh, Toby Kebbell was cast as Durotan, Dominic Cooper was cast as King Llane Wrynn and Robert Kazinsky was cast as Orgrim Doomhammer.
So are you gong to see the new Warcraft movie? Which of the Warcraft movie quotes sent chills down your spine? Which Warcraft movie trivia did you find interesting? Tell me in the comments!
Image via Wikia