When I was thinking about which movies like First Man I wanted to include in this article, I was initially torn on what angle I wanted to focus on.
First, I thought that since First Man was a biographical drama, I would include those types of movies.
But, then I thought that biographical dramas, such as Capote and The Blind Side, really have nothing to do with First Man.
So, at that point I knew that the best approach would be to include movies about astronauts, the moon and space, even though they weren't biographical dramas.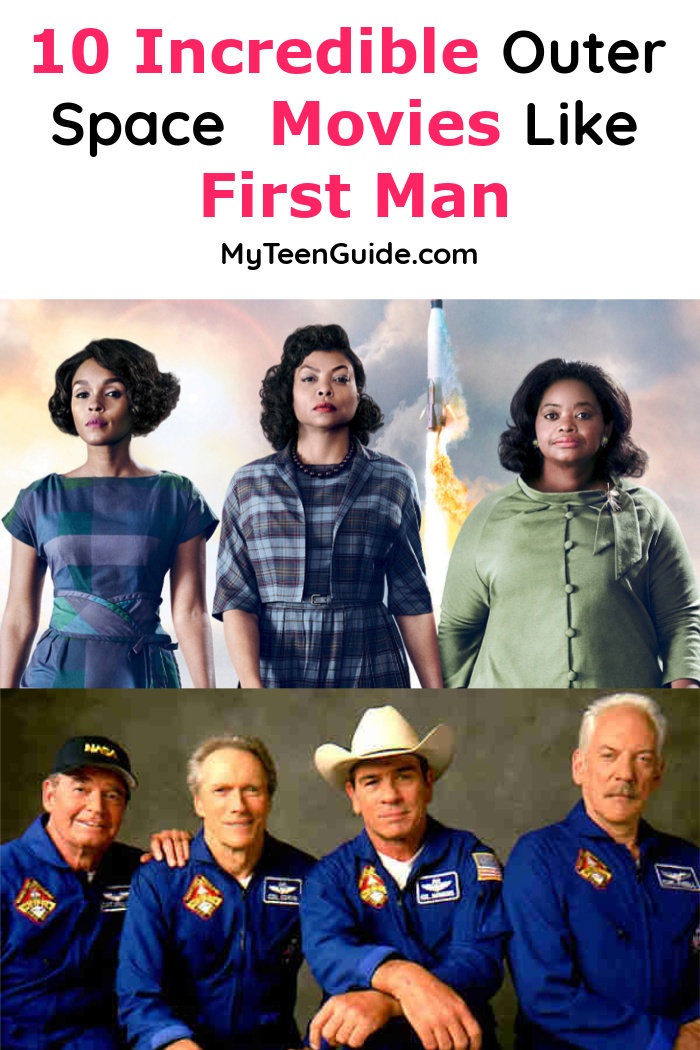 Now that you know how I picked these movies like First Man, let's check them out!
Related: First Man Movie Quotes, Trivia, & Cast Info: Your Ultimate Guide
Movies About First Man
This post contains affiliate links. If you make a purchase through these links, we earn a small commission at no extra charge to you.
Now that I have rambled on, I should tell you a bit about First Man. Take a peek at the trailer, then keep reading.
RELATED: 100+ Amazing Movies Like The Ones You Just Watched
Let's check out some of my favorite movies like First Man!
1. Apollo 13
(Yes, I am sorry this movie goes all the way back to 1995, but I think it is one of the closest movies to First Man and it is an absolutely amazing movie).
Apollo 13 is a 1995 space docudrama movie that is adapted from the 1994 book- Lost Moon: The Perilous Voyage of Apollo 13
– by Astronaut James Lovell and Jeffrey Kluger.
When the Apollo 13 space shuttle experiences massive internal damages, putting its three crew members in danger, NASA officials must find a way to get them home safely.
Main Cast:
Tom Hanks as Commander James Lovell
Kevin Bacon as Backup Command Module Pilot Jack Swigert
Bill Paxton as Lunar Module Pilot Fred Haise
Gary Sinise as Prime Command Module Pilot Ken Mattingly
Ed Harris as Flight Director Gene Kranz
It's a highly rated movie, earning a 7./6/10 on IMDB and a crazy-high 95% on Rotten Tomatoes. The movie won an Academy Award for Best Film Editing.

2. Space Cowboys
Space Cowboys is a 2000 space drama movie that tells the story of 4 aging, retired test pilots who are tasked with going into space to repair a failing Soviet satellite. The movie definitely has some funny moments to break up the tension but it also has some heartbreaking scenes as well.
Main Cast:
Clint Eastwood as Colonel Francis "Frank" Corvin
Tommy Lee Jones as Colonel William "Hawk" Hawkins
Donald Sutherland as Captain Jerry O'Neill
James Garner as Captain Reverend "Tank" Sullivan
While it didn't win any awards, the film did relatively well with critics. It scored a 6.4/10 on IMDB and a 78% on Rotten Tomatoes.

3. Moon
Moon is a 2009 drama, mystery, sci-fi movie that focuses on Astronaut Sam Bell, who is nearing the end of his 3-year mission on the moon mining Helium-3, which will help resolve Earth's energy crisis, when he suddenly experiences a personal crisis.
Main cast:
Sam Rockwell as Sam Bell
Kevin Spacey as the voice of GERTY
Dominique McElligott as Tess Bell
While the movie didn't bring home any Oscars, it won quite a few British awards, including the Hugo Award for Best Dramatic Presentation, Long Form. The movie scored at 7.9/10 on IMDB and 89% on Rotten Tomatoes.

4. Love
Love is a 2011 drama, sci-fi movie that centers on Astronaut Lee Miller, who finds himself alone and stranded aboard the mysteriously abandoned International Space Station, after he loses contact with NASA's flight controllers on Earth. The movie is about his struggle to maintain his sanity.
Love stars Gunner Wright as Lee Miller. (Gunner Wright is not one of the best known actors, but he does an outstanding job in this movie).
While this one didn't bring home any awards and only scored about average (5.7/10 and 57%), it's still a great film to watch if you love movies like First Man.

5. Gravity
Gravity is a 2013 drama, sci-fi, thriller movie about 2 astronauts who are stranded in space after their spacecraft is damaged in flight and they must work together to figure out how to return to Earth. It's a lot like Love in that most of the movie focuses on just two people trying to survive in space.
If you haven't seen this movie yet, I HIGHLY recommend it. It is one of the best movies I have seen. Critics agree! It won multiple Oscars and scored a 96% on Rotten Tomatoes.
Main Cast:
Sandra Bullock as Dr. Ryan Stone
George Clooney as Lieutenant Matt Kowalski

6. Interstellar
Interstellar is a 2014 adventure, drama, sci-fi movie that follows a team of astronauts, who travel through a wormhole to protect all of humanity. (This is another outstanding movie. Matthew McConaughey shows off his talents as an actor. Plus, the visual effects and the music (done by Hans Zimmer) are truly amazing).
Main Cast:
Matthew McConaughey as Joseph Cooper
Anne Hathaway as Amelia Brand
Jessica Chastain as Murph Cooper
Michael Caine as Professor John Brand
This one took home an Oscar for Visual Effects, and scored an 8.6/10 on IMDB and a  71% on Rotten Tomatoes.

7. 400 Days
400 Days is a 2015 mystery, sci-fi, thriller movie that follows a team of 4 astronauts, who are coming to the end of their 400-day mission into space to determine how deep space travel affects an astronaut's emotional and mental state.
(Fans of Arrow/The Flash/Legends of Tomorrow will recognize both Brandon Routh and Caity Lotz. Routh played the role of Ray Palmer/The Atom in all 3 TV series, while Lotz played the role of Sara Lance/White Canary in all 3 TV series).
Main Cast:
Brandon Routh as Captain Theo Cooper
Caity Lotz as Dr. Emily McTier
Ben Feldman as Bug Kieslowski
Dane Cook as Cole Dvorak
I have to be honest, critics pretty much hated this movie. While IMDB users almost gave it a middle-range score (4.5/10), Rotten Tomatoes gave it an unlucky 13%. Still, it's an intriguing movie!

8. The Martian
The Martian is a 2015 adventure, drama, sci-fi movie that is based on the 2011 novel by Andy Weir. The movie focuses on Astronaut Mark Watney, who is on a mission on Mars. When a violent dust storm occurs, he becomes stranded and is presumed dead.
Now, he must find a way to let those back on Earth know that he is still alive.
Main Cast
Matt Damon as Mark Watney
Jessica Chastain a Melissa Lewis
Jeff Daniels as Teddy Sanders
Most of you have seen this movie, right? After all, it did gross $630.2 million, worldwide, at the box office and $228.4 million of that came from the United States and Canada. But, if you haven't seen it, you absolutely need to put this movie on your movie watch-list.
Critics really love this one, giving it a 8/10 on IMDB and a  92% on Rotten Tomatoes.

9. Passengers
Passengers is a 2016 drama scifi movie about a group of people who are put into deep sleep/hibernation as they travel 90 years away to a new outer space settlement. Something goes wrong and one of them wakes up. Not wanting to be alone, he selfishly wakes up another passenger that he's fallen in love with at first sight.
Main Cast
Jennifer Lawrence as Aurora Lane
Chris Pratt as Jim Preston
Micheal Sheen as Arthur
While IMDB users gave this a 7/10, Rotten Tomatoes critics weren't so kind. They only gave it a 30%. I have to agree with the IMDB users, I really liked this one enough to watch it more than once.

10. Hidden Figures
Hidden Figures is a 2016 biographical drama movie that is based on the 2016 book- Hidden Figures: The American Dream and the Untold Story of the Black Women Who Helped Win the Space Race
– by Margot Lee Shetterly.
The movie features the story of 3 African-American female mathematicians who worked at NASA. (Okay, I did find one biographical drama that relates to First Man).
Main Cast:
Taraji P. Henson as Katherine Johnson (you may best recognize her from Empire)
Octavia Spencer as Dorothy Vaughan
Janelle Monae as Mary Jackson
Hidden Figures did well across the board, with a 7.8/10 on IMDB and a higher 93% on Rotten Tomatoes.

With these movies like First Man, you have a great mix of drama and sci-fi, and even a few thrills and chills!
Do you have any favorite movies like First Man? Share below!