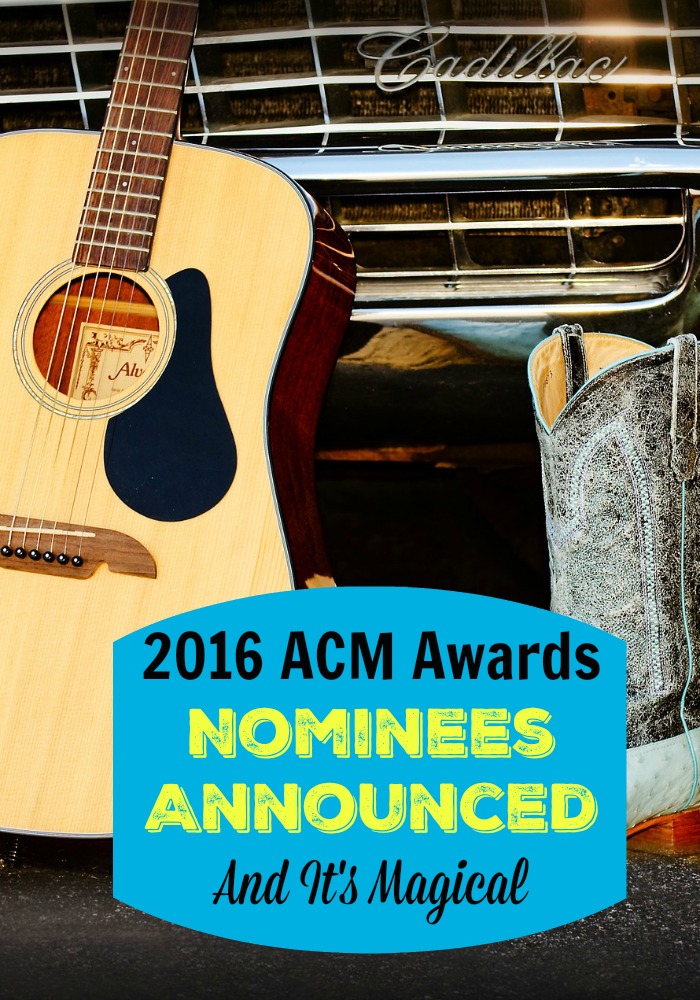 It's time to give country music it's time to shine with the announcement of the 2016 ACM Awards nominees! While I don't claim to be an expert in all things country, I find myself losing myself in some country tunes often enough. There is something about country music that can lift you up when you are sad, pump you up for a camping trip, or just works when you hit the open road with the windows down. So now for the 2016 ACM Awards, it's time to pay tribute to all of the best country artists who pull themselves up by their bootstraps and help us all roll with life a little easier.
Full Details For The 2016 ACM Awards
The 51st Annual ACM Awards will be held on April 3, 2016. It will be a live show from the MGM Grand Garden Arena in Las Vegas, Nevada. The nominations for the show were announced on February 1, 2016. The hosts of the award show are Luke Bryan and Dierks Bentley.
This year, Eric Church and Chris Stapleton both have the most nominations with five each, and could be set up for a big night of wins. I noticed Blake Shelton was completely snubbed this year, what happened? This could also be a big year for Cam, who pulled out a smoldering single this year. The nominations for Song of the Year and Songwriter of the Year will be announced at a later date though they haven't said exactly when just yet.
2016 ACM Awards Nominees
Here are the nominees for the 2016 ACM Awards with my included commentary here and there on some of my fav artists. Please agree or disagree with me in the comments at the end, I have no crystal ball, so any comments are my predictions and thoughts. 🙂
Entertainer of the Year
Jason Aldean
Garth Brooks
Luke Bryan
Eric Church
Miranda Lambert
This is Luke's year to win it. You can shake your head at me all you want, and I know he is up against some great talent. It's Luke, or I'm turning off the TV! (Ok maybe not, but I really think he should take it!) His songs are honest, straightforward and show a boyish charm that is irresistible.
Male Vocalist of the Year
Jason Aldean
Eric Church
Brett Eldredge
Chris Stapleton
Dierks Bentley
Female Vocalist of the Year
Kelsea Ballerini
Jana Kramer
Miranda Lambert
Kacey Musgraves
Carrie Underwood
New Male Vocalist of the Year
Brett Eldredge
Chris Janson
Thomas Rhett
Chase Rice
Chris Stapleton
New Female Vocalist of the Year
Kelsea Ballerini
Cam
Mickey Guyton
RaeLynn
Cam had a real breakthrough this year. Her hit Burning House was a really big hit, and likely could push her into the spotlight to win this catagory.
Album of the Year
"I'm Comin' Over" – Chris Young
"Montevallo" – Sam Hunt
"Mr. Misunderstood" – Eric Church
"Tangled Up" – Thomas Rhett
"Traveller" – Chris Stapleton
I think this category very likely is putting Chris Stapleton and Sam Hunt up against each other. A lot of people have trouble getting behind Sam Hunt feeling his sound is more pop then country. Since these are the 2016 CMA awards, likely the country feel will factor into the decision but I like his sound. Check it out for yourself, the whole album is hot but "Break Up In A Small Town" is pretty awesome. Chris Stapleton did walk away from the CMA's with a lot of awards and at the time felt almost unknown. Now that he's on the radar, it's a tougher fight!
Vocal Group of the Year
Eli Young Band
Little Big Town
Old Dominion
Rascal Flatts
Zac Brown Band
Oh, Little Big Town, Rascall Flatts and the Zac Brown Band are all up? Please don't make me choose! Who do you think?
Vocal Duo of the Year
Brothers Osbourne
Dan + Shay
Florida Georgia Line
Joey + Rory
Maddie & Tae
I'm rooting for Maddie & Tae! I know they are not as big as some of the other competition, but they're coming into their own this year. THIS is what dreams are made of:
New Vocal Duo or Group of the Year
A Thousand Horses
Brothers Osborne
Maddie & Tae
Old Dominion
Parmalee
Single Record of the Year
"Burning House" – Cam
"Buy Me a Boat" – Chris Janson
"Die A Happy Man" – Thomas Rhett
"Girl Crush" – Little Big Town
"I'm Comin' Over" – Chris Young
"Take Your Time" – Sam Hunt
Video of the Year
"Biscuits" – Kacey Musgraves
"Burning House" – Cam
"Girl Crush" – Little Big Town
"Mr. Misunderstood" – Eric Church
"Riser" – Dierks Bentley
Vocal Event of the Year
"Hangover Tonight" – Gary Allan Featuring Chris Stapleton
"Home Alone Tonight" – Luke Bryan Featuring Karen Fairchild
"Raise 'Em Up" – Keith Urban Featuring Eric Church
"Smokin' And Drinkin'" – Miranda Lambert Featuring Little Big Town
"Wild Child" – Kenny Chesney with Grace Potter
So what do you think about the 2016 ACM Awards nominees and who are going to be the biggest winners this year? Tell me in the comments!
*Image via Pixabay