Need a few hilarious superhero movies like Ant-Man and the Wasp to hold you over until the premiere?
We've got you covered with this list of 15 flicks!
The latest movie from the Marvel cinematic universe is soon to have its premiere.
In case you missed it, check our top picks of Ant-Man Movie quotes.
Quote number 5 is sure not be missed.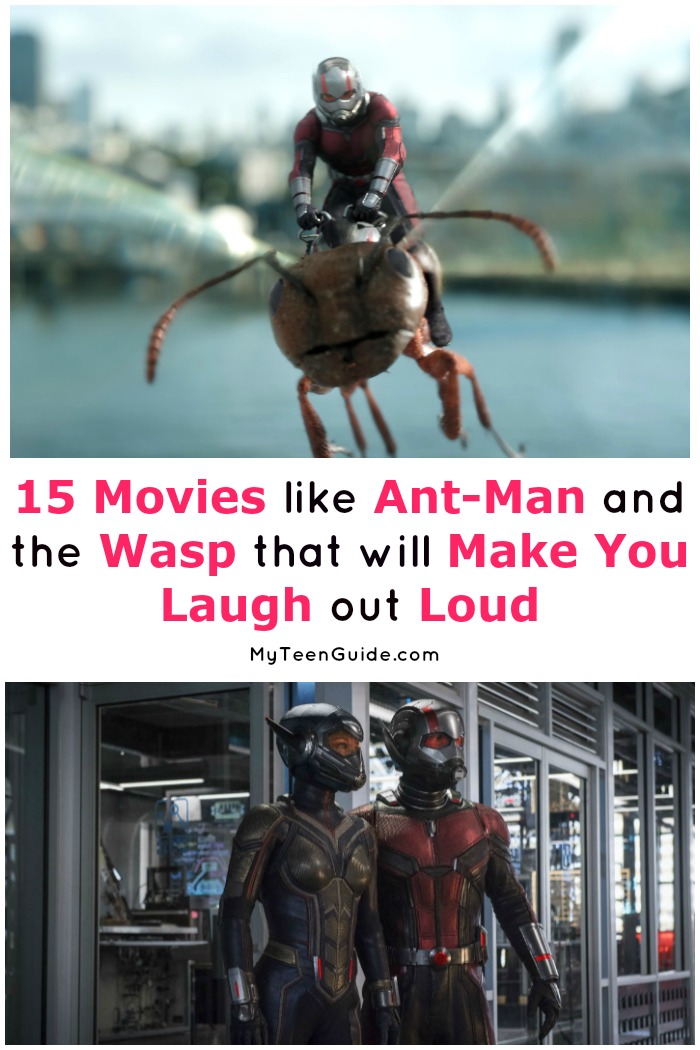 Even though Ant-Man and the Wasp can't come close to the hype and excitement that fans felt before and after Avengers: Infinity War, it is still a widely anticipated movie, at least by true Marvel fans.
The quirky humor is the one thing that stands out about Ant-Man, so we will try to find 15 movies for you that will make you laugh until Ant-Man and the Wasp comes to the big screens.
15 Movies like Ant-Man and the Wasp
Affiliate links included below. Thanks for your support!
Ant-Man and the Wasp releases on July 6th.  Get ahead of the crowd and get your tickets online before you hit the theater! 
1. Ant-Man (2015)
What is the better choice to get you in the mood for Ant-Man and the Wasp than the first part of the series?
Even if you have already seen the movie, watching Paul Rudd and his specific humor certainly can't be boring.
And if you didn't see the movie, you must watch it before you go to the cinema to watch Ant-Man and the Wasp so you can be aware of events that transpired beforehand.

2. Deadpool (2016)
Ah, the charming, lovable Deadpool.
Fair warning: don't watch this movie with your kids. It has a lot of cursing.
However, the sarcastic titular character is one of the few truly funny superheroes.
He doesn't take anything seriously, not even his new job. He does it with flair and without much regard for innocent bystanders.
Of course, he is still the good guy, just a pretty irresponsible one.

3. Mystery Men (1999)
If you are looking for a hilarious comedy about amateur superheroes that are grossly inadequate for the job they are set to do, then look no further than this underappreciated gem.
With A-class comedic names like Ben Stiller, Hank Azaria and William H. Macy, and with the addition of Geoffrey Rush and Greg Kinnear, Mystery Men certainly achieves what it is meant to do –
to make you laugh until tears start rolling down your cheeks.

4. The Mask (1994)
Even in the company of many weird, peculiar and unorthodox superheroes that found themselves on this list, Stanley Ipkiss, aka The Mask, is still the odd man out.
Played by the goofy, adorable comedian like Jim Carey, The Mask is one of those characters that will forever stay fresh and in.
His crazy antics and expressions make this movie engaging and hilarious from start to finish.
And with Cameron Diaz as his partner, this dynamic duo takes The Mask to another level and we can truly say that this movie is ssssmokin'!
5. Iron Man (2008)
As far as billionaire playboy's go, I got Tony Stark on top of my list.
If you like a superhero who became super thanks to his knowledge and effort, then Iron Man is the hero for you.
With his witty remarks and carefree attitude, Tony is one of those guys who can persuade you to do anything.
It is not a coincidence that the first movie in the renewed Marvel cinematic universe was a movie about the distinct tech genius and his iron suit since he was the only one who could provide the exciting lift-off that Marvel needed before introducing some of those straight-shooting heroes, like Captain America.
Don't miss the Iron Man sequels; they are all good and as funny as Ant-Man and the Wasp.

6. Super (2010)
What would you do if a drug dealer "stole" your wife?
Well, I would transform myself into a superhero and deal with it!
That's the storyline behind this hidden gem that passed under the radar mostly.
It is a very funny movie with Rainn Wilson (Dwight from The Office) as the everyday guy who becomes Crimson Bolt, a superhero without superpowers and severely lacking in any skills necessary for a crime-fighting vigilante.
Directed by James Gunn (Guardians of the Galaxy) and starring Ellen Page, Kevin Bacon and Liv Tyler alongside Wilson, this movie will make you chuckle all the time and laugh out loud often.

7. Guardians of the Galaxy (2014)
Well, since I already mentioned James Gunn and Guardians of the Galaxy, it would be a shame not to include this hilarious flick on my list.
It is probably my favorite movie from the Marvel universe, and Peter Quill (Chris Pratt) is probably tied with Scott Lang from Ant-Man and the Wasp as the funniest character in the universe, at least in my book.
Watch this saga about an unlikely team of superheroes from all across the galaxy and joined together by coincidence and prison time.
Of course, don't forget to check out the sequel as well since it is equally hilarious as this one.

8. Hancock (2008)
Being a superhero is not easy, of course, but when people expect you to save them and do it in a way that doesn't affect public or private property of the citizens, then it's even harder.
If I were a superhero, I would be like Hancock (Will Smith) probably – fighting crime without any regard for the collateral damage I leave behind.
I mean, you have to crack a few eggs to make an omelet, don't you?
Of course, this is only the tip of the iceberg of the completely irresponsible and problematic behavior from the titular hero, who seems to be suffering from depression and alcoholism.

9. Kick-Ass (2010)
Welcome to the world of wannabe superheroes. The movie plot revolves around a group of teenagers, particularly Dave Lizewski (Aaron Taylor-Johnson) whose escape from the anonymity and irrelevance of his high-school life comes in the form of becoming a superhero.
Well, amateur superhero.
With a ridiculous costume and no fighting abilities. Yeah, Dave is not the best superhero out there, but he makes it up with desire and will-force. Still, the results of his quests are as hilarious as one would expect them to be.

10. The Incredibles (2004)
https://www.youtube.com/watch?v=eZbzbC9285I&t=26s
The only superhero movie made by Pixar, a company whose animated movies are always successful and great beyond a doubt, The Incredibles is a hilarious family flick with surprisingly dark undertones.
With family motifs in the center of the movie, we are given a mix of identity struggles, loss of purpose and exciting superhero action with a bunch of humor thrown all around.
And after 14 years, we have finally been given the satisfaction of seeing a sequel this year.

11. The Green Hornet (2011)
Can you imagine Seth Rogen as a superhero?
Yeah, it is hard to imagine.
Luckily for all of us, we don't have to image this since he plays one in this amusing movie. And after all, how many of you could imagine Paul Rudd as a superhero, yet he is very much a great one in Ant-Man and the Wasp.
The story depicts the life of Britt Reid, a rich playboy and heir to the newspaper conglomerate based in L.A. After leading an aimless life for as long as he knows, he now has to step up and become an adult after the death of his father.
His way of becoming a responsible adult entails teaming up with one very skillful company employee to fight crime as masked vigilantes.

12. The Meteor Man (1993)
Being a teacher in an urban inner city area is often a challenging experience, as Jefferson Reed (Robert Townsend) is proven day after day.
However, dealing with gangs and teenage delinquents is much easier when you have superpowers, which is exactly the thing that this unassuming teacher gets when a falling meteor hits him in the head.

13. The Specials (2000)
We go back to James Gunn and another of his funny superhero movies, once again about a bunch of misfits, but this time from a different angle.
And it truly is a unique angle since the movie follows a group of second-tier heroes during their day off the work.
Made with a small budget and with an unconventional storyline, this clever movie was missed by a lot of people, which is really a shame since it is a great superhero comedy that deserves to be on this list along with other, much bigger movies and blockbusters.

14. Hellboy (2004)
When Guillermo Del Toro chose Ron Perlman to play Hellboy, many were surprised by this casting decision. However, this proved to be the right choice since Perlman managed to convey the smartass qualities of the famous demon exactly as they were presented in the comics.
The fact that this movie had a very successful sequel is one of the clear indicators of how smart this decision was.
Even though the movie is pretty dark in nature and sometimes even disturbing, with the characteristic humor of the main character the audience often gets the much-needed comedic relief.

15. Doctor Strange (2016)
Doctor Stephen Strange (Benedict Cumberbatch) is a genius neurosurgeon, but after one unfortunate car accident, he is left unable to operate anymore due to severe nerve damage.
After trying all there is in the world of western, modern medicine, he learns about alternative eastern therapy that might help him repair his broken hands and reclaim his glory as the best neurosurgeon in the world.
What he finds there is much more than he expected and this unique Marvel movie is worth a watch for many reasons, with dry, sarcastic wit of the main character being one of them.

There are many other funny superhero movies out there that can help you pass your time until
Ant-Man and the Wasp
hits the theaters, but I hope that this selection will also provide you with many laughs and great entertainment if you decide to check these amazing, hilarious movies out.
Do you have any other favorite movies like Ant-Man and the Wasp? Share below!