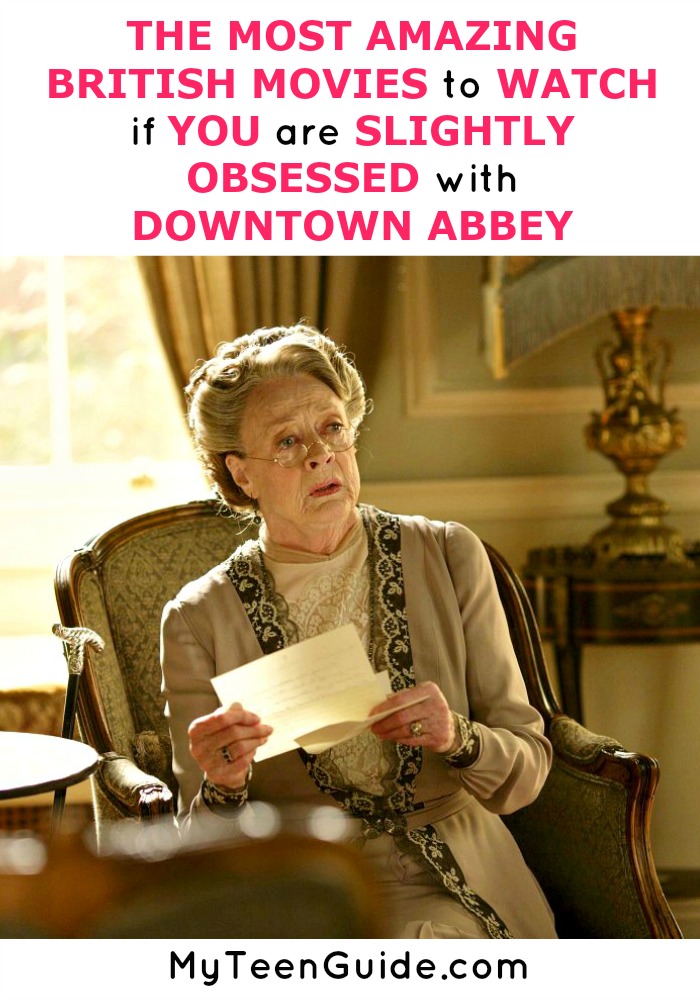 Downtown Abbey fans, I know there is a huge fan base out there for this show but what about other British movies for fans of the show to fill the void? I know there was a big void in my tv watching when this vibrant show closed it's final season. I've been investigating and have found some other great movies like Downtown Abbey you can check out. Sometimes you just need your fix of both the luxury, the formality and the drama! O I admit it, Downtown Abbey was one of my fav guilty girly pleasures! Here are my top British movies for fans of Downtown Abbey.
More Details About Downtown Abbey
Downtown Abbey is a historical period television drama series that aired from September 26, 2010, to December 25, 2015. The series stars Hugh Bonneville, Laura Carmichael, Jim Carter, Brendan Coyle, Michelle Dockery, Joanne Froggatt, Rob James-Collier, Phyllis Logan, Elizabeth McGovern, Sophie McShera, Lesley Nicol, Maggie Smith and Penelope Wilton. Downtown Abbey takes place between 1912 to 1925 and showcases the lives of the Crawley family as well as their servants. The show is totally romantic but also filled with that quite, backstabbing drama.
I was so sad to see this amazing show close; I waited for it every week! Here are some great British movies for fans of Downtown Abbey.
British Movies For Fans of Downtown Abbey
Gosford Park
Gosford Park is a 2001 mystery movie that has an all-star cast including Eileen Atkins, Emily Watson, Bob Balaban, Kristin Scott Thomas, Alan Bates, Maggie Smith, Charles Dance, Ryan Phillippe, Stephen Fry, Clive Owen and Helen Mirren. Gosford Park takes place during the 1930's and features the McCordie family, as they deal with murder after hosting a weekend shooting party. All of you Maggie Smith fans can jump for joy. She does these British period pieces so well, but you might also recognize her as Professor Minerva McGonagall from Harry Potter.
The Remains of the Day
The Remains of the Day is a 1993 drama movie that stars Anthony Hopkins, Emma Thompson, James Fox, Hugh Grant, Christopher Reeve and Ben Chaplin. The Remains of the Day centers on a dedicated butler who falls in love with the housekeeper, both employed at Darlington Hall, with interferences and struggles along the way.
Jane Eyre
Jane Eyre is a 2011 romantic drama movie that is based on the 1847 book of the same name by author Charlotte Bronte. The movie stars Mia Wasikowska, Michael Fassbender, Judi Dench and Jamie Bell. Jane Eyre follows the life of Jane Eyre, a governess at Thornfield Hall, including her relationship with the house master, Edward Rochester, and a deep dark secret that he is hiding. If you are a fan of movies like Pride and Prejudice or any of the other Jane Austen style stories, this one is for you!  Or if you like action too, maybe is more your style! Haha
The Young Victoria
The Young Victoria is a 2009 period drama movie that is based on Queen Victoria's early years, including her marriage to Prince Albert. The movie stars Emily Blunt, Rupert Friend, Paul Bettany, Jim Broadbent and Miranda Richardson. The Young Victoria showcases the life of Queen Victoria from her unhappy childhood to her taking the throne at the age of 18 to her marriage to Prince Albert. This movie I haven't watched, but it looks so good. I love Tudor history as well, and I love to watch the royals duke it out! This is up next for me!
So do you know of any other British style movies for those who are fans of Downtown Abbey? What other movies or even tv shows like Downtown Abbey do you watch? Tell me in the comments!
Image Via Wikia