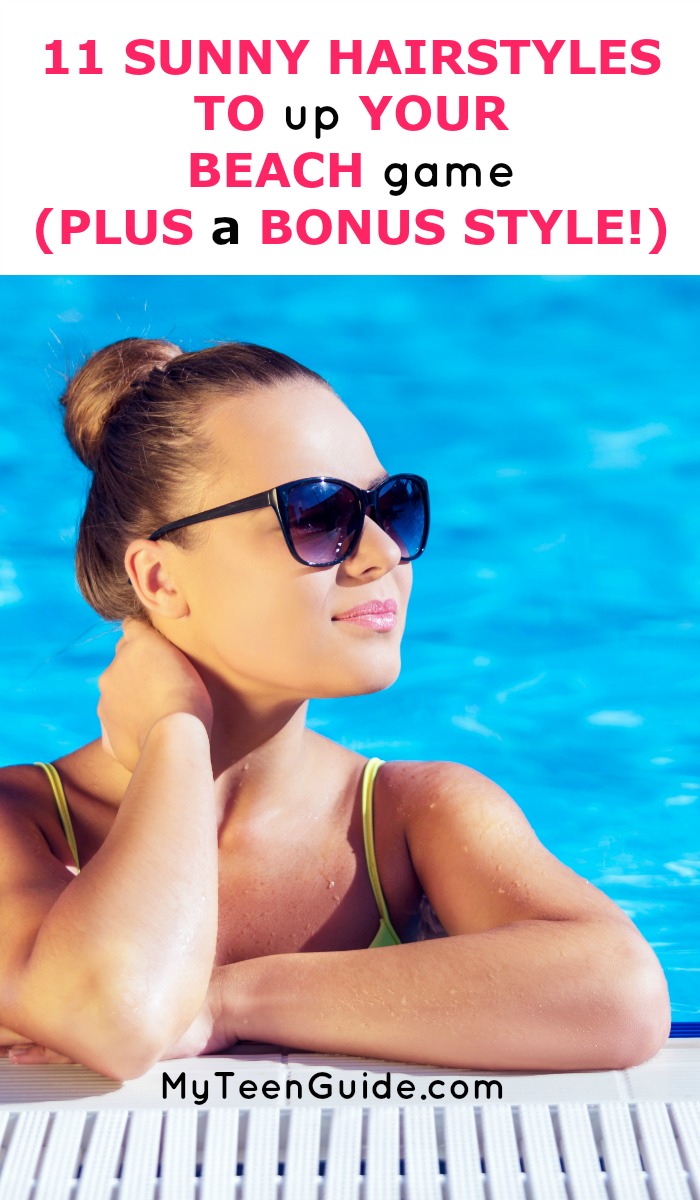 It's almost officially beach season, and I couldn't be more excited easy hairstyles for summer!
Find the perfect relaxed beach hairstyle to accompany your best summer fashion this season.
Whether your hair is curly or straight, you will most definitely find a look you love on this list that will be your go-to summer hairstyle.
There's something for all styles whether you prefer a soft, subtle side braid or bold beachy waves – we've got it covered.
Check out these sunny styles and pack your beach bag!
11 Sunny Hairstyles To Up Your Beach Game (Plus A Bonus Style!)
1. Subtle Side Braid – This look is ideal to keep your hair out of your face whether you're soaking up some rays or paddle boarding out on the water! It's easy, cute and perfect for straight or curly hair.
https://www.instagram.com/p/BFPHq4tBjaY/?tagged=sidebraid&hl=en
2. Beachy Curls – This is the perfect salt-kissed sunny hairdo! The messier, the better. Volumize naturally with the ocean winds and rock this strong look with your favorite bikini.
https://www.instagram.com/p/BDbCqUMFH5l/?tagged=beachycurls&hl=en
3. High Pony – Add some height to your beautiful hair. Curly or straight this cute and flirty look is a favorite. Whether you're out catching some waves or passing a football on the beach, this look is for you!
https://www.instagram.com/p/BFN5yN7u7MY/?tagged=highpony&hl=en
Related: 7 Summer Beauty Tricks Every Girl Should Know
4. Tight French Braid Pigtails – Another simple look to keep your hair slicked back while still looking cute. Grab your besties and hit the water to cool down!
https://www.instagram.com/p/BFREp3wCP_a/?tagged=frenchbraids&hl=en
5. Messy Bun – This nonchalant, relaxed look is the perfect beach updo. It's quick, easy and effortless. A beautiful look that only takes seconds to do!
https://www.instagram.com/p/65meKOICFy/?tagged=messybeachbun&hl=en
6. Bold Fishtail Braid – All eyes will be on you with this bold yet elegant hairstyle. Walk with confidence and rock this style with all of your summer wardrobe ideas! This is one of those hairstyles that can dress up or down.
https://www.instagram.com/p/BFQsSfNiuq_/?tagged=fishtailbraid&hl=en
7. Half Up Half Down – This trendy little bun creates a gorgeous flowy beach look that is great for long locks!
https://www.instagram.com/p/BFQihzACZU3/?tagged=halfuphalfdown&hl=en
8. Low Ponytail – This a super easy, cute look that's great for any hair type. Try using ribbon as a hair tie to spice up this sweet look!
https://www.instagram.com/p/BFOw6FMBtA3/?tagged=lowponytail&hl=en
9. Flirty Top Knots – These super cute tops knots are fun, flirty and edgy! This look pairs well with an awesome high waisted two piece swimsuit! This style is especially amazing for those of your girls who have thick hair to tame this summer season!
https://www.instagram.com/p/BE_QgB_lhTo/?tagged=topknots&hl=en
10. Low Bun – Sleeked back or flowy this low bun is an awesome beach style. Simple yet sophisticated and fun!
https://www.instagram.com/p/BFNOv9FhfP0/?tagged=lowbun&hl=en
11. PLAY! – Take some of the ideas above and mix and match. Have fun, play around and create your very own style unique to who you are!
https://www.instagram.com/p/BDezcb7y0o_/?tagged=messybraids&hl=en
Grab your flip flops and the sunscreen because it's beach time! Ok, so I have one more hairstyle I had to add, the classic french braid! Over on the My Teen Guide Facebook page, we recently did a Facebook live demo of how to do a French brain. Subscribe and you can catch all of our Facebook Live videos, including our nail videos. Check out the My Teen Guide Facebook Live French Braid video here!
Do you have a favorite hairstyle on this list? Do you have a favorite beach hairdo? Let us know in the comments below! We absolutely love hearing from you!
Copyright: Vector Image by StockUnlimited