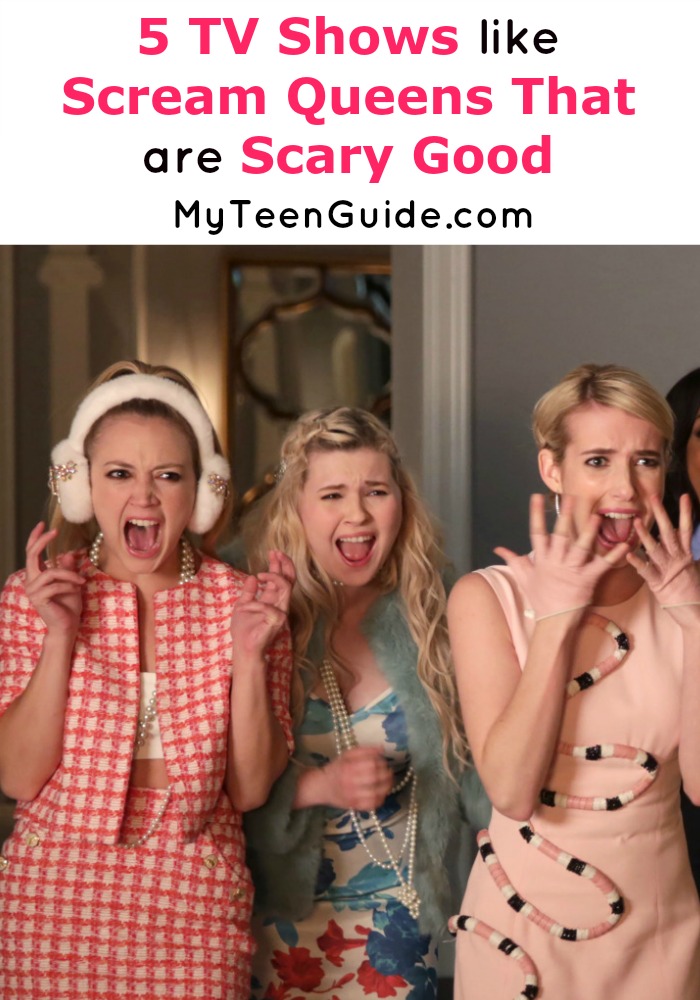 Get ready to scream for TV shows like Scream Queens! While some horror TV shows leave you speechless, other shows take you an emotional and snarky rollercoaster that have you laughing one minute and in panic mode the next! Welcome to Scream Queens! If you like shows that may just make you sound like a maniac to Bae hanging out in the next room, then you have to see these list of  creepy TV shows like Scream Queens.
5 TV Shows Like Scream Queens That Are Scary Good
Scream Queens is a comedy horror television series that premiered on FOX on September 22, 2015, with season 2 premiering on September 20, 2016. It is a semi-anthology series, meaning it features returning characters that are being terrorized by a serial killer, in various locations. The series stars Emma Roberts as Chanel Oberlin, Lea Michele as Hester Ulrich, Abigail Breslin as Libby Putney, Keke Palmer as Zayday Williams, Billie Lourd as Sadie Swenson and Jamie Lee Curtis as Doctor Cathy Munsch. Here are some other television shows like Scream Queens.
Z Nation
Z Nation is a television series that combines action, horror, drama and comedy. It premiered on SyFy on September 12, 2014 and season 3 of the series premiered on September 16, 2014. The series is set three years after a zombie attack has wiped out the majority of people. A team of heroes must escort the only known survivor, Murphy, from New York to California, where a lab will use his blood to create a vaccine. Z Nation stars Keith Allan as Murphy, Kellita Smith as Lieutenant Roberta Warren, Russell Hodgkinson as Doc, Nat Zang as 10K and Anastasia Baranova as Addison Carver.
Scream
Scream is a slasher/horror television series that is based on the Scream movie series that includes Scream in 1996, Scream 2 in 1997, Scream 3 in 2000 and Scream 4 in 2011. The series premiered on MTV on June 30, 2015 and the season 2 finale aired on August 16, 2016. It is about a group of teenagers who become the targets of a deranged assassin. Scream stars Willa Fitzgerald as Emma Duval, Bex Taylor-Klaus as Audrey Jensen, John Karna as Noah Foster, Carlson Young as Brooke Maddox, Tracy Middendorf as Maggie Duval and Amadeus Serafini as Kieran Wilcox.
Related: Throw A Spine-Tingling Bash with Our Scary Halloween Party Games!
Ash vs. Evil Dead
Ash vs. Evil Dead is a comedy horror television series that is the sequel to the original movie trilogy, which includes the 1981 The Evil Dead, the 1987 Evil Dead II and the 1992 Army of Darkness. The series premiered on Starz on October 31, 2015 and season 2 premiered on October 2, 2016. Ash Williams has spent the last three decades avoiding not only growing up but also the horrors of the Evil Dead. That is until a plague threatens to destroy the world and Ash is the only hope of mankind. Ash vs. Evil Dead stars Bruce Campbell as Ash Williams, Ray Santiago as Pablo Bolivar, Dana DeLorenzo as Kelly Maxwell and Lucy Lawless as Ruby Knowby.
Lucifer
Lucifer is a police procedural television series that also incorporates drama and comedy. The series premiered on Fox on January 25, 2016 and season 2 premiered on September 19, 2016. The series focuses on Lucifer Morningstar, who is bored with life in hell so he visits Los Angeles, where he opens a nightclub called Lux, with the assistance of his demonic ally Mazikeen. When a murder occurs outside the nightclub, he wants to help capture the killer so he can punish him. Lucifer stars Tom Ellis as Lucifer Morningstar, Lesley-Ann Brandt as Mazikeen and Lauren German as Chloe Decker.
Holliston
Holliston is a horror comedy television series that premiered on FEARNET on April 3, 2012. Season 3 of the series is set to air sometime in 2016. The series is based on the real life of Adam Green, the creator of the series. It focuses on Adam Green and Joe Lynch, best friends who strive to be filmmakers of horror movies. Holliston stars Adam Green, Joe Lynch, Laura Ortiz, Dee Snider and Corri English.
Do you know of any other shows like Scream Queens that are hilarious one minute and crazy suspenseful the next? Tell me what you think in the comments!
Image via Wikia