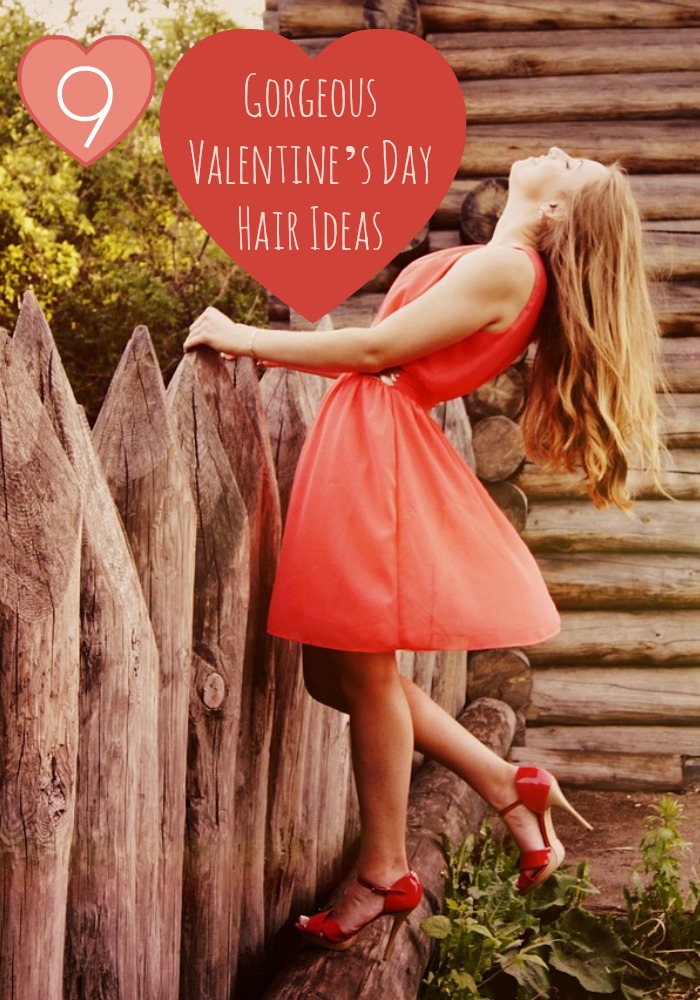 Need some beauty inspiration for your Valentine's Day hair? I have you covered with some beautiful hair inspiration! From colorful tresses to twisted updos and beautiful waves, you are sure to find the perfect on point Valentine's Day hair for you. Check out some of these amazing styles, and then try them yourself!
Gorgeous Valentine's Day Hair Ideas
Pink Swept Back Braid
This beautiful hair is oh so pretty for Valentine's Day. I wouldn't attempt this beautiful color myself, but I will def be saving this for a trip to my stylist. I love these romantic pink tresses! This look is great with pale lips, but would pop for Valentine's Day with a bright pink lipstick.
Taylor Swift Inspired Hair
This vid will show you how to get those classic Taylor Swift inspired waves that are gorgeous for Valentine's Day. At the beginning of this video, she explains how to do the makeup also. Skip ahead to about seven minutes if you are only interested in the hair, but the makeup tutorial is pretty too. This one is perfect for a special Valentines Day dinner.
Mermaid Crazy
The colored hair trend is here to stay, so why not update your color for Valentine's Day. I love this mix of pretty pink and turquoise strands. This hair looks just like a mermaid fin! A lighter touch of pastel color swept into a fishtail braid makes beautiful Valentine's Day hair. What a romantic hairstyle for the holiday!
Hearts Updo
This is a great updo to make you feel even fancier for Valentine's Day. Use your hair to create mini hearts that are worked right into the hairstyle. Check out the full DIY instructions, this is a cute style especially for a Valentine's Day party.
Blooming Twists
Ahh, I love the flowers in this pretty pulled back style that's beautiful. I might just have to add flowers to my Valentine's Day look. They did some beautiful twists before pinning it in what looks similar to a loose braid. The curls at the end of this long pony are the finishing touch!
Curly Hair
I have wavy curls, and I know all too well the curl envy some girls have. If you normally sport a straight style, why not change it up with beautiful curls for Valentine's Day? Check out this tutorial for all the details to get a bouncy, curly look.
Heart Bun
Here are some major Valentine's Day hair goals. Transform your everyday bun into something special by making it into a heart! You can create one yourself with a heart bun shaper. This is so cool with colored hair. I want to match my Valentine's Day nails to this beautiful hair.
Simple Half Up Half Down Hair
This video is in French, but the tutorial is still so simple to follow for this adorable Valentine's Day style. I love the half up, half down look so I can show off my waves while still keeping my hair out of my eyes.
The Four Strand Braid Headband
This is one of those braids that look much more complicated than it is to do. If your basic braiding skills are pretty good, this should def be a braid you try next!
How are you doing your hair for Valentine's Day? Which one of these beautiful Valentine's Day hair looks is your fav?