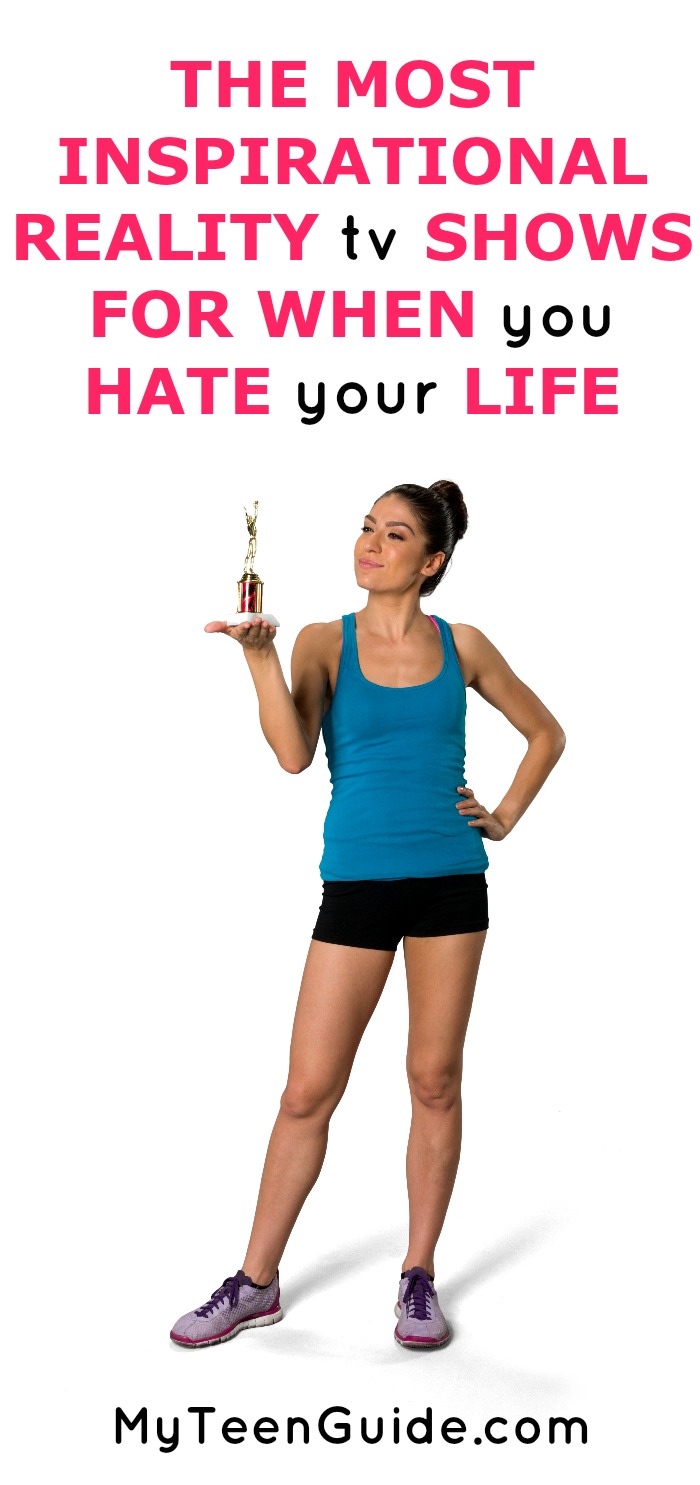 Not everyone thinks of turning to inspirational reality tv shows when they are feeling down, but I do! How many times have you watched a home makeover show and thought of tearing down a wall in your house? I've eyed my walls a few times. I've also been inspired to lay off an evening cookie or two when a reality weight loss show came on. If you need a little inspiration in your life, check out some of the most inspirational reality tv shows. You will want to make a big life changing decisions too when you see all these reality tv shows changing other people's lives! Or ar least you'll have some fun tv time, probably with some healthy snacks. 🙂 See my favorite inspirational reality tv shows below!
The Most Inspirational Reality TV Shows For When You Hate Your Life
Extreme Makeover: Home Edition
Extreme Makeover: Home Edition is a home improvement reality tv show that ran from December 3, 2003, to December 17, 2012. The show focused on building homes for families in need. Extreme Makeover: Home Edition was hosted by Ty Pennington, an experienced carpenter and previous regular on the show Trading Spaces. The show's goal is to help families who are dealing with some hardship or life-threatening illness to rebuild and start their lives over with a fresh start. This show inspired me to makeover my bedroom from its very sad state!
America's Got Talent
America's Got Talent is a talent reality tv show that has been airing since June 21, 2006. The show features an array of talent from comedians to musicians to dancers to singers, that compete for $1 million dollars. America's Got Talent is hosted by Nick Cannon and features Simon Cowell, Mel B, and Heidi Klum as judges. The show is designed to show individuals that they can realize their dreams and achieve almost anything with hard work and passion. This show just may have inspired a little extra singing in the shower.
The Amazing Race
The Amazing Race is a competition reality tv show that has been airing since September 5, 2001. The show focuses on 11 teams of two people each, that compete in physical and mental challenges, competing for the $1 million prize. The Amazing Race has been hosted by Phil Keoghan since its beginning. The show focuses on teamwork, courage and motivation. I'd like to say this show inspired me to travel the world, but I think it might have inspired a camping trip last time. Next year it's amazing vacation or bust!
The Biggest Loser
The Biggest Loser is a competition reality tv show that has been airing since October 19, 2004. The show features overweight contestants that compete to lose weight to win a cash prize. The show is one that encourages, assists and tracks the challenges of overweight people as they attempt to lose the weight. I've been inspired several times to rev back up a healthier lifestyle when watching this show. My bestie always skips this show though because she says she always ends up eating ice cream watching this group work out. Ha!
So lovelies, which of these inspirational reality tv shows have you watched? Have any of these shows inspired you to make a change for the better? Tell me down below in the comments what you think!
Copyright: Vector Image by StockUnlimited