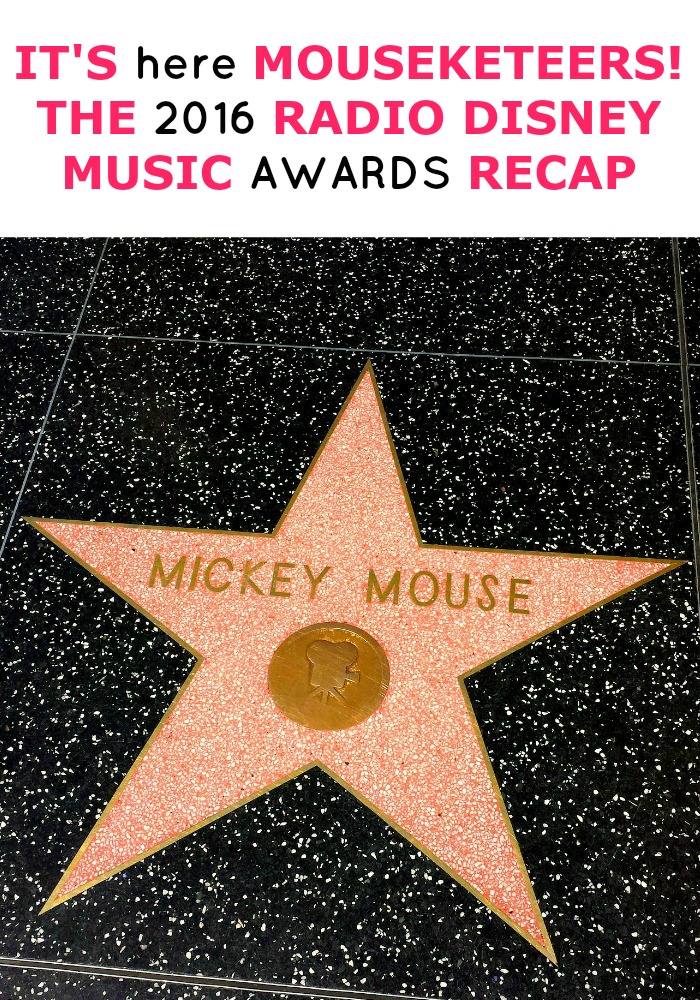 The 2016 Radio Disney Music Awards recap is finally here with a big list of winners, naturally! I have been sitting on the edge of my seat ever since the list of nominations was announced to see who the mouse's big winners are! Here is everything you need to know about the awards, including who won big and who had the performances that rocked the house! If you're looking for the big 2016 Radio Disney Music Awards nominees and winners list, scroll to the bottom and I have it all laid out in a super easy list. Check out my full recap below!
It's Here Mouseketeers! The 2016 Radio Disney Music Awards Recap
The 2016 Radio Disney Music Awards were held on April 30, 2016, at the Microsoft Theater in Los Angeles and was aired on May 1, 2016. The show kicks off with Flo Rida singing My House. It was an amazing performance, complete with kids on the stage dancing the night away.
Hailee Steinfeld was the next performer to hit the stage with an amazing performance of Love Myself and Rock Bottom. I wasn't impressed with the ripped jeans she wore, but I guess that is the new fashion these days.
Sofia Carson and Sabrina Carpenter presented the award for Best Song to Dance To, to Ariana Grande for her song Focus. Sofia and Sabrina presented Ariana with her award in her dressing room. This is a pretty cool song but was hoping Fall Out Boy would have won for their song Uma Thurman.
Next performance is the girl who just won, Ariana Grande, with a stunning performance of her new song Dangerous Woman. Ariana has such an amazing voice and such a bubbly personality. The way she hits those high notes is so beautiful.
Jordan Smith takes the stage for his performance of Stand in the Light. For those who don't know who Jordan Smith is, he was the Season 9 winner of The Voice.
Kelsea Ballerini is presented with the award for Best New Artist. So happy for her, well-deserved! Kelsea Ballerini also took home best new artist at the 2016 American Country Countdown Awards which were also this weekend. Kelsea is pretty on top of the country scene right now.
Justin Bieber performed an acoustic version of his song Love Yourself from a classroom at a high school in Tulsa.
Gwen Stefani is presented with the Radio Disney Hero Award by her co-star on The Voice, Pharrell Williams, for her philanthropic work.
Sabrina Carpenter takes the stage to perform her hit song Smoke and Fire. She is rather new to the music scene, but she is loaded with talent. I think she will do well in the industry.
Two more performances: Sofia Carson performs Love is the Name and Laura Marano performs Boombox. This was Marano's first television performance, but you really couldn't tell because she looked so confident on stage.
Maddie & Tae take home awards for both Country Favorite Artist and Country Favorite Song for Fly. I am surprised they won both awards, especially where Kelsea Ballerini was nominated for both., Oklahoma.
Two talented singers take the stage for a song mash-up: Kelsea Ballerini with Peter Pan and Daya with Hide Away. This was a pretty cool mash-up, would love to see these two do a duet one day.
Zara Larsson takes the stage to perform Never Forget You.
Animal from The Muppets and Andrew Hurley from Fall Out Boy take the stage for a cool drum-off! This was totally hilarious to watch!
Pete Wentz presents the award for Best Anthem to Sabrina Carpenter for Eyes Wide Open.
Gwen Stefani takes the stage to sing her new single Make Me Like You. She always dresses so weird to me. She has on some gold shorts with a long-sleeve shirt and blue bowtie. Strange!
Best Music Group and Fiercest Fans awards were given to Fifth Harmony.
DNCE closes the show with their popular song Cake by the Ocean! Love it!
2016 Radio Disney Music Awards Recap: The Big Nominees & Winners List
"Best Music Group"
Fall Out Boy
Fifth Harmony- WINNER
One Direction- I am not ashamed to be a fan of One Direction at my age, mid-40's.
R5
"Best Male Artist"
Ed Sheeran- WINNER
Justin Bieber
Nick Jonas- I was a huge fan of the Jonas Brothers and loved Camp Rock. Nick may be the youngest Jonas, but he is all grown up. His songs Chains and Jealous are my favorite.
Shawn Mendes
"Best Female Artist"
Adele- Oh how I love Adele. Her song Hello is one of the most amazing songs of all time.
Meghan Trainor
Selena Gomez- WINNER
Taylor Swift
"Song of The Year"
Bad Blood – Taylor Swift- I have to say, as much as I love country music, I like Taylor much better as a pop artist than a country artist. Bad Blood is such an amazing song and anyone out there who has ever been betrayed by someone close to them can totally relate to this song. WINNER
Cheerleader – OMI
Stitches – Shawn Mendes
Watch Me (Whip/Nae Nae) – Silento
"Best Crush Song"
Love Me Like You Do – Ellie Goulding
One Call Away – Charlie Puth
Perfect – One Direction- I love all of their songs but Perfect is definitely my all-time favorite. WINNER
Should've Been Us – Tori Kelly
"Fiercest Fans"
Beliebers- If I know one thing, I do know that you don't mess with Justin Bieber fans. They are certainly fierce and a force to be reckoned with.
Directioners
Harmonizers- WINNER
Swifties
"Breakout Artist of the Year"
Alessia Cara
Charlie Puth
Rachel Platten- Her song Fight Song is so amazing. I listen to it all the time. Her song Stand by You is also amazing.
Tori Kelly- WINNER
"Best New Artist"
DNCE
Daya
Kelsea Ballerini- When she hit the country music scene, I knew she was a force to be reckoned with. Her singles Dibs, Love Me Like You Mean It and Peter Pan are awesome. WINNER
Nathan Sykes
"Best Song That Makes You Smile"
Better When I'm Dancing – Meghan Trainor- I honestly think all of Meghan's songs make you smile but this one especially.  It has bits of house music and bits of doo-wop blended in. WINNER
Cheerleader – OMI
I Don't Like It, I Love It – Flo Rida
"Radio Disney's Most Talked About Artist"
Justin Bieber- Wow, these three were all talked about quite a bit, but it seems Bieber is always being chatted about for one reason or another.
One Direction
Taylor Swift- WINNER
"Best Song to Lip Sync to"
Cake by The Ocean – DNCE- This is a song I lip sync to quite often.
Dessert (feat. Silento) – Dawin
Gibberish (feat. Hoodie Allen) – MAX
What Do You Mean? – Justin Bieber- WINNER
"Best Anthem"
Cake by The Ocean – DNCE
Confident – Demi Lovato- If there has been a better anthem song out there, I certainly don't know what it is. The song is loaded with confidence and empowerment.
Eyes Wide Open – Sabrina Carpenter- WINNER
Honey, I'm Good – Andy Grammer
"Best Song to Dance to"
Break a Sweat – Becky G
Focus – Ariana Grande- WINNER
Uma Thurman – Fall Out Boy- While these are all great songs to dance to, I have to go with the fun song Uma Thurman. Between the upbeat tempo and electric guitar riff, this song will have you dancing in no time.
Watch Me (Whip/Nae Nae) – Silento
"Best Breakup Song"
Bad Blood – Taylor Swift- There is no better breakup song than Bad Blood. With lyrics like, "These beats of a dark heart, use bass lines to replace you. Take time to erase you, love don't hear no more," it is a pretty powerful breakup song. WINNER
Hello – Adele
Sorry – Justin Bieber
Stitches – Shawn Mendes
"Artist with The Best Style"
Becky G- WINNER
Gwen Stefani
Taylor Swift
Zendaya- This girl has style. She's a singer, an actress and TV spokesperson for Cover Girl. She also has her own line of activewear, Shake It Up Dance Clothing Line by Zendaya.
"Country Favorite Song"
Dibs – Kelsea Ballerini- I love this song. It is so upbeat and has a ton of spunk.
Fly – Maddie & Tae- WINNER
God Made Girls – RaeLynn
Nothin' Like You – Dan + Shay
"Country Favorite Artist"
Hunter Hayes
Kelsea Ballerini- Love her, love her songs.
Maddie & Tae- WINNER
Sam Hunt
What did you think about the 2016 Radio Disney Music Awards recap? I thought there were some pretty hot performances this year, what about you? Tell me your thoughts in the comments!