The networks have released their fall TV schedule and there are some awesome and highly anticipated new Fall TV shows coming.
If you're looking for some new great shows to watch this year, you'll love my list!
There is something for everyone, from comedy to drama to reboots!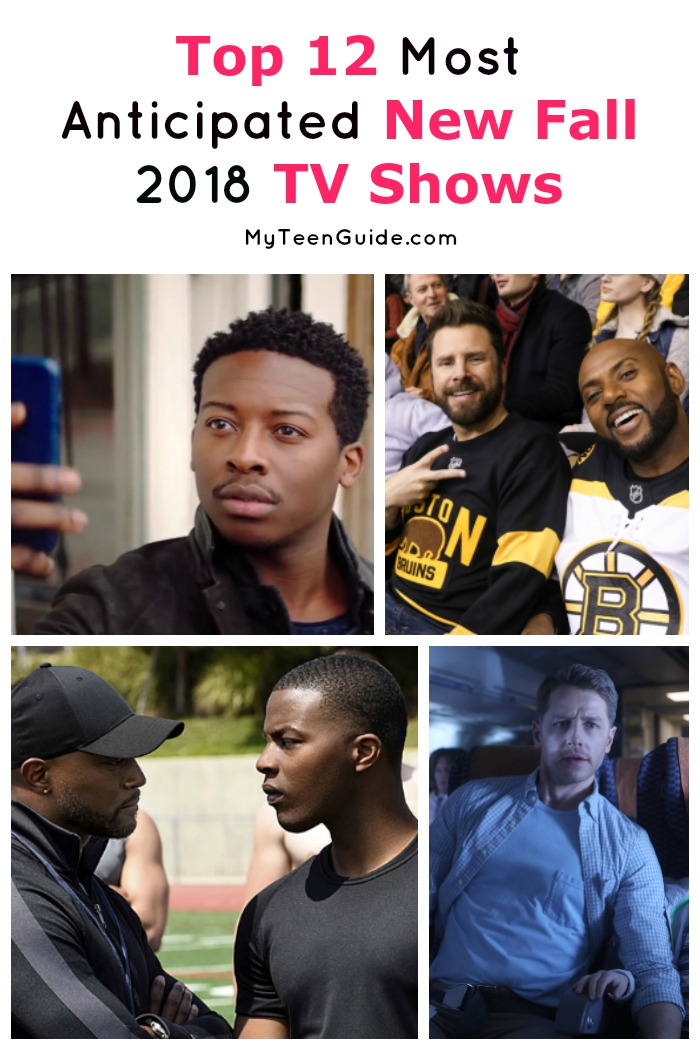 Here are some of the most anticipated TV shows coming this fall!
Plus, check out my predictions for whether or not the shows will last!
Most Anticipated New Fall TV Shows
Affiliate links included below. If you make a purchase through these links, we earn a small commission at no extra charge to you. Thank you for your support! All times are for Eastern Standard Times.
New Fall TV Shows on ABC
1. A Million Little Things
Drama- No premiere date has been announced yet, but the series is set to air on Wednesdays at 10 PM.
When Jon dies suddenly, his friends get a wake-up call that they need to start living more.
The series stars David Giuntoli, Romany Malco, Allison Miller and James Roday.
Okay, all you Grimm fans will know David Giuntoli as Detective Nick Burkhardt from Grimm!
Grace Park was also recently added to the cast. Hawaii Five-0 fans know her as Kono and recall that she left the show at the end of season 7, along with Daniel Dae Kim, over salary issues.
My prediction: I think this one has a real chance to become the next This is Us as far as hits go. If you're a fan of 80s movies, it definitely has a The Big Chill
vibe! It's also reminiscent of the late 80s-early 90s show Thirtysomething
.
2. Single Parents
https://www.youtube.com/watch?v=CfiSTRX1UrE
Comedy- No premiere date has been announced yet, but the series is set to air on Wednesdays at 9:30 PM.
Will Cooper's single parent friends try to get him out in the dating world.
The series stars Taran Killam, Leighton Meester, Brad Garrett and Kimrie Lewis.
My Prediction: Sadly, as great as this show sounds, I don't think it will make it past the first season. Comedies are a dime a dozen, as the saying goes, and so few of them really strike gold. Then again, producer Meriwether already has one major hit under her belt: The New Girl. That's another show I didn't think would survive, yet it's been pleasantly surprising!
3. The Kids are Alright
Comedy- No premiere date has been announced yet, but the series is set to air on Tuesdays at 8:30 PM.
The series takes place in the 1970's and features Mike & Peggy Cleary, working-class parents, trying to raise their 8 kids.
It stars Michael Cudlitz and Mary McCormack. All my fans of The Walking Dead– Michael Cudlitz played Abraham on the show!
Prediction: This one kind of reminds me of That 70s Show, although with more kids! Five years ago, I would have predicted that it would flop. However, with TV shows like The Goldbergs and Fresh Off the Boat becoming such huge hits, a show set a decade earlier than those two just might make it.
Fall 2018 TV Shows Coming to CBS
4. God Friended Me
Drama- No premiere date has been announced yet, but the series is set to air on Sundays at 8 PM.
Miles Finer is an atheist, whose life changes when God "friends" him on Facebook.
The series stars Brandon Michael Hall, Joe Morton, and 

Violett Beane. 

Scandal fans recognize Michael Hall as Rowan Pope (aka Command). Even though he was a "bad guy" in that show, I absolutely love his acting.
Prediction: My opinion on this one is that it won't last.When you take on shows dealing with religion, there is always controversy. At least it is a drama and not a comedy, but still, religion is a touchy subject with a lot of TV viewers. Look at shows like Joan of Arcadia and the more recent Kevin (Probably) Saves the World. Neither lasted very long.
5. Happy Together
Comedy- No premiere date has been announced yet, but the series is set to air on Mondays at 8:30 PM.
Jake and Claire are a couple in their 30's, who live a mundane life. When Cooper James, a mega pop star, moves in with the couple, they are drawn into his life of fame.
The series stars Damon Wayans Jr., Amber Stevens West and Felix Mallard.
Damon Wayans Jr.  comes from a family of talented actors, including his father- Damon Wayans- and his uncles- Marlon Wayans and Keenen Wayans.
Prediction: I think this show is going to be pretty good and has a real chance of making it. I think it is a situation that many couples can relate to. Well, maybe not the whole part about living with a mega star, but we've all fallen into ruts in our relationships, right?
6. Magnum, P.I.
Drama. No premiere date has been announced yet, but the series is set to air on Mondays at 9 PM.
This is a reboot of the original series that aired for 8 seasons, from 1980 to 1988.
It will feature the same characters, with new cast members. Thomas Magnum, a former Navy Seal, becomes a private investigator in Hawaii.
The series stars Jay Hernandez, Zachary Knighton and Perdita Weeks.
Prediction: While I loved the original Magnum, P.I
., reboots don't tend to do as well as their original. Take for example, Charlie's Angels. The original series aired for 5 seasons, but the reboot only lasted 1 season. The exception is, of course, Hawaii Five-O, which has aired for 8 seasons so far. Oh, and you just can't replace Tom Selleck, as he made the character of Thomas Magnum.
7. The Neighborhood
Comedy.  No premiere date has been announced yet, but the series is set to air on Mondays at 8 PM.
Dave Johnson, who is known as the nicest guy in the Midwest, moves his family to one of Los Angeles' roughest and toughest neighborhoods.
The series stars Max Greenfield, Beth Behrs and Cedric the Entertainer.
For those of you who watched the sitcom- 2 Broke Girls- Beth Behrs played the role of Caroline Channing for 6 seasons.
Prediction: This one is hard to predict! My gut says it won't last, but Jim Reynolds produced one of my favorite shows: The Big Bang Theory. That alone makes me think it could make it!
NBC Fall TV Shows
8. I Feel Bad
https://www.youtube.com/watch?v=c0Vg5dpyno8
Comedy. Premieres Thursday, October 4th at 9:30 PM.
Emet seems to be perfect in all her roles- wife, mother, daughter, boss and friend.
However, when she strays from her perfect routine, she learns that it's okay to be imperfect and still have it all.
The series stars Sarayu Blue and Paul Adelstein. (Prison Break fans will remember Paul Adelstein as Paul Kellerman on the show)!
Prediction:
9. Manifest
https://www.youtube.com/watch?v=BhKmfJrnrw0
Drama- Premieres Monday, September 24th at 10 PM.
The aircraft, crew and passengers of Montego Air Flight 828, return after being missing for 5 years, but none of the people onboard have aged at all.
The series stars Melissa Roxburgh, Josh Dallas, Athena Karkanis and J.R. Ramirez.
Prediction: Here is another show that I think looks really good and I think it may actually do well in the ratings. It kinda has a "Lost" feel to it, but I don't think it will have all the twists, turns and surprises that Lost had.
10. New Amsterdam
https://www.youtube.com/watch?v=_nFaAQTQNBY
Drama- Premieres Tuesday, September 25th at 10 PM.
Dr. Max Goodwin works at Bellevue Hospital, the oldest public hospital in the United States.
He breaks the hospital rules of bureaucracy in order to provides patients with exceptional care.
The series stars Ryan Eggold, Janet Montgomery, Freema Agyeman and Tyler Labine.
Prediction: Medical dramas are so hit or miss these days. I think a lot of shows are trying to reach the level of Grey's Anatomy "epic-ness," and that's just not easy.
THE CW New Fall Shows
11. All American
https://www.youtube.com/watch?v=jtyDAiyAed0
Drama- Premieres Wednesday, October 10th at 9 PM.
This series is inspired by real-life professional football player- Spencer Paysinger and focuses on Spencer James, a high school football player from South Los Angeles, who is recruited to play in Beverly Hills. The series stars Daniel Ezra, Taye Diggs and Samantha Logan.
Prediction: All-American is being called The CW's version of Friday Night Lights. It's hard to say if this one will be as successful. While the CW has definitely had a few hugely successful dramas, it's more a destination for all things "super," from super heroes to Supernatural!
12. Charmed
https://www.youtube.com/watch?v=-ycEPoT1Nzw
Drama- Premieres Sunday, October 14th at 9 PM.
This is another reboot, this time of the original series that aired for 8 seasons, from 1998 to 2006.
It will have all new characters and cast members.
The series will focus on Macy, Mel and Maggie, three sisters who discover they are the most powerful witches. It will star Madeleine Mantock, Melonie Diaz, Sarah Jeffrey and Rupert Evans.
Prediction: The original Charmed is one of my all-time favorite shows, so I'm a little biased. That said,  I really don't think this reboot will work. I would much rather have seen a sequel than a reboot, where the children of the Charmed Ones come into their power.