Currently, there are roughly 110 movies that are due to hit movie theaters in 2019!
That is just crazy, isn't it?
From animated & superhero movies, to drama & horror films, to reboots & sequels, next year will certainly have something for everyone.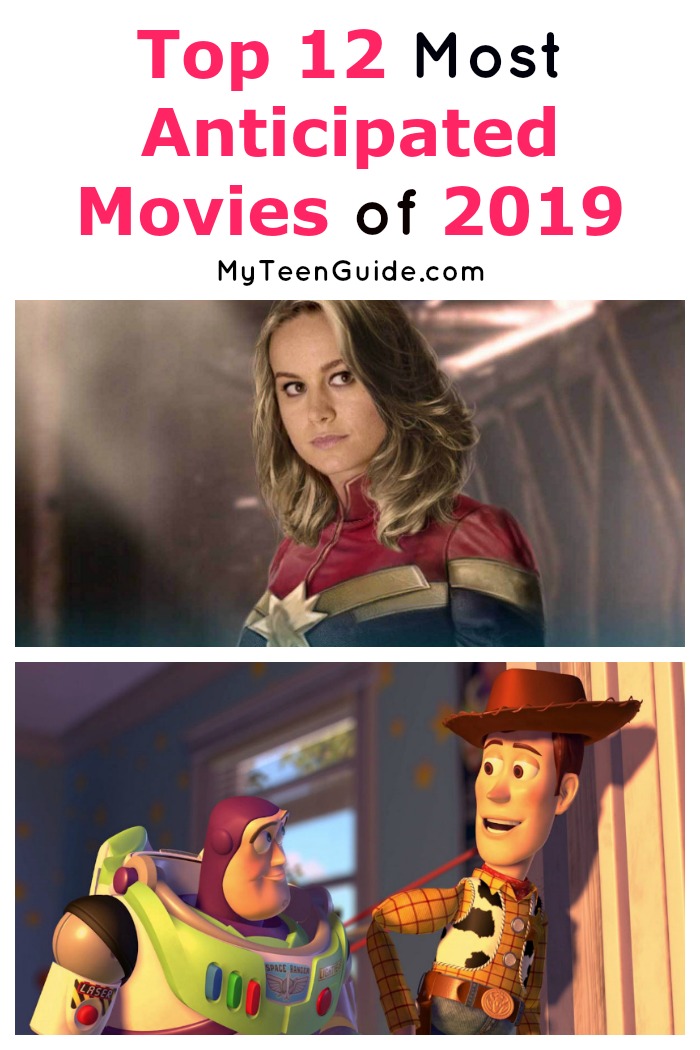 I narrowed everything down and chose 12 of the most anticipated movies that are due out in 2019.
Check them out!
Most Anticipated Movies of 2019
Affiliate links included below. If you make a purchase through these links, we earn a small commission at no extra charge to you. Thank you for your support!
NOTE: It is important to keep in mind that these dates and movie titles are likely to change. That's because some movies may be in the middle of filming and others may not have started filming yet.
Also, I have not included the plot of some of the movies because they haven't been released yet.
Lastly, sorry Star Wars fans, but I did not include the 2019 Star Wars movie because there is no information on it at all, since the film changed director last year.
JANUARY
11th– Hellboy
Hellboy is a supernatural, superhero movie that is a reboot of the original Hellboy movie series- Hellboy
(2004) and Hellboy II: The Golden Army
(2008).
This time around, Hellboy is played by David Harbour. (Harbour plays the role of Police Chief Jim Hopper on Stranger Things).
In the movie, Hellboy will battle against the Blood Queen, who wants to destroy humanity. The movie also stars Milla Jovovich.
18th– Glass
Glass is a horror, thriller, superhero movie that is the final movie in the Unbreakable trilogy- Unbreakable
(2000) and Split
(2016).
Main cast members will reprise their roles from the previous movies, including Bruce Willis as David Dunn, Samuel L. Jackson as Elijah Price and James McAvoy as Kevin Wendell Crumb.
Love Unbreakable? Check out this awesome t-shirt!

Unbreakable Unisex T-Shirt — $19.50

Unisex t-shirt. The Yin and Yang, good VS evil. An alternative vision to the relationship between Bruce Willis and Samuel L Jackson in the movie Unbreakable.
FEBRUARY
14th– X-Men: Dark Phoenix
X-Men: Dark Phoenix is a superhero movie that is the 12th movie in the X-Men series.
Some of the cast will reprise their roles from the previous films, including James McAvoy as Charles Xavier, Michael Fassbender as Magneto and Jennifer Lawrence as Mystique.
There are also a few newcomers, including Sophie Turner as Jean Grey, Nicholas Hoult as Beast and Tye Sheridan as Cyclops.
In this installment, Jean Grey accidentally unleashes the Phoenix, which the X-Men must deal with.
I love the X-Men movies, so I am excited about this newest installment. However, I miss Hugh Jackman as Wolverine
.
MARCH
1st– How to Train Your Dragon: The Hidden World
How to Train Your Dragon: The Hidden World is a computer-animated, action, fantasy movie that is the final movie in the How to Train Your Dragon trilogy- How to Train Your Dragon
(2010) and How to Train Your Dragon 2
(2014).
Jay Baruchel as Hiccup, Gerard Butler as Stoick the Vast, Craig Ferguson as Gobber the Belch, America Ferrera as Astrid, Jonah Hill as Snotlout, T.J. Miller as Tuffnut, Kristen Wiig as Ruffnut, Kit Harrington as Eret and Cate Blanchett as Valka, will all reprise their voice roles from the previous movies.
The movie has a pretty intense tagline- "As Hiccup fulfills his dream of creating a peaceful dragon utopia, Toothless' discovery of an untamed, elusive mate draws the Night Fury away.
When danger mounts at home and Hiccup's reign as village chief is tested, both dragon and rider must make impossible decisions to save their kind."
8th– Captain Marvel
Captain Marvel is a superhero movie that is based on the character- Carol Danvers/Captain Marvel, from the Marvel Comics.
It will be Marvel's first movie to feature a female lead character. Brie Larson will play the lead role.
Other cast members include Samuel L. Jackson, Jude Law, Mckenna Grace and Ben Mendelsohn.
I absolutely love Brie Larson. She is an extremely talented actress. If you haven't seen the 2015 movie- Room
– you really should watch it. Larson plays the lead role of Joy Newsome, for which she won an Academy Award and a Golden Globe Award, both for Best Actress.
MAY
3rd– Avengers 4
https://www.youtube.com/watch?v=C6u6xK2gJTo
Avengers 4 is a superhero movie that is the 4th (and final) movie in the Avengers series- The Avengers
(2012), Avengers: Age of Ultron
(2015) and Avengers: Infinity War (2018).
Robert Downey Jr. (Iron Man), Chris Hemsworth (Thor), Mark Ruffalo (Hulk), Chris Evans (Captain America), Scarlett Johansson (Black Widow), Tom Holland (Spider-Man), Benedict Cumberbatch (Dr. Strange), Tom Hiddleston (Loki) and Chadwick Boseman (Black Panther), are all set to reprise their Avenger movie roles.
31st– Godzilla: King of the Monsters
Godzilla: King of the Monsters is a monster movie that is the sequel to Godzilla
(2014). It will feature a whole new cast, including Vera Farmiga as Dr. Emma Russell, Kyle Chandler as Mark Russell and Millie Bobby Brown as Madison Russell.
(For all you TV buffs out there (myself included), you'll recognize Farmiga from her role as Norma Bates on Bates Motel, Chandler from his role as Coach Eric Taylor on Friday Night Lights and Brown from her role as Eleven on Stranger Things.
Here is the movie's premise- "The new story follows the heroic efforts of the crypto-zoological agency Monarch as its members face off against a battery of god-sized monsters, including the mighty Godzilla, who collides with Mothra, Rodan, and his ultimate nemesis, the three-headed King Ghidorah.
When these ancient super-species – thought to be mere myths – rise again, they all vie for supremacy, leaving humanity's very existence hanging in the balance."
JUNE
21st– Toy Story 4
Who doesn't love the Toy Story movies? I am a HUGE fan! They just seem to tug at your heartstrings at times, don't they?
This computer-animated, comedy movie is the 4th movie in the Toy Story series- Toy Story (1995), Toy Story 2 (1999) and Toy Story 3 (2010).
Tom Hanks as Woody, Tim Allen as Buzz Lightyear, Annie Potts as Bo Peep, Joan Cusack as Jessie and John Ratzenberger as Hamm, will all reprise their previous Toy Story movie voice roles.
In Toy Story 4, Woody and Buzz set out on a journey to find Woody's love, Bo Peep.
If you love Toy Story as much as I do, you need to check out these Vans sneakers! LOVE!


JULY
5th– Spider-Man: Far From Home
https://www.youtube.com/watch?v=cOSHwS70g6Y
Spider-Man: Far From Home is a superhero movie that is the sequel to Spider-Man: Homecoming
(2017).
Tom Holland as Peter Parker/Spider-Man, Zendaya as MJ and Jacob Batalon as Ned will reprise their roles from the previous film.
12th– Top Gun: Maverick
Well, here we are 33 years after the original Top Gun
movie was released. (I absolutely loved the 1986 military, action, drama movie and apparently, so did lots of other people because it was the highest-grossing movie of 1986, grossing $176,781,728). Tom Cruise will reprise his role as Pete "Maverick" Mitchell.
AUGUST
2nd– The New Mutants
The New Mutants is a horror, superhero movie that is based on the team of characters, of the same name, from the Marvel Comics.
The movie centers on 5 teen mutants who are held against their will in a secret facility.
The movie stars Anya Taylor-Joy as Magik, Maisie Williams as Wolfsbane, Charlie Heaton as Cannonball, Henry Zaga as Sunspot and Blu Hunt as Mirage.
NOVEMBER
1st– Wonder Woman 1984
Wonder Woman 1984 is a superhero movie that is the sequel to Wonder Woman
(2017).
Gal Gadot will reprise her role as Diana Prince/Wonder Woman and Chris Pine will reprise his role as Steve Trevor.
Considering how well the first movie did, I suspect this one will be the hit of the year!
I saw it on Redbubble

'Fight Like a Girl' Sticker by clairefromke
These are our picks for the top 12 most anticipated movies of 2019. It looks like super heroes will once again reign supreme!
Tell us what movies you're most looking forward to seeing in 2019!