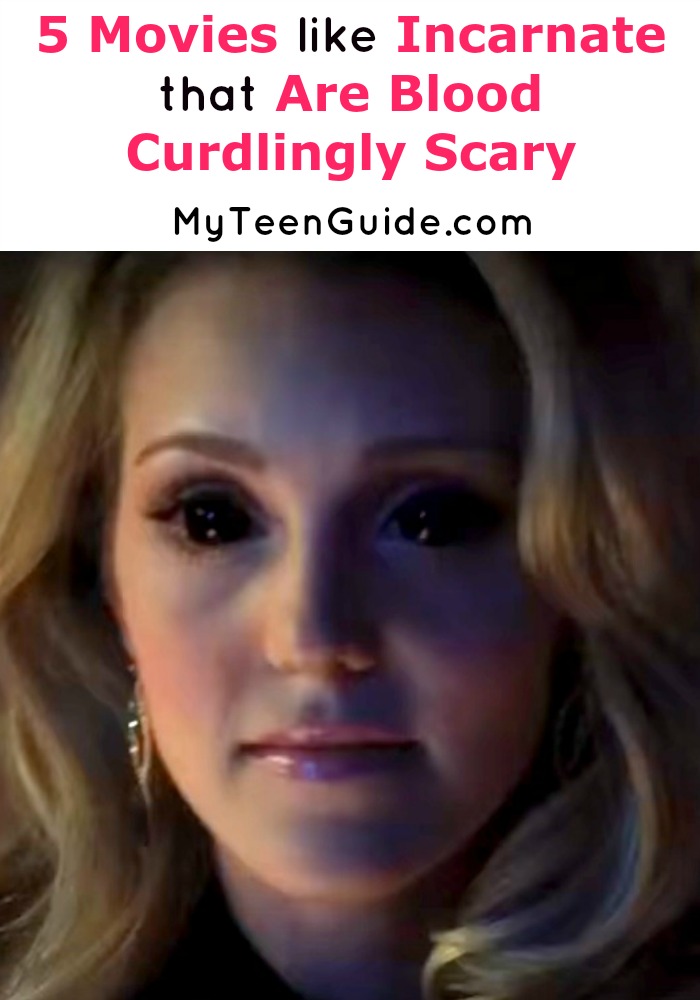 Do you want more movies like Incarnate? The exorcist style movies always make me hide under a blanket fast, but I always peep through and keep watching. This new movie takes demons and exorcism to the extreme, but there are other scary movies to watch through your fingers too. Check out this list of movies for your next scary movie party or marathon!
Related –> 4 Incarnate Movie Quotes To Tap Into Your Head
5 Movies Like Incarnate That Are Blood Curdlingly Scary
Incarnate is a supernatural horror movie that will be in theaters on December 2, 2016. The movie tells the story of an unconventional exorcist who tries to help a tormented young boy. Incarnate stars Aaron Eckhart and David Mazouz. Here are some other great movies like Incarnate.
Insidious
Insidious is another great movie like Incarnate! It is a 2010 supernatural horror movie that is the 1st movie in the film series, with Insidious: Chapter 2 released in 2013 and Insidious: Chapter 3 released in 2015. It is about a couple, Josh and Renai Lambert, whose son Dalton falls into a comatose state, where he finds himself in a ghostly realm. Josh and Renai fight to prevent evil spirits from invading Dalton's body. Insidious stars Patrick Wilson as Josh, Rose Byrne as Renai and Ty Simpkins as Dalton.
Oculus
Oculus is a 2013 supernatural psychological horror movie. The movie tells the story of Kaylie Russell, a woman who is on a mission. She is trying to get her brother, Tim Russell, exonerated. Tim was convicted of a murder that he didn't commit. Kaylie believes that an antique mirror with evil entities actually committed the murder. Oculus stars Karen Gillan as Kaylie and Brenton Thwaites as Tim.
The Possession
The Possession is a 2012 supernatural horror movie that tells the story of Emily Brenek, a young girl who buys a dybbuk box at a yard sale. However, she is unaware that a malicious ancient spirit lives inside the box, a spirit that places a curse on Emily. Her parents, Clyde and Stephanie, must find a way to end the curse. The Possession stars Natasha Calis as Emily, Jeffrey Dean Morgan as Clyde and Kyra Sedgwick as Stephanie.
The Rite
The Rite is a 2011 supernatural horror thriller movie that is loosely based on the 2009 book titled The Rite: The Making of a Modern Exorcist by Matt Baglio. The movie is about Michael Kovak, a seminary student who takes an exorcism course in Italy. The Rite stars Colin O'Donoghue as Michael.
Jessabelle
Jessabelle is a 2014 supernatural horror movie, about a woman named Jessabelle Laurent, who is involved in a horrific car accident that killed her fiancé and her unborn baby. Upon her return home to recover, she encounters an evil spirit that has been waiting for her to return home and has no intention of letting her leave. Jessabelle stars Sarah Snook as Jessabelle.
Which of these movies like Incarnate will you watch first? Tell me in the comment below.