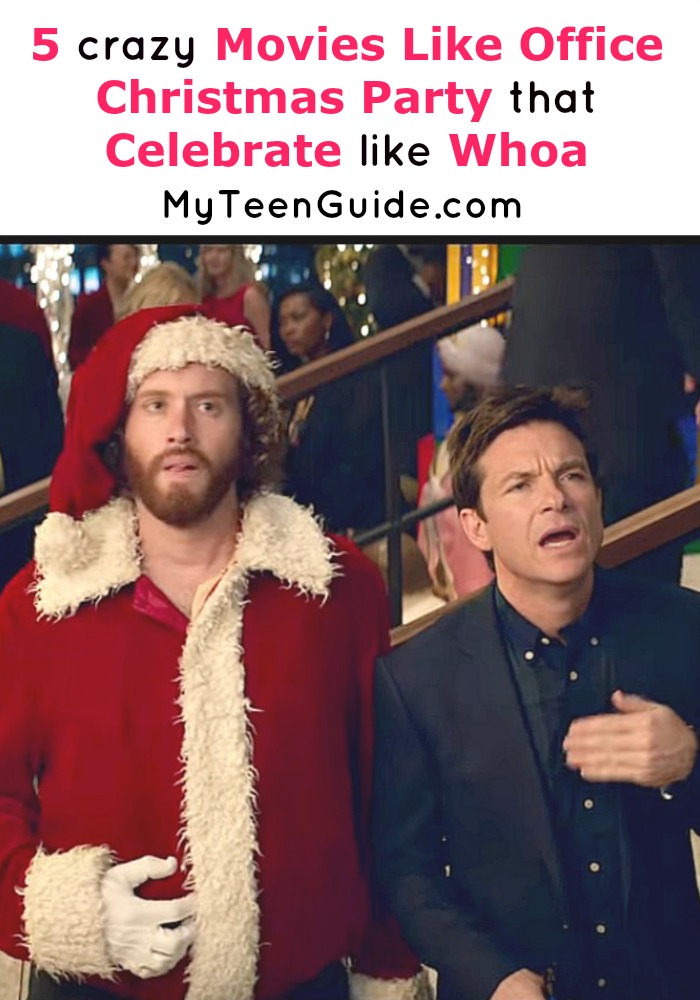 These movies like Office Christmas Party will have you laughing! If you are looking for a holiday movie with a touch of Bad Santa, these are it! Ok so maybe Bad Santa is on this list too, but there are tons of funny movies that are going to help you blow off a little of that Christmas steam that happens to everyone right? Not just me?  Didn't think so! Check out these crazy films like Office Christmas Party.
Related–> 7 Glow In The Dark Christmas Party Ideas That Will Make You Want To Rock Around The Tree
5 Crazy Movies Like Office Christmas Party That Celebrate Like Whoa
Office Christmas Party is a Christmas comedy movie that will be in theaters on December 9, 2016. The movie is about Clay Vanstone, who throws an epic Christmas party for his office workers to save their jobs, after Clay's sister, Carol Vanstone attempts to shut down the branch Clay works at. The movie stars T.J. Miller as Clay and Jennifer Aniston as Carol. Here are some other great movies like Office Christmas Party.
Bad Santa
Bad Santa is a 2003 Christmas comedy crime movie with its sequel, Bad Santa 2, being released on November 23, 2016. It centers on a pair of professional conmen, Willie Soke and Marcus Skidmore, who plan to steal from department stores on Christmas Eve, so they pose as Santa Claus and his helper. The movie stars Billy Bob Thornton as Willie and Tony Cox as Marcus. This is an unconventional Christmas tale that is filed with raunchy humor. I love the pairing of Billy Bob Thornton and Tony Cox, as they are just hilarious together.
Fred Claus
Fred Claus is a 2007 Christmas fantasy comedy movie. It showcases the story of Fred Claus, the older and bitter brother of Nicholas Claus. Fred is forced to move to the North Pole to work for his brother, after Nicholas bails him out of jail. The movie stars Vince Vaughn as Fred and Paul Giamatti as Nicholas. If you are looking for a serious holiday movie, this isn't it. This movie is packed with laughs, courtesy of Vince Vaughn.
A Very Harold & Kumar 3D Christmas
A Very Harold & Kumar 3D Christmas is a 2011 Christmas comedy movie. It is the 3rd movie in the Harold & Kumar movie series, with the 1st two being the 2004 Harold & Kumar Go to White Castle and the 2008 Harold & Kumar Escape from Guantanamo Bay. Harold Lee and Kumar Patel set off on an adventure for a new Christmas tree after they destroy Mr. Perez's, Harold's father-in-law, prized tree. The movie stars John Cho as Harold and Kal Penn as Kumar. I absolutely love all the Harold & Kumar movie. John Cho and Kal Penn are simply hilarious together.
A Christmas Horror Story
A Christmas Horror Story is a 2015 Christmas anthology fantasy horror movie. DJ Dangerous Dan, a festive radio host, tells four stories that are interwoven, during his shift at Bailey Downs Radio Station on Christmas Eve. One story features a bloody ghost; another showcases a fairy child, the third deals with Krampus and the fourth features zombies. The movie stars William Shatner as DJ Dan. This film combines two of my favorite topics- Christmas and horror. Not a huge fan of William Shatner, but this was a great movie nonetheless.
The Night Before
The Night Before is a 2015 Christmas comedy film. It focuses on the story of three friends: Ethan Miller, Isaac Greenberg, and Chris Roberts, who head to New York City on Christmas Eve to find the biggest party in town, the Nutcracker Ball. The movie stars Joseph Gordon-Levitt as Ethan, Seth Rogen as Isaac and Anthony Mackie as Chris. When you pair Joseph Gordon-Levitt, Seth Rogen and Anthony Mackie in the same movie, you know it is going to be hilarious.
I have to admit, I totally need to watch Bad Santa again this year. Which of these movies like Office Christmas party is on your nice list? Tell me in the comments!