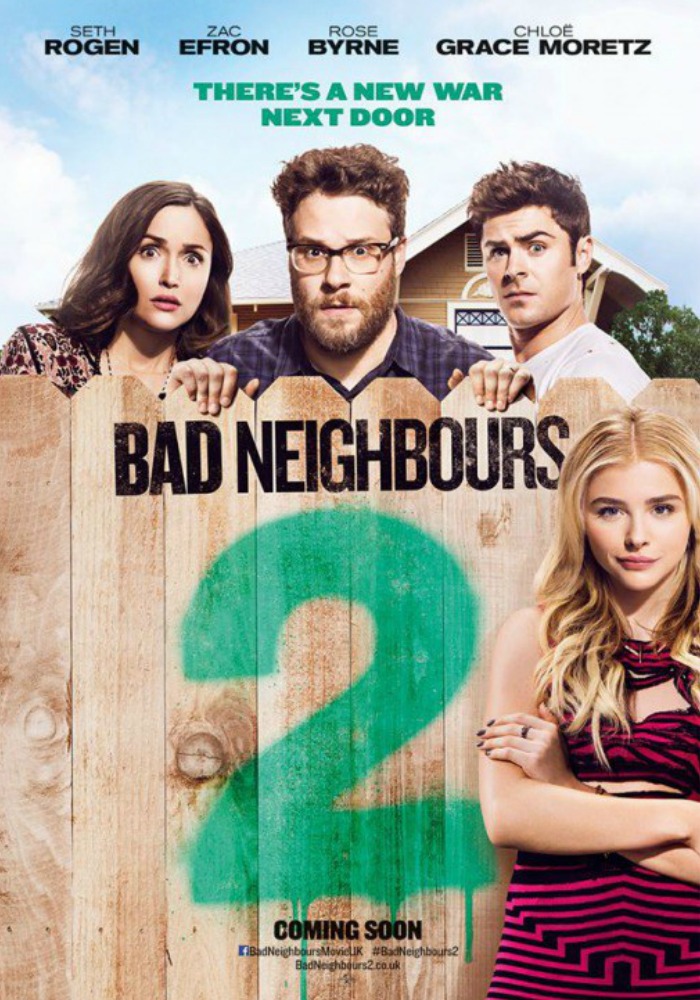 If you are looking for the next best flick to watch? Check out this new movie Neighbors 2: Sorority Rising and all of our movie quotes and trivia to go with it! This is a comedy that is going to make you laugh out loud, and is perfect to see with Bae or your bestie when you just need to unwind. This movie is a sequel and is a comedy about a couple who have a sorority move in next door. We can't start with a plotline like that and not have some funny punchlines, right? Check out the Sorority Rising movie quotes, trivia and of course the brand new movie trailer below for all the details!
Neighbors 2: Sorority Rising Movie Quotes And Trivia We Can't Help But Love
Neighbors 2: Sorority Rising is a 2016 comedy movie that is due to hit theaters on May 20, 2016. It is the sequel to the 2014 movie Neighbors and stars Zac Efron, Seth Rogen, Dave Franco, Carla Gallo, Rose Byrne, Selena Gomez, Ike Barinholtz, Chloe Grace Moretz and Lisa Kudrow. In the sequel, Kelly is pregnant with her 2nd child with Mac and the couple is making plans to move from their current home. What will happen when Mac, Kelly and Teddy team up against Shelby and the other Kappa Kappa Nu Sorority Sisters?
https://youtu.be/ofY1NnQOw6M
Neighbors 2: Sorority Rising Movie Trivia:
Chloe Grace Moretz made the announcement on Twitter on July 23, 2015, that she will be part of the movie cast, tweeting: "Excited to announce I'll be a part of #Neighbors with @Sethrogen- Buckle up people…it's the girls' time to take over."
Universal Pictures announced on February 6, 2015, that Neighbors 2: Sorority Rising would be in theaters on May 13, 2016, but later announced on July 27, 2015, that the film would be released a week later, on May 20, 2016.
Seth Rogen, who stars in the role of Mac in the film, also was the film's producer and writer. This is not the first time he produced or written a film. Seth Rogen was the producer on several movies including 2008 Pineapple Express and 2011 The Green Hornet and also the writer on several films including 2007 Superbad and 2012 The Watch.
Neighbors 2: Sorority Rising Movie Quotes:
Conversation between Mac and Shelby, leader of Kappa Kappa Nu sorority:
Mac- "Hi, we're your neighbors."
Shelby- "Welcome to Kappa Nu."
Mac- "Is that a Greek restaurant?"
Shelby- "Oh, it's our sorority."
Mac, to his wife Kelly-" The buyers can come by at any moment and see the twenty psychopathic teenagers next door. The new buyers are not gonna want to live next to a sorority! We need somebody who can relate to stupid young people!"
Conversation between Kelly and Mac:
Kelly- "I can't believe a sorority just moved next door. We're never going to sell our house with a sorority living next door. What are we gonna do?"
Mac- "Maybe it's not that bad. Girls are usually quiet. They don't take hard drugs, and they're much smarter."
The Sorority Rising movie trivia for this movie is sure to get juicier after it's released. From the look of the Neighbors 2: Sorority Rising movie trivia and quotes is this movie going to be on your must-see list? Tell me what you think in the comments!