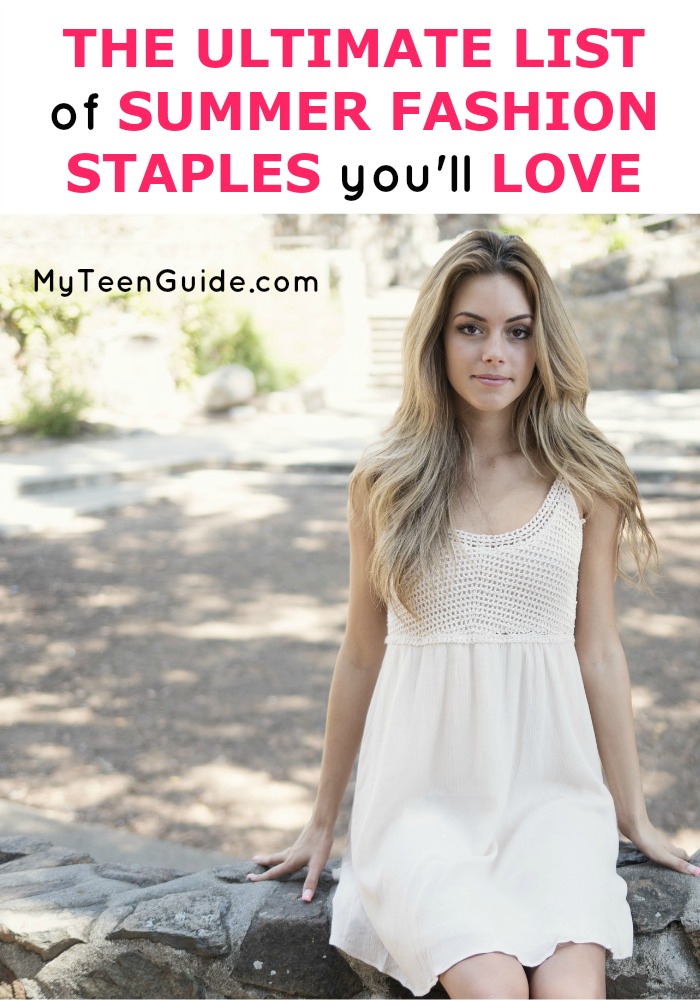 The summer is fast approaching and you know what that means… dresses, shorts, and swimsuits! Bring out your summer clothes because this is going to be a hot one. Whether you're looking to repurpose some summer clothes you already have, or purchase a few new things to spice up your wardrobe, this is a must read. Up your summer fashion game!
The Ultimate List of Summer Fashion Staples You'll Love
1. High Waisted Shorts – This trend has been around for a while and it's not going out of style anytime soon. This look is great for the beach or a summer party. Pair it with a cute crop top and some converse for a chill summer outfit.
https://www.instagram.com/p/BEtE7xuCr7V/?tagged=highwaistedshorts&hl=en
2. Overalls – This look is cute and flirty. Take a risk and spice it up! This look pairs well with a bright colored t-shirt. Whether you're hanging with your girls or hitting up an evening bonfire, try this fun edgy look.
https://www.instagram.com/p/BE4H9YSM5lA/?tagged=overalls&hl=en
3. Crochet Tops – These cute tops are all the rage! Are you heading to a festival or concert this summer? This is a must have item! Pairs well with jean skirts and high waisted shorts! Add a flowy kimono and you're ready! Get ready to dance all night long at your backyard bonfire party.
https://www.instagram.com/p/BEfyvBcq5qw/?tagged=crochettops&hl=en
Related: 7 Summer Beauty Trick Every Girl Should Know
4. Palm Print – Are you looking for a desert vibe? Then this one is for you! This print is super cute and a great look for a simple sundress or beach cover up. Whether you're looking for swimwear, a cute shirt or a handbag it can easily be found in this print.
https://www.instagram.com/p/BEvtkkNxL_p/?tagged=palmprint&hl=en
5. High Waisted Swim – Switch up your typical swimwear with high waisted bottoms. Soak up the sun with this super flattering, fun, and different look. Enjoy taking a little risk this summer at your pool party!
https://www.instagram.com/p/-Pub-gsdid/?tagged=highwaistedbikini&hl=en
6. T-Shirt Dresses – This is a sweet outfit that can be dressed up or dressed down depending on the occasion. Pair it with some heels and bangles for a night out or some sneakers and a belt for a casual look.
https://www.instagram.com/p/BE4Bf3tI9-Z/?tagged=tshirtdress&hl=en
7. Ripped Jeans – Are you heading to a BBQ or an outdoor party? This is the look for you! Pair with a cute sweater or hoodie. Add some little flat sandals to complete the look.
https://www.instagram.com/p/BE5l5ZTE1CO/?tagged=destroyedjeans&hl=en
8. Chokers – This trend is gaining popularity fast! It's a nice accessory to compliment almost any outfit. Even Taylor Swift is rocking this trend.
https://www.instagram.com/p/BERUJqLjvOO/?taken-by=taylorswift&hl=en
9. Lace Bralettes – These cute little bralettes need to be a staple in your fashion wardrobe. They're adorable, versatile and easy to mix and match! They're perfect under loose tanks and sleeveless dresses, and easy breezy so you can focus on your summer hair.
https://www.instagram.com/p/36ZGyRBhVX/?tagged=lacebralettes&hl=en
You don't want to miss out on these summer trends! What's your favorite summer fashion look? Which one do you want to try? Let us know in the comments below. We love hearing from you!
*Image via Pixabay