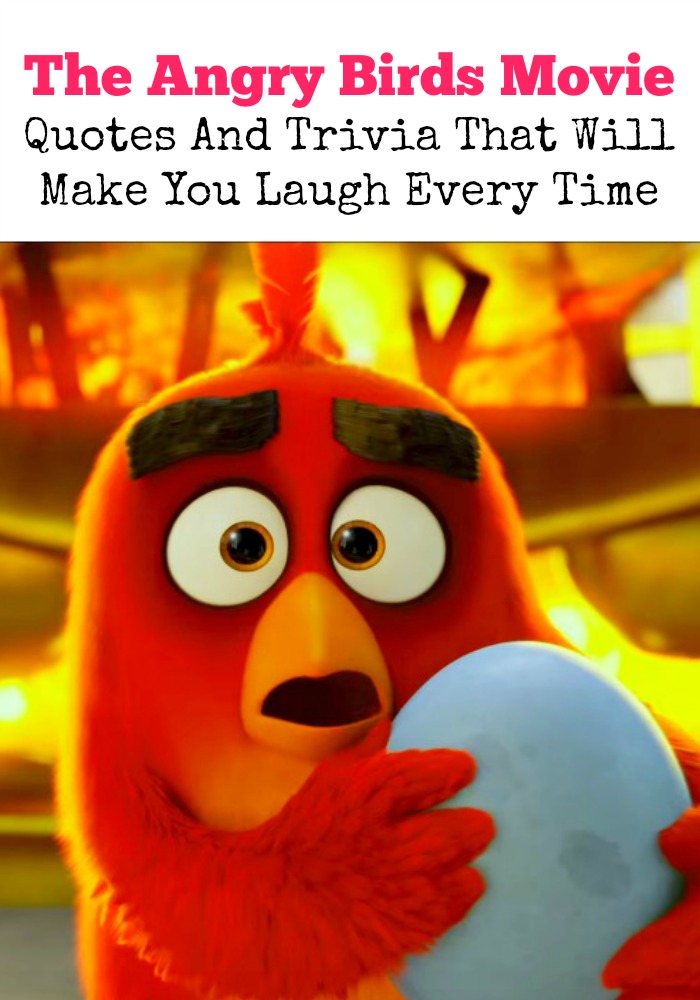 All of you Bad Piggies and Flingers out there have got to check out this fab list of The Angry Birds movie quotes and trivia! Admit it, you want to hop on the bold eyebrow trend just so when it's time to see The Angry Bird movie, your eyebrows are on fleek! Haha, not that I would do that. In all seriousness, this movie looks like it's going to be just as entertaining, if not more then the game and totally worth seeing.
Before you head out to the theater,  you want to get your The Angry Bird movie facts straight. Below you can check out The Angry Bird movie quotes and trivia to fill your Bad Piggie heart with glee!
Related:
The Angry Birds Movie Quotes And Trivia That Will Make You Laugh Every Time
The Angry Birds Movie is a 3D computer animated movie that combines comedy, action and adventure and is set to be released in theaters on May 20, 2016. The movie is set to star the voice cast of Jason Sudeikis, Josh Gad, Danny McBride, Bill Hader, Maya Rudolph, Peter Dinklage, Ian Hecox, Anthony Padilla, Sean Penn, Tony Hale, Kate McKinnon, Billy Eichner and Keegan-Michael Key. The Angry Birds Movie showcases on the residents of Bird Island, a group of flightless birds. They are happy little birds until a group of green, bad piggies land on the island.
The Angry Birds Movie Quotes:
Conversation between Red (leader of the bird flock), Leonard (leader of the bad piggies) and Judge Peckinpah, as Leonard points to an unhatched egg:
Leonard- "Is that what I think it is?"

Red- "Excuse me, those are fragile. Alright? Not yours."

Judge- "You are making our guest feel unwelcome!"

Red- "And you're not asking basic questions."
Conversation between Matilda (white bird). Chuck (yellow bird) and Red:
Matilda- "We're gonna be working managing our anger through movement."

Chuck- "Eagle, parrot, peacock, warrior, mountain, tree, rabbit, fish, locust, king pigeon, and of course, downward duck."

Red- "Yuck!"
Conversation between the Worm Bird Salesman and Red:
Salesman- "Hey, Red, how are you?"

Red- "Oh, I'm horrible."
Related: New Releases On Netflix For Kids In January 2016
The Angry Birds Movie Trivia:
This is the 3rd movie that Josh Gad (Chuck) and Peter Dinklage (Mighty Eagle) star in together. They also starred in the 2012 Ice Age: Continental Drift and the 2015 Pixels.
The Angry Birds Movie was supposed to be released on July 1, 2016, but it was moved to May 20, 2016, in December of 2014.
The movie features Anthony Padilla (Hal) and Ian Hecox (Bubbles), who are also well-known on YouTube as the duo Smosh.
Maya Rudolph (Matilda) and Bill Hader (Leonard) also did voice roles together in the 2013 computer-animated sports comedy movie, Turbo. In Turbo, Rudolph voiced the role of the snail, Burn and Hader voiced the role of Indy 500 winner, Guy Gagne.
So which of The Angry Bird movie quotes and trivia did you find interesting? Is The Angry Bird movie on your hot summer movies list to watch? Tell me in the comments!
*Image via Wikia