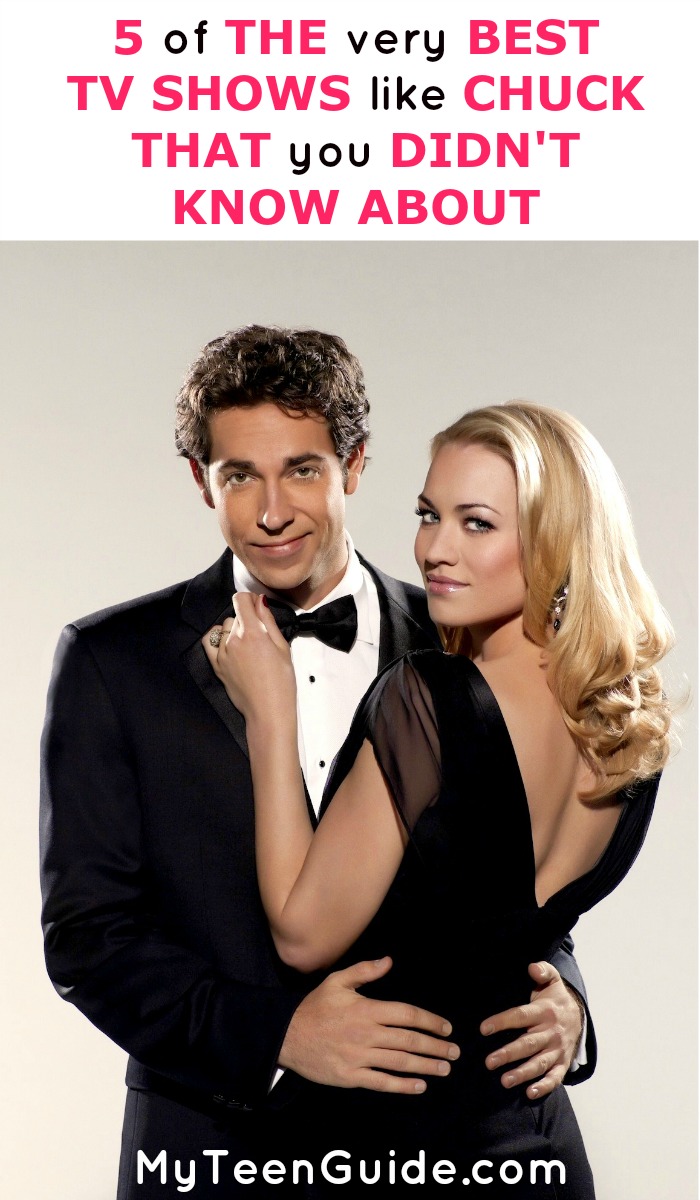 Chuck has all the right moves, but can you find more TV shows that are like it? This series brings comedy, super spy power, goofy characters and a romance that you'll be cheering for! Come on Sarah, you know Chuck is your Bae! If you haven't seen this series, add it to your binge watch list! Then check out these other TV shows that are like Chuck for another dose of super spy drama and laughs.
5 Of The Very Best TV Shows Like Chuck That You Didn't Know About
Chuck is a television series that combines action, drama, and comedy all into one show. The series aired on NBC from September 24, 2007, to January 27, 2012, for a total of five seasons. The series centered on a computer geek named Charles "Chuck" Bartowski, who receives an encoded e-mail from someone at the CIA, which is then embedded into his brain. Agents are then assigned to watch him and end up turning his life upside down. Chuck stars Zachary Levi and is high near the top of my shows I loved to watch list! Here are some other TV shows like Chuck.
Related: 5 Badass TV Shows Like Breaking Bad That You Can't Stop Watching
https://www.instagram.com/p/BB8PGRZBLuE/?tagged=chuckbartowski
Nikita
Nikita is a television series that combined drama, thriller, and action all into one show. The series aired on The CW for four seasons, from September 9, 2010, to December 27, 2013. It is a reboot of the action-drama television series that ran on the USA Network for five seasons, from January 13, 1997, to March 4, 2001. Nikita series chronicles Nikita Mears, who escaped from a secret organization, went into hiding for three years and now is back to take down the organization. Nikita stars Maggie Q.
Related: 5 Intensely Amazing TV Crime Shows Like White Collar That Are A Little Snarky
Psych
Psych is a detective drama-comedy television series that aired on the USA Network for eight seasons, from July 7, 2006, to March 26, 2014. The series centers on Shawn Spencer, a crime consultant with the Santa Barbara Police Department, who was hired because he conned them into believing he could solve crimes using his psychic powers. Psych stars James Roday.
Human Target
Human Target is an action drama television series that aired on Fox for two seasons, from January 15, 2010, to February 9, 2011. This is the 2nd Human Target television series, with the first one airing on ABC for one season in 1992. The series showcases the life of Christopher Chance, a private contractor, security expert and bodyguard, who takes a different approach when protecting his clients. He totally integrates himself into their lives. Human Target stars Mark Valley.
Castle
https://www.youtube.com/watch?v=9_LgMYu-gm4
Castle is a television series that combines crime with comedy and drama. It aired on ABC for eight seasons, from March 9, 2009, to May 16, 2016. The series chronicles the lives of Richard Castle and Kate Beckett, as they work together as a team to solve crimes in the city. Castle is a best-selling mystery writer and Beckett is a homicide detective with the New York City Police Department. Castle stars Nathan Fillion and Stana Katic.
Dollhouse
Dollhouse is a science fiction television series that aired on Fox for two seasons, from February 13, 2009, to January 29, 2010. The series focuses on a futuristic laboratory that engages in underground establishments around the world. Once the individuals, who work in the laboratory, complete their given assignments, their memories are erased. Dollhouse stars Eliza Dushku. This show never seemed to make the top shows to watch lists, but it seems to be in the wrong place at the wrong time! The few seasons of Dollhouse that are available are really good!
So did you love the TV show Chuck and these other shows as much as I did? Tell me what you think of all of these shows in the comments!
Image via Wikia