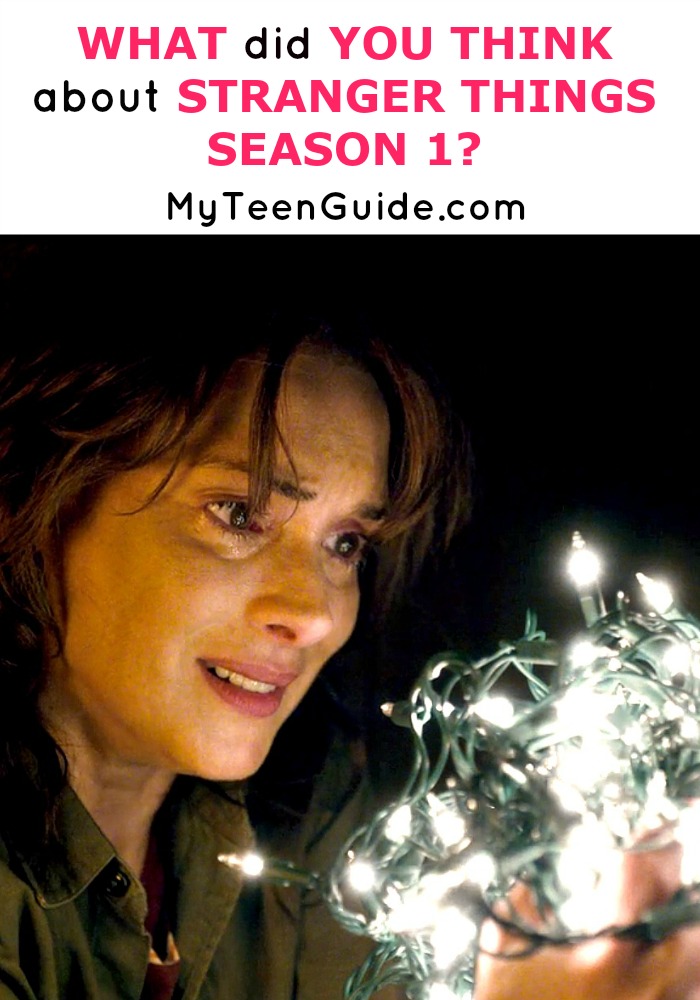 Stranger Things is the hot new series right now, but what did you think about the show? Check out some of our thoughts on season 1. From seeing Winona Ryder on the golden screen again, to how the team worked together both before and after discovering dragons we're on it. Check out more about Stranger Things below; I even included the trailer for those of you who are wondering what this fab series is all about.
Related: All The Best TV Shows Like Vampire Diaries To Get Your Blood Pumping
What Did You Think About Stranger Things Season 1
What did you think about Stranger Things Season one? It clearly reminded me of something that feels like there is no escape. I also have found myself wanting to watch more as season one was so irresistible. There were other impressive shows during summer, but this one really did amaze me and was such a big hit this summer.
I really enjoyed it and I credited it to the masters of horror and suspense Steven Spielberg, John Carpenter and Stephen King. It felt very natural watching, and the bike chase was a big part. This may seem slow moving at the time, but it was critical to the show I am finding out.
Related: 5 TV Shows Just Like Dexter That Are Killer
Winona Ryder Is Impressive In Her Role
Winona Ryder gives such an impressive performance in her role as the mom. If you're unfamiliar, Winona Ryder started out in the industry as a child star in the 1980's and has been in so many roles including Edward Scissorhands, Girl Interrupted and most recently Black Swan. With her acting credibility, there is no need to contest the fact that she did great in Stranger Things showing so much raw emotion. I must also admit that I am also a big fan of Winona Ryder and was excited to see her playing the mom role in this series, I knew she was going to be amazing!
Showing An Time Without Gadgets And Cell Phones
I also loved season one because it depicted an age without gadgets and cell phones. The kids just choose to go out in the woods while their parents have no means of contacting them. I think that there is also something sad yet sweet in the idea that your mom can no longer get a hold of you as you go out and fight a monster. What would we do now, gah! Why didn't my mom/kid answer my text?
https://www.instagram.com/p/BItYiZiB9sy/?taken-by=strangerthingstv
Discovery of Teamwork After Meeting the Dragons and Dungeons
With regard to the dragons and dungeons, the kids have just discovered teamwork. They went on the adventure and they also encountered a real monster.  This could mean a fake fantasy adventure but I think and I feel that this adventure experience has changed them all.
Related: 5 Wickedly Wonderful TV Shows Like Once Upon A Time
The idea of encountering a real monster had brought them a lot closer. It is through this experience that they really appreciated their closeness and friendship. I am personally amazed of the nice thought that the adventure has changed them in major way. They also became more jaded or darker as lovely boys.
The fictional adventure of Stranger Things Season one is something fun and amazing as they lose themselves in it. I suddenly realized that beneath the stuff and smiles of Mike, he is still upset and wounded of what happened. I would feel the same if I had lost Eleven.
https://www.instagram.com/p/BH330BYBsZx/?taken-by=strangerthingstv
Repercussions That Will Would Experience In The Television Series
Following Will home, there were repercussions that he did experience in the television series. As one of the viewers of the television series, I could not just imagine if the same had happened to me as well. Just like Will, it would have the same real effect on me. I would return to my normal life and would manage to present that everything is okay and is happy again.
The question now is that will it come back and will it haunt them. I can obviously say that it will come back and it will haunt them. I am looking forward to watching the Stranger Things Season two that could have the same effect on me!
So what do you think about Stranger Things season 1? Tell me if you're watching and your thoughts in the comments!
Image via Wikia