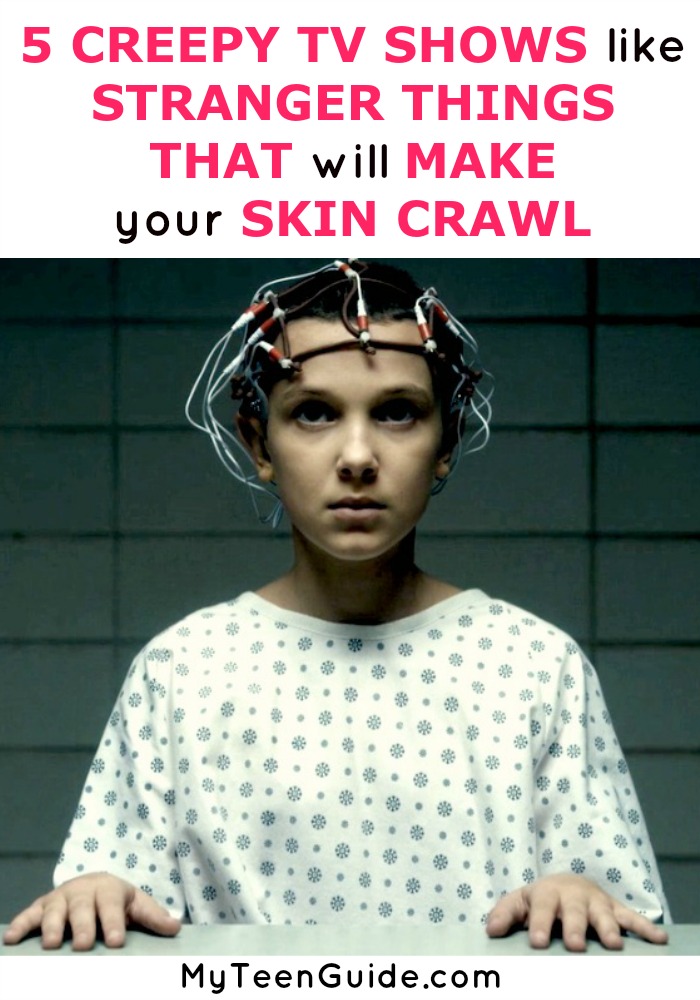 If you like shows that give you chills, you need to see these shows that are like Stranger Things. Sometimes I just need a good scare. I pop some popcorn, grab a fuzzy blanket, and hide my eyes under it when the show gets extra creepy. These type of shows get my heart racing and my blood pumping, and I just can't stop watching! If you like to be on the edge of your seat, Stranger Things is ace, and these tv shows like it will give you more scary series to look forward too. Check it out!
5 Creepy TV Shows Like Stranger Things That Will Make Your Skin Crawl
https://www.youtube.com/watch?v=XWxyRG_tckY
Stranger Things is a supernatural horror television series that premiered on Netflix on July 15, 2016. It is about the mysterious disappearance of a 12-year old boy, Will, in the town of Hawkins, Indiana. His mother, Joyce, begins a frantic search, as does the police chief in town. Also searching are Will's friends Dustin, Mike and Lucas, who come across Eleven, a girl with telekinetic abilities, who claims to know where Will is. However, uncovering the truth leads to some evil discoveries. Stranger Things stars Noah Schnapp as Will Byers, Winona Ryder as Joyce Byers, David Harbour as Police Chief Jim Hopper, Millie Bobby Brown as Eleven and Charlie Heaton as Jonathan Byers. Here are some other cool TV shows like Stranger Things.
https://www.instagram.com/p/BJtINmUBG7W/?taken-by=strangerthingstv
Wayward Pines
https://www.youtube.com/watch?v=AhvszRrle5o
Wayward Pines is a mystery sci-fi television series that premiered on Fox on May 14, 2015. The 2nd season of the series concluded on July 26, 2016. The series is based on the set of books by Blake Crouch: Pines in 2012, Wayward in 2013 and The Last Town in 2014. The series showcases Ethan Burke, a United States Secret Service Agent, who heads to Wayward Pines, Idaho to search for two federal agents who have gone missing in the town. He soon discovers that he might not make it out of the creepy and strange town alive. Wayward Pines stars Matt Dillon as U.S. Secret Service Agent Ethan Burke, Carla Gugino as Kate Hewson, Terrence Howard as Sherriff Arnold Pope and Jason Patric as Doctor Theo Yedlin.
Related: Best Halloween Movies on Netflix to Watch with Your BFF
Twin Peaks
Twin Peaks is a television drama series that aired for two seasons on ABC, from April 8, 1990, to June 10, 1991. The series focuses on FBI Special Agent Dale Cooper, who heads to the peculiar town of Twin Peaks, Washington to investigate the murder of Laura Palmer, a homecoming queen. Dale soon discovers that the people in town aren't as innocent as they first appear to be. Twin Peaks stars Ray Wise as Leland Palmer, Lara Flynn Boyle as Donna Hayward, Richard Beymer as Benjamin Horne and Kenneth Welsh as Windom Earle.
Sense8
Sense8 is a sci-fi drama television series that premiered on Netflix on June 5, 2015. The 2nd season is set to appear sometime in 2017. The series is about eight people from around the world that don't know each other, but they become mentally and emotionally attached. Sense8 stars Tuppence Middleton as Riley Blue, Brian J. Smith as Will Gorski, Doona Bae as Sun Bak, Aml Ameen as Capheus Onyango, Max Riemelt as Wolfgang Bogdanow, Tina Desai as Kala Dandekar, Miguel Angel Silvestre as Lito Rodriguez and Jamie Clayton as Nomi Marks. I haven't watched this series just yet, but I have been looking for good shows like this that mix sci-fi and psychological thriller! I think I found my next binge!
Mr. Robot
Mr. Robot is a drama thriller television series that premiered on USA Network on June 24, 2015, with season 2 ending on September 14, 2016. The series focuses on the life of Elliot Anderson, a cyber-security engineer and vigilante hacker, who is recruited to join an underground hacker group. Mr. Robot stars Rami Malek as Elliot Anderson and Christian Slater as Mr. Robot.
The Family
The Family is a thriller television series that aired for 1 season on ABC from March 3, 2016 to May 15, 2016. The series focuses on Adam Warren, the son of a politician who returns home after being presumed dead for over ten years. The Family stars Joan Allen as Claire Warren, Liam James as Adam Warren, Alison Pill as Willa Warren, Rupert Graves as John Warren and Zach Gilford as Daniel Warren.
Aren't these shows like Stranger Things the creepiest? I've got goosebumps just watching the trailers. Tell me your favorites from the list down in the comments!
Image via Wikia