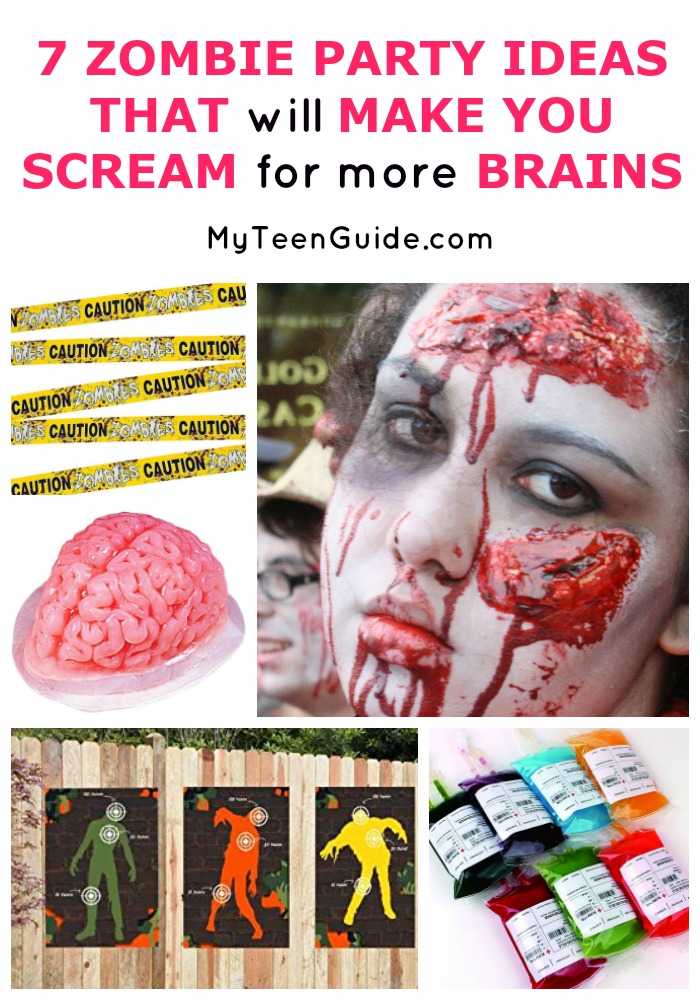 Any time of the year is the perfect time for a Zombie party! Between the popularity of fun zombie shows like "The Walking Dead," more and more zombie walks popping up year round, and Halloween there are so many reasons you need to throw a zombie party like yesterday! I've got a whole list of ideas that you can use, and by the time we are through everyone at your party is going to be zombiefied and loving it. Ready?
Related: 7 Amazing Glow In The Dark Party Ideas That Are Killing It For Fall
7 Zombie Party Ideas That Will Make You Scream For More Brains
*Affiliate links are included with this post. We only recommend products and ideas we really love!
Zombie Dice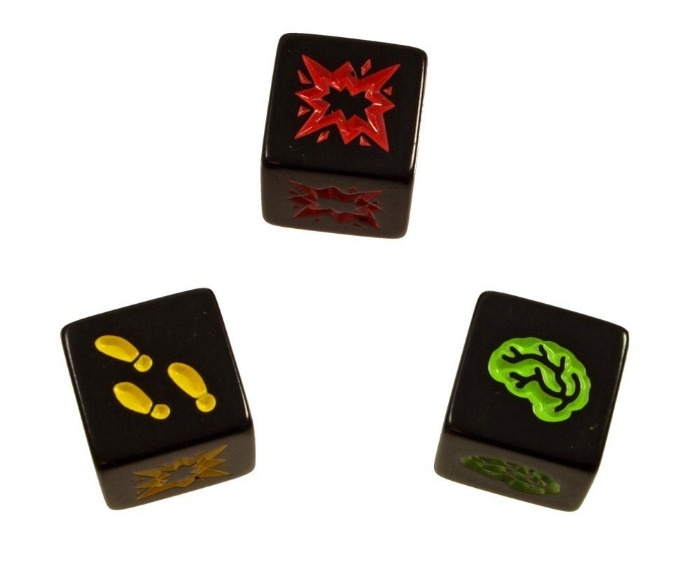 You guys, Zombie Dice is literally one of my most favorite board games ever! With this game of luck you try to eat as many brains as you can (by rolling them) before you accidently roll a blast which ends your zombie. This is a super quick party game that lasts maybe 10-15 minutes, but super addicting! My friends and I usually play for at least an hour once we start! It's great for a larger party because each round ends quickly so lots of people can pop in and out of playing, or perfect for just a few friends too.
Dart Tag Zombies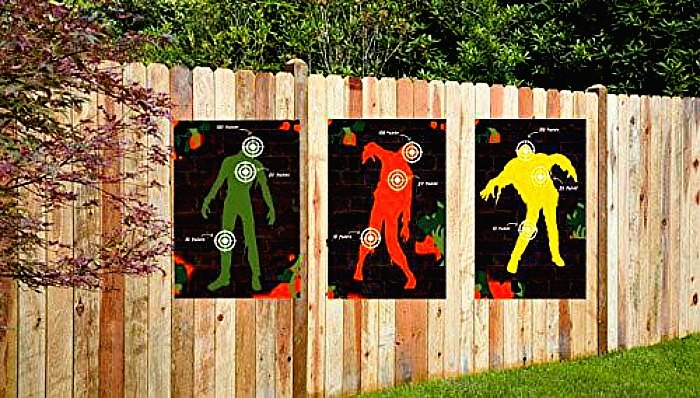 These Zombie dart tag posters are a must for a hilarious game your friends will get into. Set-up your three large zombie targets and arm your friends for the zombie apocalypse. You could use nerf guns, water guns, or even bean bags to launch at your zombies and protect yourselves from being invaded!
Zombie Makeup
There are a million makeup tutorials out there that will teach you how to do all kind of beginner to advanced zombie makeup. I saw everything from rotting skin to sliced fingers to claw marks when I was searching. While you can ask your guests to come to the party already zombie-fied, it can be fun to have an extra makeup station set-up so you can add even more gruesomeness to your look at the party. I included above one of my favorite tutorials that is simple and easy for anyone to do!
Related: 5 Fun Party Games Like Cards Against Humanity For Horrible People
Fake Blood Selfie Station
Speaking of makeup, if you're having a zombie party there is going to be some fake blood involved. Why not set up a hilarious selfie station with some edible fake blood so you and your friends can totally get into the pictures? This fake blood is super sweet, and you may want to set this up somewhere where you can be a little messier such as outside, in the kitchen over tile, or in the basement. I am sure that once you start snapping pictures with your fake blood smeared on your costume, it is going to be hilarious! Just make sure you have some extra towels or baby wipes for clean up!
Blood Bags For Drinks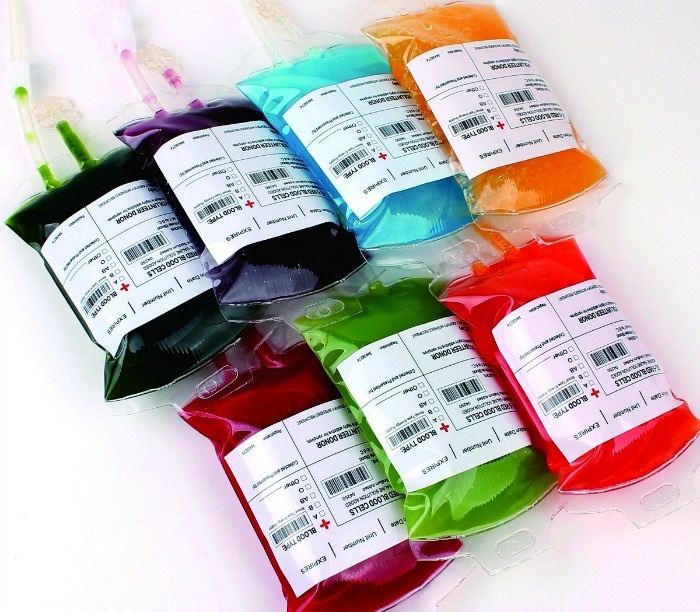 I am dying over these novelty blood bags, how fun are these to serve drinks in! So Zombies are mostly interested in eating brains, but you better believe when they need to quench their thirst this bag o' blood is high on their list for a refreshing sip. You can hang this bags up as a "drink station" or hand them out as funny drink holders. They are pretty funny party favors too! Try making up a fun drink inside just for the party! I love our Apple Cider Mocktail recipe, and you could even add a little red food coloring to make it look more spooky in the bags!
Brain Jello Treat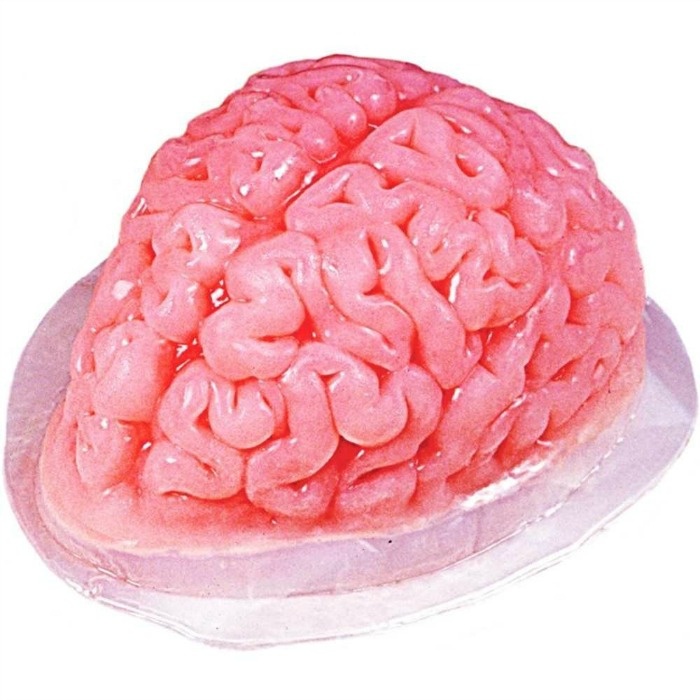 This idea is sure to creep out your friends! You need to make one of these giant gelatin brain molds stat! I recommend using watermelon or cherry Jello to give it just the right coor of red. You could also top it with that fake edible blood we were talking about further up the post to make it extra creepy! Not all brain molds are created a like, but the one I'm sharing is a good quality so you shouldn't end up with a big leaky mess! If your Jello brain gets stuck in the mold, try running hot water over the outside of the mold to help it release.
Zombie Caution Tape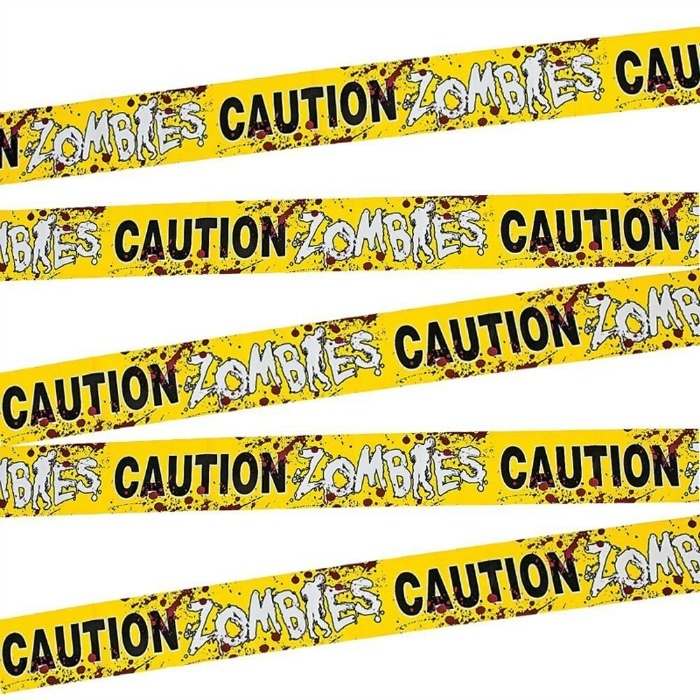 Set the scene to your party right from the start! This fun zombie caution tape is an instant mood setter that will get your friends excited for your party! You want to string this zombie caution tape everywhere!
Zombie Dice will absolutely be at my zombie party, hands down! Which ideas will you be trying at your party?