Night time is the best time for parties, don't you agree?
You will after you check out these incredibly fun games to play in the dark this summer!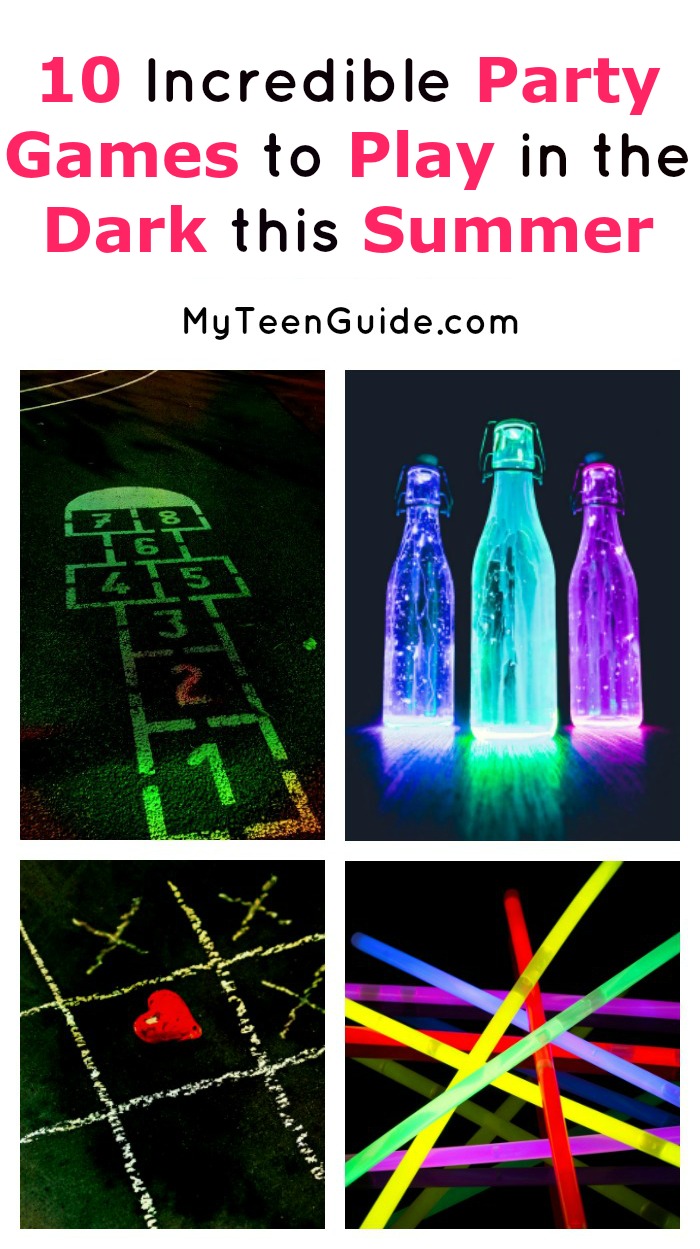 Some games are just more fun when the sun goes down. Tic Tac Toe in the sun?
Eh. But throw some glow sticks down for the board and it's a whole new ball game.
Just about every game we loved as kids takes on a whole new spin!
These ideas are a great way to keep a backyard BBQ party going long after the sun sets.
Check them out!
Party Games to Play in the Dark
Affiliate links included below. We earn a commission if you make a purchase.
1. Glow Tick Tac Toe
Tic tac toe is a game everyone knows. This fun twist keeps it super fun!
What you'll need:
12 glow sticks for the board
18 glow sticks for the Xs and Os
Use the glow sticks to create the tic tac toe board. You'll also need to bend the other glow sticks into Xs and Os. Turn off the lights and have some fun!
https://www.youtube.com/watch?v=Fy595Z9g3Sk
2. Glowing hop scotch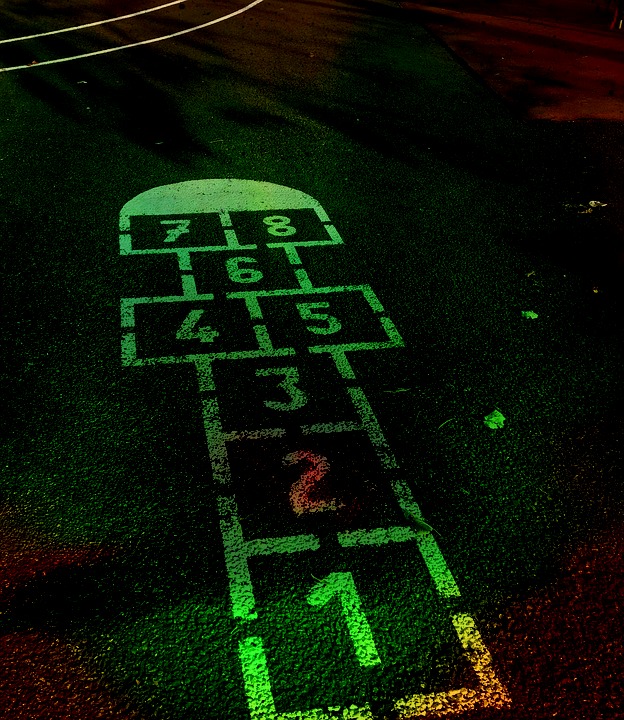 Hop scotch is another game that goes back to when you were younger! All you need for this game is glow in the dark duct tape
.
Create a hop scotch pattern on the sidewalk and you're all set.
[amazon box="B076QLQBGL"]
3. Twister in the dark
[amazon fields="B077B3FVQ6″ value="thumb" image_size="large" image_alt="Twister in the dark"]
If you're looking for a seriously fun time, be sure to try Twister in the dark! This game is best played outside on the lawn.
What you'll need:
1 white sheet or white plastic
Paint circles on the sheets/plastic using each color of paint.
If you do not have plastic or a sheet, you can paint the lawn!
You will need six circles for each color.
Give the board a few hours to dry. Once the sun goes down, the fun begins!
4. Capture the flag
If you and your friends have some energy to burn, glow in the dark capture the flag is perfect!
This game is just like normal capture the flag with a little added glowing fun.
What you'll need:
Plenty of friends! (enough for 2 teams)
Glow sticks in two different colors. (Each player gets 2 glow sticks)
Capture the flag gear (flags and waistbands)
Tons of energy
Divide your friends into two teams.
Give one team one color glowsticks and the other the opposite color.
Have everyone put the glowsticks on their wrists.
Put on the gear needed for capture the flag.
Head outside when it's dark and see which team wins!
5. Glow Bowling!
A staple of just about every nighttime party, glow bowling is super simple to put together.
Just grab some empty bottles (2-liter soda bottles work) and fill the bottom with a bit of sand.
Make sure you use the same amount in each one, you want your "pin" to be consistent. Toss in some glow sticks and/or paint them with glow paint, then set up your alley.
For the ball, you can get creative and use coconuts.
They actually work pretty well!
6. Hide and Seek
If you think hide and seek is a boring kiddie game, you haven't played it in the dark!
This is by far one of the easiest party games to play in the dark because you only need two things: people and darkness!
I think we all know how to play hide and seek, so I won't bore you with long instructions. In case you've somehow forgotten the rules of the game, they're simple.
One person is "it." That person counts to a specific number (go to 100 if you're playing outdoors) while everyone else hides.
Then the "it" person tries to find them.
This game takes on a whole new spooky "horror movie" vibe when you're playing at night, especially if you're doing it outdoors.
Trust me, your heart will be beating faster every time you hear the snap of a twig!
7. What Is It?
I can't really think of a name for this, but I think we've all played it at Halloween parties!
Basically, you fill a bunch of bowls or other containers with random stuff, like peeled grapes (they feel like eyeballs), thick spaghetti with sauce (to simulate intestines, perfect if you want to avoid carbs for the foreseeable future!) and other foods that feel like disgusting body parts.
Because, you know, what's a party in the dark without a little gross-out session?
Or is that make-out session?
Hmmm, I may need to rethink my circle of friends!
Anyway, the goal is to try to identify what you're touching. You can make this even freakier by spinning a horrifying tale to go along with it.
8. Finish my ghost story
This camping favorite is a classic for a reason! It's crazy fun and super simple. You'll need:
At least 4 people (more is better)
A flashlight
Darkness!
Instead of having one person tell creepy old urban legend ghost stories, take turns adding onto one. Have one person start by putting the flashlight under his chin (a must when telling a ghost story) and beginning the story.
Rather than just having each person offer a sentence or two, set a timer to one minute.
When the time is up, pass the flashlight, even if the person is in the middle of saying a word. That way it's more of a challenge.
9. Flashlight tag
Another super simple party game to play in the dark, you just need people and a flashlight!
The "it" person gets the flashlight, and everyone else tries to avoid it.
Get caught in the beams and you're out!
You can add on extra rules, like creating a "safe" home base, or putting "out" players in "jail," and letting them escape when so many minutes pass without someone else being tagged
Here's another fun variation on it:
10. Blind Painting
Put your friends' artistic talents to the test by making them create a masterpiece in the dark!
Here's what you'll need for each person:
Some sort of canvas (can be poster board, a spot on a dark driveway, or anything else you come up with
Washable paints
A brush (or sidewalk chalk if you're using your driveway). NOT glow-in-the-dark paints!
You can also use washable markers or even crayons.
How to Play:
First, choose a theme for the artwork. It can be something relatively easy and vague, like "must be a fruit," or complicated, like "must be a self-portrait."
Next, give everyone a canvas and their art supplies, then give them exactly 30 seconds to set up the supplies in a way that they think they'll be able to figure out what's what.
Turn off the lights (or the flashlights) and set the timer to 3 minutes (you can choose a different time but keep it relatively short).
Start the clock and go! The goal is to create something that fits the theme without being able to see what you're doing.
When the time is up, judge artwork on things like "most realistic," "most abstract," "best use of color," and so on!
This is a great game to level the playing field for those of us who have zero artistic talent! You never know, your work could be better in the dark! I know mine is!!
Tips & Must-Haves for a Successful Party in the Dark
1. Awesome Party Decorations
https://www.instagram.com/p/BHUUx41jwIn/?tagged=neonpartydecorations
If you're planning on keeping your party outdoors in the dark, then you don't need to go wild with decorations. Choose one area that will be party central- the spot where your guests will meet, greet, and eat!
2. Tableware Essentials
[amazon fields="B01MZ820Q3″ value="thumb" image_size="large" image_alt="Karaoke Machine – Singsation All-In-One Karaoke System & Party Machine – Performer Speaker w/Bluetooth Microphone Sing Stand – No CDs! – Kids or Adults. YouTube your Favorite Karaoke Videos & Songs"]
I shared this idea in our glow in the dark party games post, but it also works great here.
For party cups, grab some black plastic cups
and neon markers
, then let your guests decorate their own cup as they arrive.
For party plates, you can go with a neon-theme
to make the plates stand out, or grab plain black plastic plates
and surround them with glow necklaces.
3. Cool Party Lights
[amazon fields="B07JLR4LNS" value="thumb" image_size="large" image_alt="Karaoke Machine – Singsation All-In-One Karaoke System & Party Machine – Performer Speaker w/Bluetooth Microphone Sing Stand – No CDs! – Kids or Adults. YouTube your Favorite Karaoke Videos & Songs"]
Even if you plan to play most of your party games in the dark, you'll need a few lights around the food and to mark pathways. Try these:
LED neon balloons – Grab this 30 pack of LED balloons and place them in bunches at strategic locations.
LED Paper Lanterns– get paper lanterns in a style to fit your theme, then add these little lights to them inside.
String lights in a mason jar– these copper string lights are super cute, but you can use any string lights! Just bunch them into mason jars!
4. Outdoor Party Must-Have
https://www.instagram.com/p/Bjc-uJWn2PZ/?tagged=glowparty
If you're having your party outdoors, make sure you have a party tent in case it rains!
You can find them in just about any size to fit every budget. Below are a couple that I recommend.
I know the prices can be a bit high on some of the tents, but think of it as a long-term investment.
While you can rent one, if you throw a lot of parties it's much better to have your own.
[amazon box="B079RZH5TT,B003DQ0I5U, B077YSFZP1, B072N7L15N" template="list"]
5. Party Favors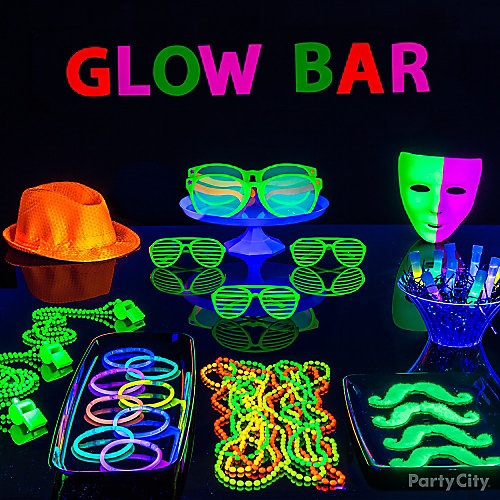 For a night time party, you'll want to give out a few glow in the dark favors!   Here are some that I love:
If you follow these tips and plan a few of our favorite games to play in the dark, your party with be a hit!
Have you played any of these games? What are your favorite party games to play in the dark? Tell us all about it!