Looking for Ant-Man and the Wasp movie quotes?
We've got you covered!
These 13  are sure to get you super excited about the new Marvel Hit!
Plus, check out some Ant-Man cast info & movie trivia!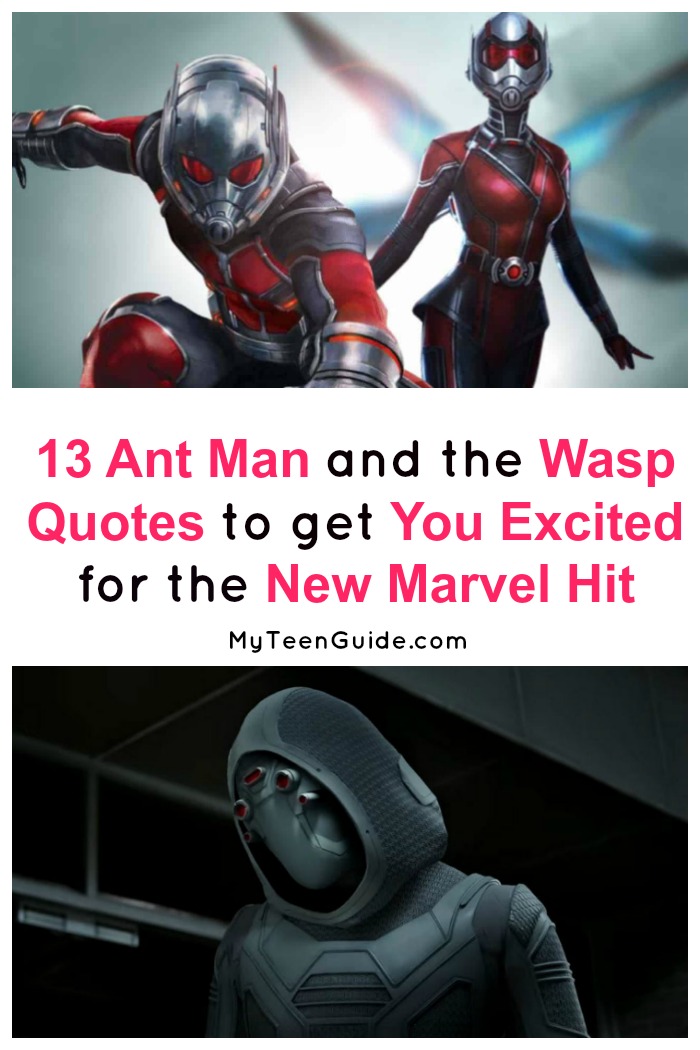 Are you anxious to see the Ant-Man back in action as I am?
The funny, quirky superhero is soon going to be back on the big screen, with the sequel Ant-Man and the Wasp being right around the corner.
And I have no doubt that it is going to be as hilarious as the first movie and equally exciting, as you will see as well from the quotes we chose for you.
Related: Epic Mission Impossible: The Fallout Movie Quotes
13 Ant Man and the Wasp Quotes 
Affiliate links included below. If you buy through these links, we earn a small commission.
The Winning Ant-Man Cast Is Back
The winning cast from the Ant-Man is, of course, back for more.
The upcoming blockbuster is the first Marvel movie that will come out after the Avengers: Infinity War and I am sure that the audience was left craving more after that rollercoaster.
The leading role of Scott Lang, or Ant-Man, is once again played by quirky and hilarious Paul Rudd.
His humor is what sets the Ant-Man apart from the rest of Marvel's superheroes, although I don't want to underestimate Chris Pratt or Robert Downey Jr. since they also provide plenty of comedic relief for the universe.
Quote 1:
[to Hope and Scott]
Dr. Hank Pym: The only chance we've got is the both of you.
Quote 2:
Scott Lang: You go low, I go high.
Hope van Dyne: I have wings. Why would I go low?
Hope van Dyne, aka the Wasp, is played by Evangeline Lilly.
After learning that her mother disappeared in action way back when and that her father didn't want her to fight crime so she doesn't end up as tragically as her, we now see that she will, in fact, put on a superhero suit and join Scott in fighting the bad guys.
Quote 3:
Hope van Dyne: [to Scott] Thanks to you, we had to run. We're still running.
Michael Douglas will repeat his role as Dr. Hank Pym, a brilliant scientist who invented the Ant-Man suit in the first place and wore it for a long time.
Even though it looked like Hank will not be seeing the light of day after getting shot at the end of the first movie, he survived and he can now help Scott and his daughter by providing them with the latest technology coming straight out of his brilliant mind.
Quote 4:
[referring to the Wasp suit]
Scott Lang: Hold on, you gave her wings?!
Dr. Hank Pym: And blasters.
Scott Lang: So I take it you didn't have that tech available for me.
Dr. Hank Pym: No, I did.
Real heroes. Not actual size. Watch the brand new trailer for Marvel Studios' "Ant-Man and The Wasp," in theaters July 6! #AntManandtheWasp pic.twitter.com/ZNhZtVmOIr

— Ant-Man and The Wasp (@AntMan) May 1, 2018
Michelle Pfeiffer is the new face among the lot and she will play Hope's mother, who disappeared when she went into the Quantum Realm on one of the joint missions with her husband. The original Wasp, as we saw in the first movie, has been missing for a long time.
Although we don't know how much screen time she will get and whether we will see a rescue mission or just a few flashbacks, casting Michelle Pfeiffer as Janet Van Dyne certainly means that we can expect to see plenty of her in this sequel.
Of course, the lovable and hilarious gang that helped Scott break into Pym Laboratories in the first movie is going to be back.
Luis (Michael Pena), Dave (Tip 'T.I.' Harris) and Kurt (David Dastmalchian) will all reprise their roles and once again they will be there for Scott and his new team.
And they will surely provide some comedic relief along the way.
Quote 5:
Luis: Dr. Pym, I actually heard what happened to you. You opened up the quantum realm. That's when this crazy creepy ghost who like walks through walls and stuff stole your tech. now she wants to take over the world, or whatever. Who would have believed that in your hour of need you would turn to us.
Dr. Hank Pym: Not me.
Luis: No, because we robbed you. Do you remember? That's us.
Small is the new spectacular: Marvel's "Ant-Man" is now on Digital HD and Disney Movies Anywhere! Order Now: http://di.sn/6003B3FnR

Posted by Ant-Man on Friday, November 20, 2015
In the sequel we will also see Scott's family again, his ex-wife Maggie and daughter Cassie, played by Judy Greer and Abby Ryder Forston.
It seems that Maggie is still cautious about Scott and his role as a father, but he will still have his moments with them, especially with his daughter who showed back in the Ant-Man how much she adores Scott.
And now she knows that he is the Ant-Man!
Quote 6:
Cassie Lang: So, how long have you been Ant-Man again?
Scott Lang: You know, uh, it just sort of happened
There are also some interesting new players involved, both on the side of the bad guys and on the side of the good.
Randall Park plays a longtime S.H.I.E.L.D. agent Jimmy Woo, an actor you probably know from the hit political sitcom Veep.
Even though we don't really know what his role will be in the Ant-Man and the Wasp, we do know that in the Marvel comics agent Woo used Pym Particles to shrink Godzilla.
Yeah, that probably isn't gonna happen here.
Walton Goggins, well-known for his role in The Hateful Eight, will play Sonny Burch, a chairman of Cross Technologies. Since he took over the company after the death of Darren Cross, aka Yellowjacket, and since he is a bad guy in the comics, we can expect him to be one in the movie as well.
Hannah John-Kamen, one of the starts of TV show Killjoys, also known for her appearances in Black Mirror and Game of Thrones, will play Ghost.
In the comics, this character is male and works as an industrial saboteur with a suit that allows him to go through things. Judging by the trailer, this skill is something that Ghost will show in the movie as well.
Last, but not the least, addition to the Ant-Man's world in the upcoming movie is Dr. Bill Foster, played by the famous actor Laurence Fishburne.
He is a scientist who worked with Hank Pym and who learned how to make his own growth formula, which he will use to become Goliath, at least in the comics.
We will see what Marvel has in store for this character.
Quote 7:
Dr. Bill Foster: I was partners with Hank on a project called Goliath.
Scott Lang: How big did you get?
Dr. Bill Foster: My record, twenty-one feet. You?
Scott Lang: Sixty-five feet.
Dr. Bill Foster: Sixty-five.
Hope van Dyne: If you two are finished comparing sizes.
Scott Lang: Sixty-five.
Tiny team. Big buzz. Marvel Studios' "Ant-Man and The Wasp" is in theaters July 6! #AntManandTheWasp pic.twitter.com/ns6jG7cpr9

— Ant-Man and The Wasp (@AntMan) June 2, 2018
The director's seat didn't go through any changes since the sequel is also directed by Peyton Reed, a well-known director for comedy fans. His notable movies include Yes Man and The Break-Up.
The Romance
Only hinted in the first movie, the romance between Scott and Hope will surely take center stage in the sequel. As they learn to work together as partners when they fight crime, they will also have to learn how to be partners in their personal life.
I guess that mixing your job with pleasure is not always such a good idea, but I can't help feeling hopeful for the dynamic duo.
Quote 8:
Cassie Lang: I wish I could fight bad guys like you.
Scott Lang: I seem to mess it up almost every time.
Cassie Lang: Maybe you just need someone watching your back, like a partner.
Of course, the romance between the titular characters had to happen, I think, because it is obvious that Scott needs someone to hold him responsible and to help him stay disciplined, which is not something he is used to do.
With his wit and humor, he is used to doing things the easy way and dealing with the consequences later, which is not something that can happen when the faith of the world rests in your hands.
Quote 9:
Hope van Dyne: [to Scott] Follow me.
The Story
The story of the sequel is set after the events of Captain America: Civil War, where we saw Ant-Man team up with Avengers to fight, well, other Avengers.
Hope Van Dyne should have debuted as the Wasp in this movie, but due to her pregnancy she was written off and will do so in the Ant-Man sequel.
Quote 10:
Scott Lang: I just have one question, when Cap needed help if I'd asked you, would you have come?
Hope van Dyne: I guess we'll never know. But if you had, you'd never been caught
Since Scott was captured and became a prisoner in the Captain America: Civil War, he now is a fugitive on the run from the law.
Trying to stay away from the police, acting as a superhero and balancing these things with his family life and new romance will certainly take a toll on Scott and take a lot of effort on his part.
Quote 11:
Scott Lang: I do some dumb things, and the people I love the most, they pay the price.
Of course, this will be a lot easier with help from his old friends like Luis and the rest of the group, who are ready to risk their own lives in order to help Scott do what must be done.
Quote 12:
Luis: We're going to die. I don't want to die!
[Hope makes their van small to escape being crushed then makes them large again]
Luis: We didn't die!
[Scott appears in the back seat]
Scott Lang: What did I miss?
Luis: We were just tiny!
However, the biggest support to the Ant-Man and the one true partner that he will be able to always rely on is definitely the Wasp.
Quote 13:
Scott Lang: Ant-Man and the Wasp teaming up.
What do you think of these Ant-Man and the Wasp movie quotes? Which is your favorite? Tell us below!