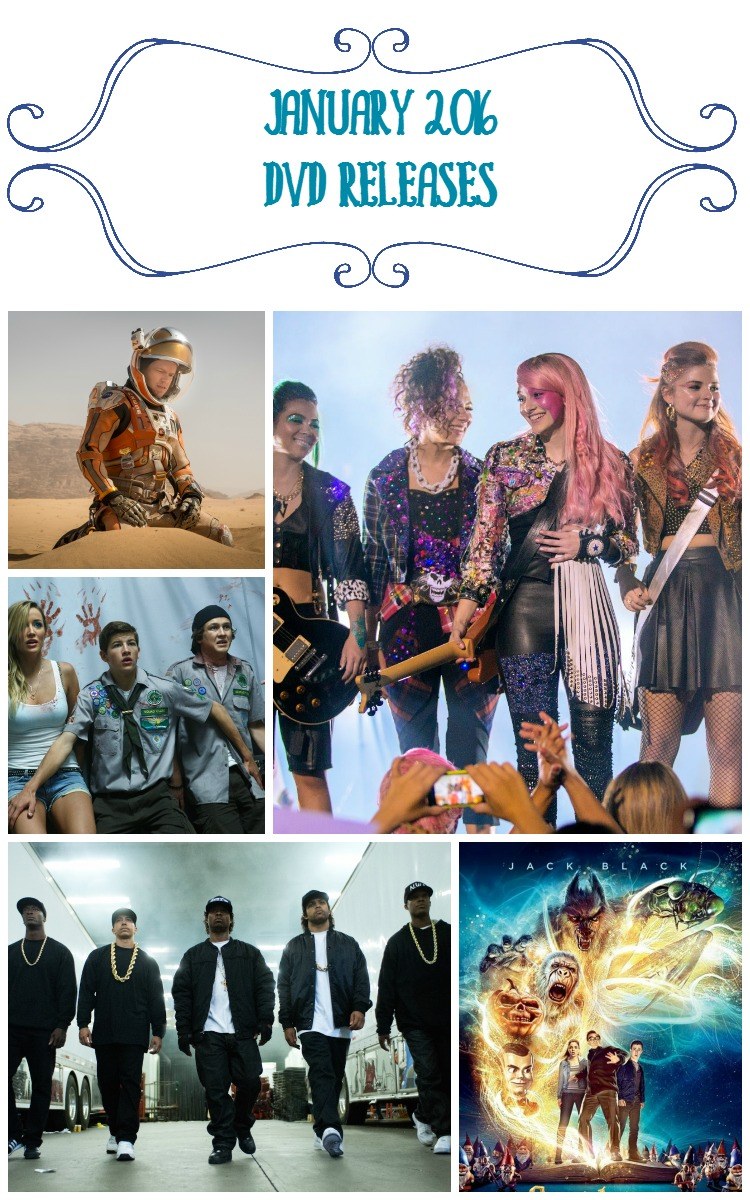 It's not only a new year, it's a new month! That means new DVD releases! Woohoo! The January 2016 DVD releases feature some awesome movies with a little something for everyone. From total spookfests like The Visit and the Green Inferno to family flicks like Hotel Transylvania 2, it's a great month to snuggle up on the couch and watch a few movies with your best friend! You can check these tv user guides too in case your unit runs into a problem.
January 2016 DVD Releases
Affiliate links included below.
January 5th
The Visit
– The Visit
is a 2015 found footage horror movie starring Olivia DeJonge, Ed Oxenbould, Kathryn Hahn, Deanna Dunagan and Peter McRobbie. Two youngsters film a documentary while visiting their grandparents and discover their dark secret.
Sicario– Sicario is a 2015 action thriller film that stars Josh Brolin, Emily Blunt and Benicio del Toro. An FBI agent is assigned to take down a dangerous Mexican drug cartel.
The Walk- The Walk is a 2015 3D biographical drama movie starring Joseph Gordon-Levitt, Ben Kingsley, James Badge Dale and Charlotte Le Bon. It is based on the true story of Philippe Petit, a high-wire artist who walked on a tightrope between the World Trade Center Towers in 1974.
Joe Dirt 2: Beautiful Loser– Joe Dirt 2: Beautiful Loser
is a 2015 comedy film that stars David Spade, Brittany Daniel, Adam Beach, Dennis Miller, Mark McGrath and Christopher Walken. Joe Dirt takes a journey in order to find his way back to those he loves.
Scouts Guide to the Zombie Apocalypse– Scouts Guide to the Zombie Apocalypse
is a 2015 horror comedy movie starring Tye Sheridan, Logan Miller, Joey Morgan, Sarah Dumont and David Koechner. When three scouts try to save their town from a zombie outbreak, they find out the true meaning of friendship.
https://www.youtube.com/watch?v=KLa1QCVqWzs
The Green Inferno– The Green Inferno is a 2013 splatter horror film that stars Lorenza Izzo, Ariel Levy, Ignacia Allamand, Daryl Sabara, Aaron Burns, Kirby Bliss Blanton, Magda Apanowicz and Nicolas Martinez. A group of activists set out on a journey to save the Amazon Rain Forest but are held hostage by a tribe of Indian cannibals after their plane crashes.
Captive– Captive is a 2015 crime drama movie starring David Oyelowo, Kate Mara, Michael K. Williams, Leonor Varela, Jessica Oyelowo and Mimi Rogers. It is the true life story of how Brian Nichols escaped from a courthouse, murders the judge handling his trial and takes a single mother hostage.
Infinitely Polar Bear– Infinitely Polar Bear is a 2014 comedy drama film that stars Mark Ruffalo, Zoe Saldana, Imogene Wolodarsky, Beth Dixon, Keir Dullea, Ashley Aufderheide and Muriel Gould. A manic-depressive man cares for his two young daughters in an attempt to reconcile with his estranged wife.
Experimenter– Experimenter is a 2015 biographical drama movie starring Peter Sarsgaard, Winona Ryder, Edoardo Ballerini, Jim Gaffigan, Anthony Edwards, Taryn Manning, Kellan Lutz and John Leguizamo. It is based on the true story of Stanley Milgram, a social psychologist, who conducts several experiments regarding radical behavior in 1961
Ashby– Ashby
is a 2015 comedy drama film that stars Mickey Rourke, Nat Wolff, Sarah Silverman and Emma Roberts. A high school student befriends his terminally ill neighbor.
A Brave Heart: The Lizzie Velasquez Story- A Brave Heart: The Lizzie Velasquez Story is a 2015 biographical documentary featuring the life story of Lizzie Velasquez, a woman who was born with a rare disease and bullied because of her looks, now an author and motivational speaker.
Close Range– Close Range is a 2015 action thriller movie starring Scott Adkins, Nick Chinlund, Jake La Botz, Tony Perez and Scott Evans. A rogue-soldier-turned outlaw must protect his sister and niece by taking on a corrupt sheriff and a dangerous drug cartel.
January 12th
The Martian– The Martian
is a 2015 science fiction movie that is based on the 2011 book of the same name by author Andy Weir. The movie stars Matt Damon, Jessica Chastain, Kate Mara, Kristen Wiig, Sean Bean, Jeff Daniels, Mackenzie Davis, Michael Pena, Chiwetel Ejiofor, Donald Glover and Sebastian Stan.
Hotel Transylvania 2– Hotel Transylvania 2 is a 2015 3D computer animated fantasy-comedy movie that is the sequel to the 2012 movie Hotel Transylvania. The movie features an all-star voice cast including Adam Sandler, Selena Gomez, Andy Samberg, Mel Brooks, Nick Offerman, Megan Mullally, Molly Shannon, Kevin James, Fran Drescher, David Spade, Asher Blinkoff and Steve Buscemi.
Sinister 2– Sinister 2 is a 2015 supernatural horror movie, a sequel to the 2012 movie titled Sinister. The movie stars James Ransone and Shannyn Sossamon. When a mother and her twin boy's movie into a new home that is undoubtedly a trap for death.
Paranormal Activity 5: The Ghost Dimension– Paranormal Activity 5: The Ghost Dimension
is a 2015 3D found footage supernatural horror film and is the sixth and last movie in the Paranormal Activity movie series. The movie stars Chris J. Murray, Dan Gill, Brit Shaw, Olivia Taylor Dudley and Ivy George.
Irrational Man– Irrational Man is a 2015 mystery drama movie starring Joaquin Phoenix, Parker Posey, Emma Stone and Jamie Blackley. Joaquin Phoenix plays the role of Professor Abe Lucas, a philosophy professor who loves wine and women yet unexpectedly falls in love with one of his students.
January 19th
Straight Outta Compton– Straight Outta Compton
is a 2015 biographical drama movie that is based on N.W.A., a hip hop group from Compton, California. The film stars O'Shea Jackson Jr. as the role of Ice Cube, Corey Hawkins as the role of Dr. Dre, Jason Mitchell as the role of Eazy-E, Aldis Hodge as the role of MC Ren and Neil Brown Jr. as the role of DJ Yella.
The Intern– The Intern is a 2015 comedy film that stars Robert De Niro and Anne Hathaway alongside Rene Russo, Adam DeVine, Zack Pearlman, Christina Scherer and Anders Holm. Ben Whittaker decides that he is bored with retirement and takes a job as a senior intern with an internet fashion site.
Everest– Everest
is a 2015 survival movie that features an all-star cast including Josh Brolin, Jason Clarke, Robin Wright, Keira Knightley, John Hawkes, Emily Watson and Jake Gyllenhaal. The movie is derived from the real life events of the Mount Everest expedition disaster in 1996.
The Diary of a Teenage Girl– The Diary of a Teenage Girl is a 2015 drama movie that is based on the 2002 book titled The Diary of a Teenage Girl: An Account in Words and Pictures by author Phoebe Gloeckner. The film stars Bel Powley, Kristen Wiig, Alexander Skarsgard, Quinn Nagle, Christopher Meloni and Austin Lyon.
Jem and the Holograms– Jem and the Holograms
is a 2015 musical fantasy film that is somewhat based on the television series titled Jem, that ran from 1985 to 1988. The movie stars Aubrey Peeples, Hayley Kiyoko, Stefanie Scott, Juliette Lewis, Aurora Perrineau and Ryan Guzman.
Woodlawn– Woodlawn is a 2015 sports drama film that is based on the real life of Tony Nathan. The film stars Caleb Castille, Sean Astin, Nic Bishop, Sherri Shepherd, C. Thomas Howell and Jon Voight.
Learning to Drive– Learning to Drive is a 2014 comedy movie that is based on the 2002 The New Yorker essay written by Katha Pollitt. The movie stars Patricia Clarkson, Ben Kingsley, Jake Weber and Grace Gummer. A newly divorced woman learns to drive for the first time in order to become self-sufficient and forms an unlikely friendship with her driving instructor.
January 26th
Burnt– Burnt
is a 2015 drama movie starring Bradley Cooper, Daniel Bruhl, Sienna Miller, Henry Goodman, Emma Thompson and Uma Thurman. Cooper plays the role of chef Adam Jones, who is determined to get his career back on track after destroying it with drug use and diva-like behavior.
https://www.youtube.com/watch?v=wduH0qA0rMk
Goosebumps– Goosebumps is a 2015 3D horror comedy that combines live action and computer animation, based on the series of books of the same name by author R.L. Stine. Goosebumps stars Jack Black, Dylan Minnette, Odeya Rush and Ryan Lee. When a writer's demons are unleashed on the town, it is up to his daughter and her neighbor to put them back where they belong.
The Wannabe– The Wannabe is a 2015 drama movie that stars Patricia Arquette, Vincent Piazza, Michael Imperoli, David Zayas and Domenick Lombardozzi. The film is based on the real lives of married couple Thomas and Rosemarie Uva who were killed in 1992 by the NY mafia.
Which of these January 2016 DVD releases are you most looking forward to seeing? Which have you already seen in theaters? Tell us in the comments!