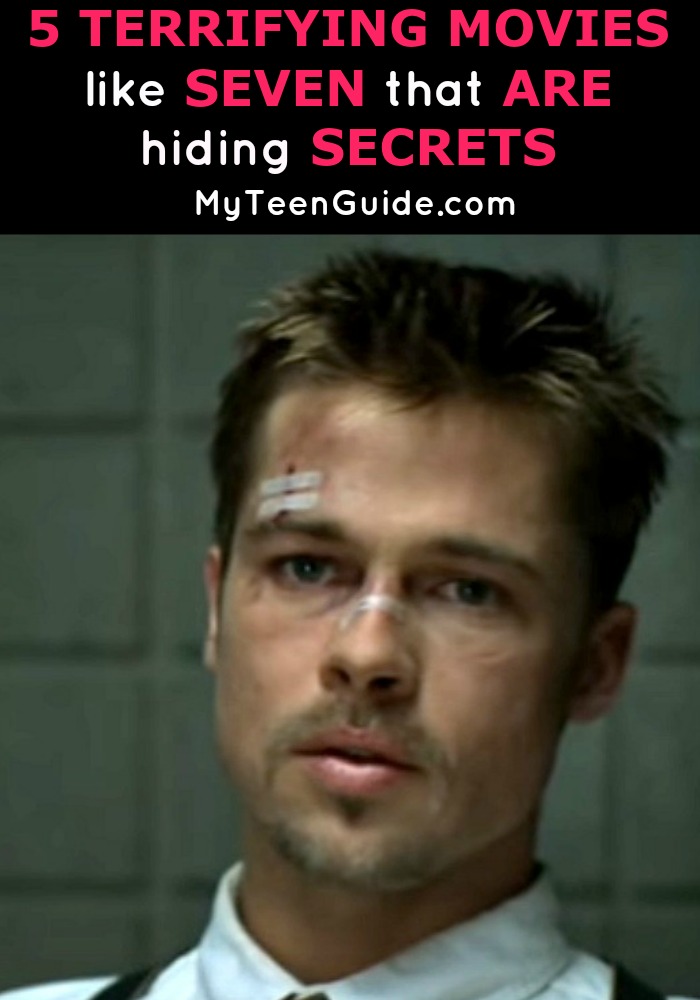 Seven (or Se7en as it is sometimes called) is a terrifying movie from the nineties that had my brain churning so much I couldn't sleep, and I need another movie just like it! With Halloween around the corner, horror movies are on my mind. Thrillers and dramas with terribly dark secrets play right into my head, and can be just as terrifying if not more then the gory horror movies. Did you hear that? Someone is scratching at the door! No really, the house is deadly quiet and AHHHHH! Ok so maybe I let my head get the best of me. These movies like Seven should keep your head churning too!
5 Terrifying Movies Like Seven That Are Hiding Secrets
Seven is a 1995 psychological mystery thriller movie that features the story of a young detective named David Mills and his partner William Somerset, who is soon to be retired. The pair is assigned to track down serial killer who leaves clues behind, each a part of one of the seven deadly sins. Seven stars Brad Pitt as David Mills, Morgan Freeman as William Somerset and Kevin Spacey as serial killer John Doe. Here are some other movies like Seven.
Related: Creepiest Horror Movies Now Streaming on Netflix
Zodiac
Zodiac is a 2007 mystery thriller movie that is based on the 1986 book of the same name by Robert Graysmith. In San Francisco, Robert Graysmith, a cartoonist turns into an amateur sleuth who is obsessed with finding out who the Zodiac killer is. Zodiac stars Jake Gyllenhaal as Robert.
The Silence of the Lambs
The Silence of the Lambs is a 1991 psychological horror thriller movie based on the 1988 book of the same name by Thomas Harris and is the sequel to the 1986 movie Manhunter. A young cadet with the FBI, Clarice Starling, must confide in a manipulative incarcerated serial killer, Dr. Hannibal Lecter, in order to catch a serial killer, Buffalo Bill, who is taking the skin off his victims. The Silence of the Lambs stars Jodie Foster as Clarice, Anthony Hopkins as Dr. Hannibal Lecter and Ted Levine as Buffalo Bill.
Related: Scare Yourselves Silly With Our Horror Movie Marathon Party Games!
Manhunter
Manhunter is a 1986 crime horror thriller movie that is based on the 1981 book Red Dragon by Thomas Harris. Will Graham is a former profiler for the FBI, who comes back to track down a deranged serial killer.Manhunter stars William Petersen as Will.
Gone Girl
Gone Girl is a 2014 psychological thriller movie that is based on the 2012 book of the same name by Gillian Flynn. When his wife, Amy Elliott Dunne, disappears her husband, Nick Dunne, becomes the police's man suspect. Gone Girl stars Rosamund Pike as Amy and Ben Affleck as Nick.
Fight Club
Fight Club is a 1999 drama movie based on the 1996 book of the same name by Chuck Palahniuk. An officer worker that never sleeps, comes across a soap maker named Tyler Durden and the two form a fight club together. Fight Club stars Edward Norton as the Narrator and office worker and Brad Pitt as Tyler.
So lovelies are you a fan of psychological movies that keep your head on edge like Seven (or Se7en if you want to be fancy!) There are some real classic flicks in here with extremely big followings, tell me what you think of these movies!
Image from trailer