If you're looking for a few great frighteningly fun movies like Goosebumps 2: Haunted Halloween, we've got you covered!
Question: Who enjoys watching movies that have something for everyone, like adventure, comedy and horror?
Next question: Who loved reading the Goosebumps book series from R.L. Stine?
If you answered yes to one or both of these, then you're in for a real treat.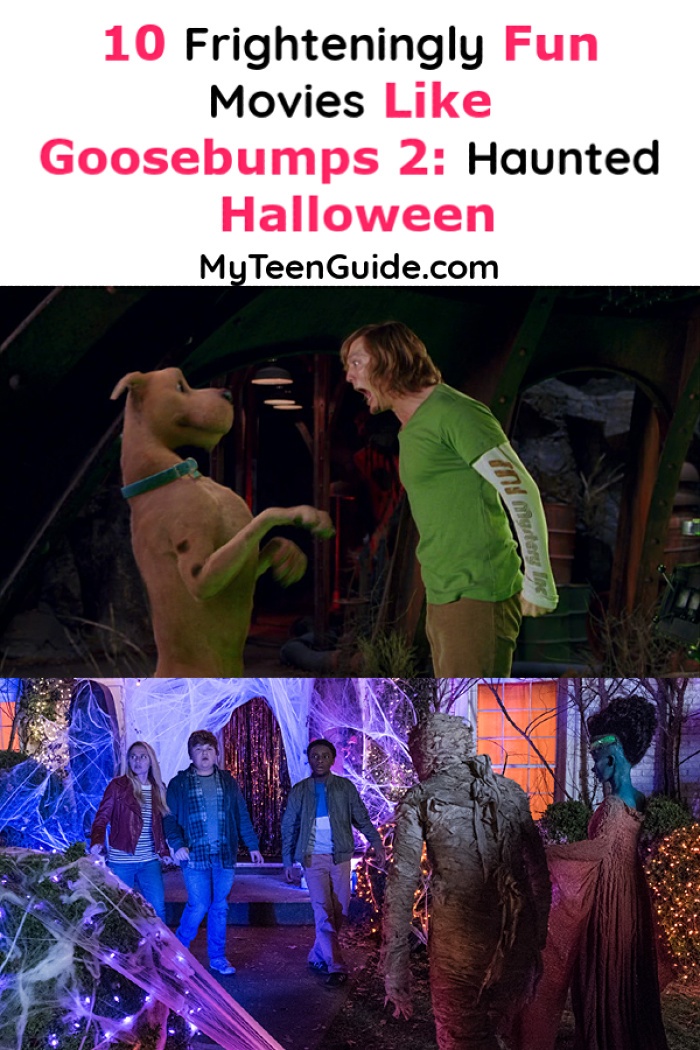 Goosebumps 2: Haunted Halloween is based on R.L. Stine's Goosebumps book series and it is the sequel to the 2015 movie- Goosebumps.
The movie will be released in theaters on October 12, 2018.
Until then, however, here are some other movies you can watch that are similar to Goosebumps 2: Haunted Halloween.
Related: Goosebumps 2: Haunted Halloween Cast, Quotes and Trivia
Movies Like Goosebumps 2: Haunted Halloween
This post contains affiliate links. If you make a purchase through these links, we earn a small commission at no extra charge to you.
Check out the trailer for Goosebumps 2: Haunted Halloween above, then read on to see our favorite movies like it!
1. The Little Vampire
The Little Vampire is a 2000 adventure, comedy, horror movie that is based on the children's book series by Angela Sommer-Bodenburg
.
Tony Thompson (Jonathan Lipnicki) is a lonely, young boy who befriends and tries to save Rudolph Sackville-Bagg (Rollo Weeks), a young vampire, and his family from Rookery (Jim Carter), a vampire hunter.
This is one of the cutest movies. It does a great job showing the friendship of Tony and Rudolph.
The movie only scored about an average with reviewers, earning a 5.8/10 on IMDB and a 55% on Rotten Tomatoes. I'll tell you right now, critics rarely give these types of movies a high rating. They're meant to be fun, not over-analyzed.

2. The Haunted Mansion
The Haunted Mansion is a 2003 comedy, family, fantasy, horror movie that is based on the Disney theme park attraction.
Jim Evers (Eddie Murphy), a real estate agent, is tasked with trying to sell an old, rundown mansion.
He brings along his family- wife Sara (Marsha Thomason), daughter Megan (Aree Davis) and son Michael (Marc John Jefferies), but they soon discover the house is inhabited by ghosts that have no intention on sharing their home.
While IMDB viewers gave it an average 5/10, RT wasn't so kind, giving it a low 13%. Honestly, even though it may not be Oscar material, it was still an entertaining flick! Enough so that I've seen it more than once.

3. Scooby-Doo 2: Monsters Unleashed
Scooby-Doo 2: Monsters Unleashed is a 2004 live-action/computer-animated comedy, family, horror movie that is based on the animated television series- Scooby-Doo, Where Are You. (Admit it, you all are singing the theme song right now, aren't you)?
The movie is the sequel to the 2002- Scooby-Doo. The Mystery Inc. gang are back in action, as they are hot on the trails of the Evil Masked Figure, who has unleased an array of unmasked monsters.
The movie stars Freddie Prinze Jr. (Fred), Sarah Michelle Gellar (Daphne), Matthew Lillard (Shaggy), Linda Cardellini (Velma) and the voice of Neil Fanning (Scooby).
I am so mad that RT only gave this a 22%. IMDB users gave it a 5/10. I have seen this movie like 4 times, so that should tell you that I disagree with their low scores. Is it a genius film that will make you think for years to come? No. Is it entertaining? Absolutely!

4. The Haunting Hour: Don't Think About It
The Haunting Hour: Don't Think About It is a 2007 family, fantasy, horror, thriller movie that is based on the children's book by R.L. Stine.
When Cassie Keller (Emily Osment) reads a scary book to her younger brother Max (Alex Winzenread), she unleashes the book's monster, who captures Max. Cassie and her friend Sean Redford (Cody Linley) must defeat the monster and save Max.
While RT didn't review this one, IMDB users gave it a 6.1/10, which means it's better than average!

5. Fun Size
Fun Size is a 2012 adventure, dark comedy movie.
Wren DeSantis (Victoria Justice) is forced to take her younger brother Albert (Jackson Nicoll) trick-or-treating on Halloween night.
When she is temporarily distracted, Albert gets lost in a sea of trick-or-treaters.
Wren, her best friend April (Jane Levy) and two nerds- Roosevelt (Thomas Mann) and Peng (Osric Chau) must find Albert before Wren's mom finds out he's missing.
This one did awful with RT, earning a 25% (still better than they rated some similar flicks), but IMDB users rated it an average 5.4/10.

6. Girl Vs. Monster
Girl Vs. Monster is a 2012 adventure, comedy, fantasy movie that originally aired on the Disney Channel.
Skylar Lewis (Olivia Holt) finds out that she is a 5th generation of monster hunters.
When her parents are captured by one of the monsters, named Deimata (Tracy Dawson) on Halloween, Skylar must fight Deimata and the other monsters to rescue her parents.
Can you imagine being a teenager and finding out that your parents are monster hunters? I don't know about you, but I would totally freak out and probably hide in my bedroom for months.
IMDB users gave it a 5.7/10. RT critics didn't review it, which is fairly common for a made for TV movie.

7. Vampire Academy
Vampire Academy is a 2014 comedy, fantasy, horror movie that is based on the 2007 novel by Richelle Mead.
Rose Hathaway (Zoey Deutch) is a Dhampir (half human, half vampire) and her best friend Lisa (Lucy Fry) is a Moroi (peaceful, mortal vampires).
Rose is tasked with protecting Moroi from the Strigoi (bloodthirsty, immortal vampires).
How cool would it be to have a real-life Vampire Academy? I don't think I'd ever become a student there, but it would be cool nonetheless.
While IMDB users liked it well enough to give it a 5.5/10, Rotten Tomato critics hated it enough to score it a 15%. I usually pay more attention to IMDB ratings, because they're created by average people (more on that at the end of the post).

8. Monsterville: Cabinet of Souls
Monsterville: Cabinet of Souls is a 2015 comedy, fantasy, horror movie that is based on the novel by R.L. Stine.
Dr. Hysteria (Andrew Kavadas), the owner of an evil, house of horrors carnival, casts a spell on 4 unsuspecting teenagers, which they try desperately to resist.
The cast includes Dove Cameron (Beth), Braeden LeMasters (Kellen), Casey Dubois (Luke) and Tiffany Espensen (Nicole).
Like most of the movies on this list, IMDB gave it an average of 5.8/10

9. The House with a Clock in Its Walls
Although this one doesn't release until next week, it still deserves a spot on the list of movies like Goosebumps 2. In fact, when I saw the trailer, I thought for sure that it was for the second Goosebumps movie.
We are all dying to see this movie, from my 13-year-old brother all the way up to my grandmother, so it's literally for everyone.
The story is about, as the name implies, a house with a clock inside its walls, created from black magic. The creator died before he could finish it, and now it's up to our heroes to find and stop the clock!
See, said clock is counting down until doomsday…which may be coming sooner than we think!
No ratings yet, since it's not out. I have a feeling, though, that it will score the highest on this list.
Related:10 Brilliant Movies Like The House With a Clock In Its Walls
10. Goosebumps
We'd kind of be remiss if we didn't mention the first movie, even though it's a little obvious. Goosebumps features an entirely different cast, though, so it's almost like a whole different franchise! The original movie starred Jack Black and Dylan Minnette (Clay Jensen of 13 Reasons Why).
Black played the eccentric author, RL Stine, and Dylan played Zach, a neighbor boy who accidentally unlocks the secrets hidden deep within Stine's horror novel pages.
For now, the original Goosebumps is the highest-rated movie, scoring a high 77% on RT and a 6.3/10 on IMDB.

Before I send you on your way to check out all these great movies like Goosebumps 2: Haunted Halloween, I want to say something about the rating scores. If you've checked out our recent "movies like" posts, you'll notice that I'm included these ratings now.
I do this to give you an idea of what others think of the movie, but I'd rather you form your own opinion. For example, Scooby-Doo 2 scored low, but I absolutely adored it.
You'll also notice that Rotten Tomatoes scores are almost always lower than IMDB. Here's why:
IMDB scores are an average of user ratings. That means regular people, like you and me, score the movie.
Rotten Tomatoes percentages come from critic ratings. I mean this in the nicest possible way, but critics are not "regular people" when it comes to reviewing movies, and they have completely different standards than most of us do.
Basically, just because a movie scores low on IMDB or RT doesn't mean it's a bad movie overall. Well, sometimes it does, but sometimes it just means that people don't know how to have fun! 😀
Okay, now that I got that off my chest, go enjoy these fun movies!
Do you have any other favorite movies like Goosebumps 2: Haunted Halloween? Share below!