"Avengers Assemble!" is all you need to yell to get started with these Hilarious Teenage Party Games Inspired By The Movie Avengers.
I love the movies (especially all the hot characters!), and I know my friends will get a kick out of an Avengers-themed party!
With a new Avengers flick coming out pretty much every year, it's easy to keep this theme fresh!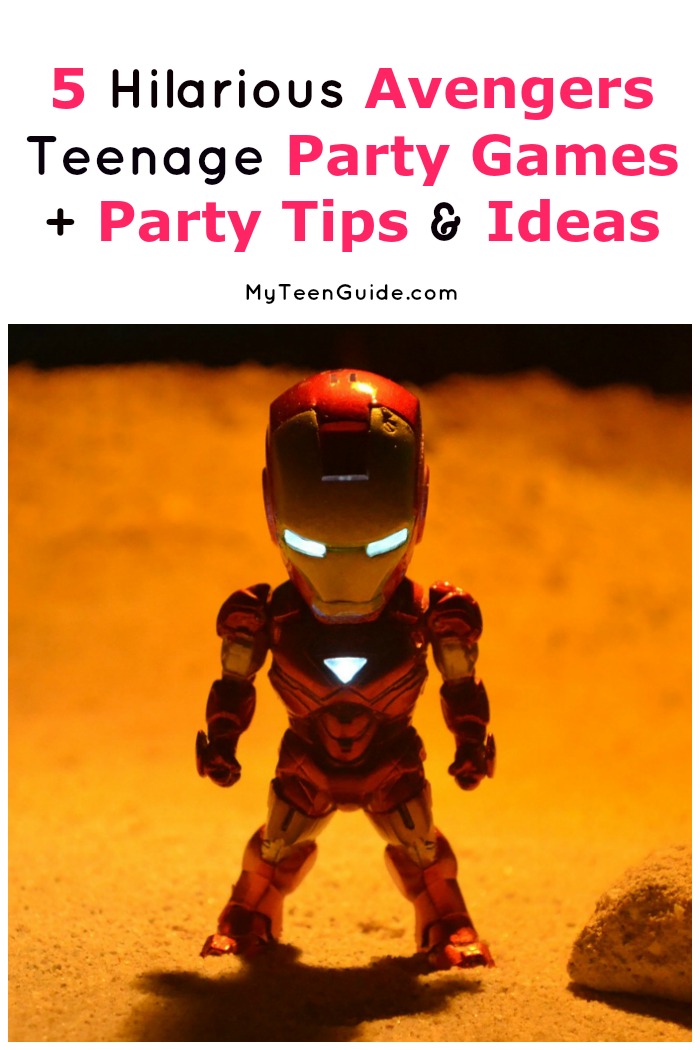 Read on for some of my favorite Avengers-themed party games!
Plus, don't miss my tips for hosting the best party ever, including great party decor, favors, and more!
Related: Party Games for Teens Stuck Indoors This Summer
Hilarious Teenage Party Games Inspired By The Movie Avengers
Affiliate links included below. If you make a purchase through these links, we earn a small commission at no extra charge to you.
1. Pick up Thor's Hammer:
https://www.instagram.com/p/BkkKHDOgcF4/?tagged=thorshammer
This is a fun game everyone will love because it can test the skill and strength of all your friends.  It's a bit of a complicated idea, but totally worth it.
Get 5 shoe boxes, 5 sturdy dowel rods, pieces of wood or handles for the hammer.
 Use spray paint to cover the shoe boxes in the gray or silver the hammer will be.
Inside the shoe boxes, put heavy things like a few bricks, rocks or other things that make them hard to pick up.
You want a couple of hammers super light with nothing in them.  The other hammers should have some heft so they are harder to pick up.
Once you have assembled your hammers – you will place them in random order on a table and test the "worthiness" of everyone to see who can pick up Thor's hammer.
Tons of fun and giggles!
2. Build your own Iron Man costume:
https://www.instagram.com/p/Bjt-3mclz_6/?tagged=ironmancostume
This is another one that everyone will have fun doing.
Gather up things like paper towel rolls, empty tin cans or coffee cans, paint, colored paper, tape, glue, paint sticks and basic crafting supplies.
Divide into teams of 2-4 people and have each team build their own Iron Man costume.
They can take it outside and use spray paint or regular paint to make it the colors they want.
Classic maroon and gold, or War Machine colors that are patriotic are all good choices.
3. Play Hulk Smash:
https://www.instagram.com/p/BkkeW8KF4Ue/?tagged=hulksmash
This game is simple to set up and easy on your budget.
Grab and old boxing glove and paint it green.
Then set out things like paper bags filled with bubble wrap, more paper or other easy to smash stuff.
 Paint the bags like rocks, logs or other things you might see Hulk smash.
Take turns smashing the rocks with the glove and laugh to see who is stronger and more Hulk like.
Related: Faction Focused Divergent Party Ideas
4. Avengers Trivia
https://www.instagram.com/p/6QQHFIsSFG/?tagged=avengerstrivia
You'll either need to put a little prep work into this game ahead of time or just buy an Avengers trivia game
. This game is played Jeopardy style! Here's how to set it up:
If you're making the game yourself, write up a bunch of trivia questions on one side of an index card, and the answer on the other.
If you're using a store-bought game, separate the cards into categories.
You'll need 6 categories, with 5 questions each. Try to organize the questions in order from easiest to hardest. Assign point values to each card.
During game play, break everyone up into teams. Give each team a bell or a buzzer. Roll a dice to see who picks first, then ask a question.
The first person to buzz in AND answer correctly gets to pick the next question, and so on.
Tally up the points at the end to see who wins!
5. Avengers Who Am I?
Give the classic party game an Avengers spin by writing down the names of different Avengers on index cards.
As your guests arrive, pin or tape a card to their back.
Throughout the party, they have to try to figure out who they are!
They can only ask yes or no questions!
Here is a list of  some Avengers: Infinity War characters to include on the cards: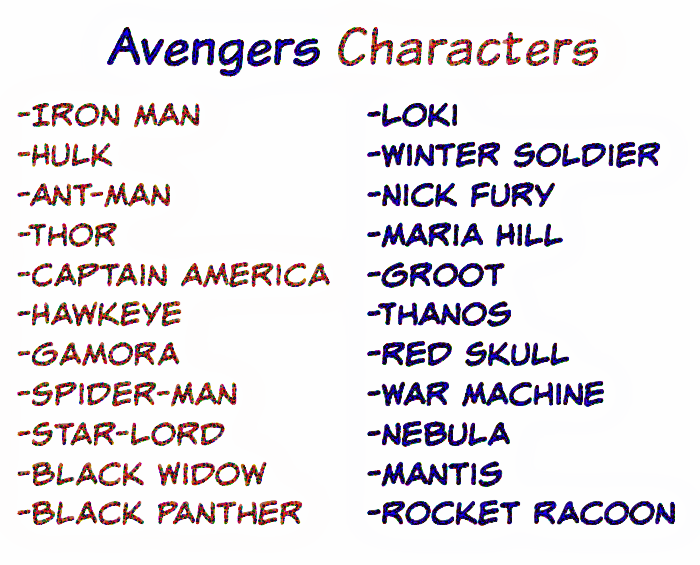 These are some totally fun and hilarious teenage party games inspired by the Avengers movies.
Now, let's check out some must-know tips for the best party ever!
Tips & Must-Haves for a Successful Avengers Party
1. Awesome Party Decorations
https://www.instagram.com/p/Bkc1rDPD0_1/?tagged=avengersparty
Most Avengers-themed party decorations seem geared more towards younger kids, but that doesn't mean you can't still have fun with them! If you want your party to be a little more sophisticated, you can use colors from the movies for inspiration. Green, blue, red, and yellow are the most predominant colors. Here are a few ideas:
Or, of course, you could just embrace your inner kid and go all out with Avengers-themed decorations! I love the party decorations above, but it looks like a lot of it was custom-made. Still, you can recreate the gist of the look with these:
Thor Life-Size Cardboard Cut-out
2. Tableware Essentials
https://www.instagram.com/p/BkbKMylFS3y/?tagged=avengersparty
I never go crazy with tableware because most of it ends up in the trash, anyway. Fortunately, you don't have to spend a lot to stick with your Avengers theme! I recommend:
For party plates, pick paper plates in two of your theme colors. If you don't want it to end up looking more like a 4th of July party than an Avengers bash, go with something like green and yellow, or maybe green and blue. Red and blue screams "patriotic party," and red and green reminds me too much of a Christmas party.
Do the same thing for your party cups, except use the other colors. Red Solo cups are ideal, so you could go with Red and yellow here if you did the green and blue plates.
Toss in some colorful utensils (any of the core colors will do here) and you're good to go!
For an extra touch, add some Avengers napkins to tie everything together.
3. Cool Party Lights
https://www.instagram.com/p/BkZKxYJnj98/?tagged=partylights
If you're having an outdoor party at night, you'll want to add some party lights! Here's some good news: if you have multi-colored Christmas lights
from the holidays, they work pretty well with an Avengers theme.
Break it up a bit and keep your lights from looking too Christmassy by adding in some cute paper lanterns in your theme colors. Then grab these paper lantern light add-ons to light them up.
You can also put battery-operated string lights
into mason jars
for a cool effect.
4. Outdoor Party Must-Have
If you're having your party outdoors, you really want to make sure you have a tent in case the weather turns sour! Party tents come in different sizes to fit all budgets, but I recommend investing in a really good one if you throw a lot of bashes.
Here are some of my top picks:
5. Party Favors
https://www.instagram.com/p/BFTnJWnPKQa/?tagged=avengerspartyfavors
Just like decorations, Avengers party favors are geared more towards younger kids. You know what? I say embrace it! Your guests will get a kick out of these fun favors!
Avengers temporary tattoos
If you want something a little more adult, I love the Avengers-themed treats above. You can easily make the dipped pretzels yourself. Here's how:
Buy candy melts in your theme colors.
Melt over LOW heat in a stainless steel pot. You can also microwave it according to the package, but it seizes up faster that way. Likewise, you can use a regular pot but stainless steel is a lot easier to clean.
Dip about 3/4 of a pretzel rod into the melted candy to coat.
Dip in sprinkles, nuts, or other yummy toppings.
Set on wax paper and repeat with another pretzel.
Stick in fridge for about 30 minutes so the candy hardens.
Put 2-3 pretzels into cellophane wrappers and give them out as party favors!
I also love these Avengers-theme chocolate covered strawberries:
If you follow these tips and plan a few of our favorite party games for teenagers inspired by the Avengers, your party with be a hit! Remember, have fun!!
Can you think of any other fun Avengers-style teenage party games? Tell us in the comments!